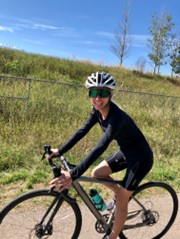 For our International Women's Day series we're celebrating amazing women of Sporting Life, including Kara Anastasiadis, Vice President, Purchasing. A self-proclaimed "merchant at heart," Anastasiadis loves to dress up and down, saves up her loyalty points every year to help women and families in need, and believes it's her responsibility to "give back like those who have given to me." 
What does International Women's Day mean to you?
International Women's Day is a brief moment, each year, where we can openly reflect upon and celebrate women and girls across the globe for their strength and achievements while recognizing we still have work to do to make space, protect and empower. It's a shared moment with a shared voice to inspire us all to keep going
How are you celebrating International Women's Day?
International Women's Day is an opportunity for me to shine a light, recognize and celebrate the incredible women in my life both personally and professionally that I have learned from, grown from, and been helped by. I would not be where I am today without the strong, capable, intelligent, curious, and creative women I have been fortunate enough to cross paths with.
How can we make "every day" International Women's Day?
​​Every day, we can choose to actively support, uplift, and motivate each other. A shared voice is an amplified voice.
How would you describe your style?
I am a merchant at heart, so I LOVE product. I love to dress up and dress down, my closet runs the gamut from sport lifestyle/athleisure to heels and blazers. I cater my style to my day and how I'll feel the most confident in that activity or day.
What is your proudest achievement?
I had the opportunity once to build a retail concept for women, by women. It was one of the most fulfilling experiences I have had, we agonized over every detail to ensure we were giving her the best space, inclusive sport and style focused products, a community, meaningful connection, and experience just for "her." Working so intimately to service and put "her" first, changed how I think about, lift and care for all the women in my life both personally and professionally.
Who is the biggest female role model in your life?
My auntie. She leads with love. In all things. She's curious, creative, adventurous, athletic, and funny. She's always learning, thinking, and growing. She's inspired me to be OK with being uncomfortable while learning new things and is always giving. She puts things down better than she picks them up and that's what I strive to do because of her.
For those who know you best, what are 3 words they would use to describe you?
Giving. Curious. Resilient.
How do you bring that "girl power" energy?
We are better together, in all things. Building up those around me, lifts us all as a whole. I try to lead with confidence, even when I am unsteady.
What are some of the ways that you are paving the way for young women?
Wherever possible and any chance I get, I encourage, advocate, and make space for women around me to share their voice and let them know their capable, intelligent, creative ideas, perspectives and instincts deserve and need to be heard. It is my responsibility to give back like those who have given to me.
Do you do any work in the community that fulfills your passions?
I save up loyalty points all year and every holiday season I spend those on toys and household items for women and families in need through Stuff A Bus programs or the food banks.
What are some words of wisdom that you would tell your younger self?
Not everyone is going to like you or your choices and that's OK. Be true to who you are. You don't have to compromise who you are to please others.
For more spotlight stories, read along under International Women's Day and follow us on Instagram @sportinglifeca.