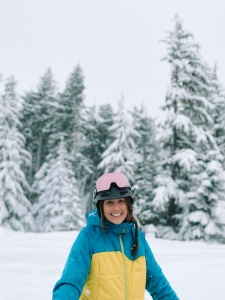 To celebrate International Women's Day we're recognizing some of our very own inspiring women, including Katie Jagodkin, Loyalty and Rewards Manager. Jadogkin shares with us the biggest role models in her life, two organizations she volunteers with, and why the co-founder of P.E. Nation inspires her.
What does International Women's Day mean to you?
International Women's Day is a day to celebrate and reflect on the achievements of women globally. This is a day for everyone to celebrate these great accomplishments and show support/raise awareness of the efforts being made together towards gender equality — not only on International Women's Day but in our everyday.
How are you celebrating International Women's Day?
I am honouring International Women's Day by recognizing all of the amazing women I know and reflecting on how lucky I am to have such incredible women in my life who not only inspire me but also those who have supported me in my personal and professional growth. To celebrate I'll be letting the women I look up to know how remarkable they are!
How can we make "every day" International Women's Day?
By supporting one another, learning from one another, and inspiring one another. This doesn't only apply to women — I think we all have different role models who encourage us, lift us up, and go to bat for us regardless of gender.
How would you describe your style?
I like to be comfortable while being fashion forward… something like Sporting Life's Sport & Style or as my friends like to call it — sporty chic (lol).
Pip ​​Edwards, an Australian fashion entrepreneur/co-founder of P.E. Nation inspires a lot of my style, wearing and creating fashion forward active streetwear. She inspires me not only based on visual style, but also through her journey as a businesswoman.
What is your proudest achievement at Sporting Life?
One of my proudest accomplishments over the last year and a half has been creating a larger focus on loyalty for Sporting Life. Since starting at SLG, I have worked collaboratively with the Sporting Life team to drive value and engagement for our existing loyalty members while developing initiatives to acquire and welcome new members to the program. I look forward to continuing to build on the strong foundation we now have in place with Sporting Life Rewards and continuing to find new and innovative ways to bring value and deepen our relationships with our customers.
Who is the biggest female role model in your life?
Picking one woman is an impossible task. Some of the biggest female role models in my life are:
My friends and peers — I find my friends and peers to be really inspiring. Watching them navigate different careers and personal lives and being open about our experiences whether it be struggles, learnings, or successes, provides the opportunity to continue to grow, share feedback and advice, motivate, and celebrate one another.
My mom — My mom introduced me to sports at a very young age getting me involved in hockey, soccer, skiing, summer camp and more. My mom played an integral role in teaching me the skill sets involved in each of these activities and most importantly how to be a team player. My mom still participates in a lot of these activities today, continuing to lead by example. She's consistently my number one fan and has taught me resilience, commitment, and compassion. 
For those who know you best, what are three words they would use to describe you?
Positive, enthusiastic, and motivated.
How do you bring that "girl power" energy?
I love to stay active — some of my favourite things to do with friends would be getting outside to ski/hike or attending group fitness classes. Motivating each other, cheering each other on and enhancing our mental and physical health as a group helps to create and build on that energy.
What are some of the ways you're paving the way for young women?
I'm currently mentoring a female co-op student with Sporting Life Group and have been very excited to share my knowledge and experience during her first co-op term. I hope that the experience she gains from this term helps her to form her own goals/career path as a woman in business and further her confidence in sharing her opinions and fostering her creativity.
Do you do any work in the community that fulfills your passions?
I volunteer with Vancouver Adaptive Snow Sports teaching skiing programs for persons with a disability. Skiing is something I love to do in my spare time, and working with VASS to make the mountain experience accessible to all allows me to share my passion for skiing with others.
​​I also volunteer with HelpAWS Animal Rescue based in Saint Lucia, managing their social media platforms remotely. I'm very passionate about animal rescue having a rescue dog myself and I love working with their team to adopt thousands of animals to families in the US/Canada and working to improve the quality of life for animals and the community on the island. It is even more special and intrinsically motivating to work with the woman lead team at HelpAWS.
What are some words of wisdom you would tell your younger self?
Don't take yourself too seriously
Celebrate often
Take time to listen and be open to feedback
For more spotlight stories, read along under International Women's Day and follow us on Instagram @sportinglifeca.