From morning to night and on trails, paths and sidewalks, this is where Canadians from coast to coast find their call to run.
What's your call to run? We caught up with some of our in-store experts to ask. Read below for tips, ways to get the most out of your run, and top product picks from our experts to help kick-start your run routine!
"I run to get outside and enjoy the sunshine. I find running to be a great escape from everyday stresses and lets my mind be free for 20 to 60 minutes a day. My favourite feeling in the world is the last push of a run and the burn in your chest after you've run your heart out."
Bridget Tweedley, Customer Experience Manager, Sherway Gardens (Toronto, ON)
Bridget's Sporting Life 10k Fundraising Page: Click here to support!
Bridget started running in elementary school for the cross country team and track and field team. She can remember her first cross country race at Centennial Park, where she fell in love with running. Running up the hill gave her a tremendous feeling of accomplishment and the opportunity to disconnect and focus on her steps and breathing to complete the race.
Top 5 Running Tips:
Don't compare yourself to others; channel your inner Phoebe Buffay.
DRINK WATER – everyone says it but get a good water bottle that makes you excited to drink 2 litres a day!
Don't skip on recovery. Stretch and rest!
Find a route that inspires you.
Look good, feel good – splurge on that new spring run gear!
Run Ritual: My pre-run ritual consists of a green juice and walking down the stairs of my apartment as a warm-up. My post-run ritual always includes a nice stretch and a green apple with peanut butter.
Favourite Place to Run: My favourite place to run is along Toronto Lakeshore. It's the perfect mix between city to the north and the beautiful lake to the south.
Favourite App: Aaptiv! I love this app for guided runs. It feels like you have a coach running right next to you cheering you on and encouraging you to perform at your highest capability. It also has great guided stretches!
Bridget's Run Playlist: The Greatest Showman soundtrack.
Shop Bridget's Top Sporting Life Product Picks:
Nike Yoga leggings, + Nike Tempo Luxe 2-in-1 Short
Smartwool Hide & Seek No-Show Sock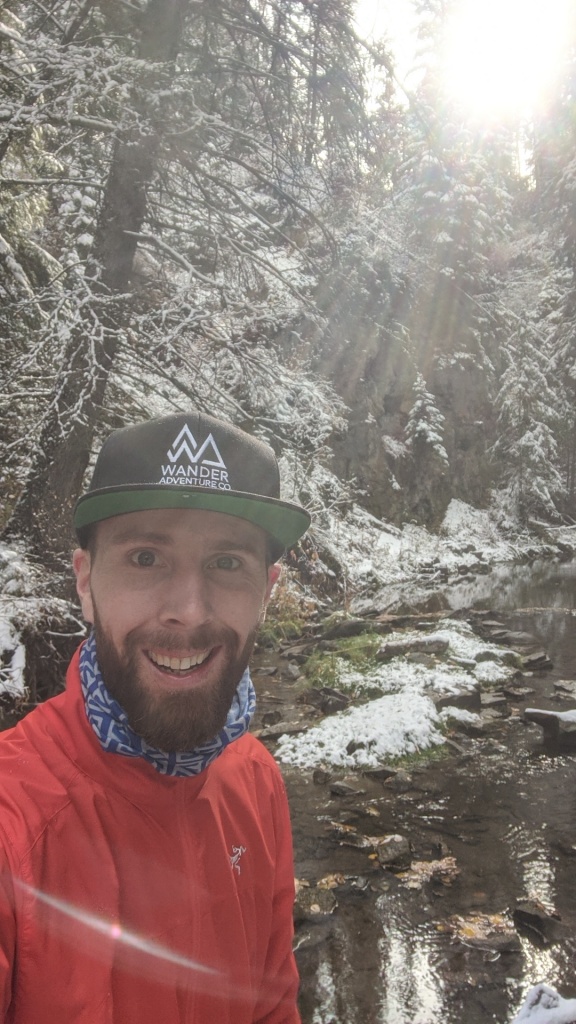 "I always like a race, even if it's with myself."
Chris Tgahrt, Assistant Manager, Southcentre Mall (Calgary, AB)
Chris' Sporting Life Virtual 10k Page: Click here to support!
Chris has been a runner for many years. His love for running started in track and field in elementary school and junior high.
Top 5 Running Tips:
1. Proper hydration & nutrition
2. Pre and post-run stretch
3. Not every run needs to be recorded
4. Listen to your body
5. Running should always be fun
Run Ritual: Left shoe, then right shoe ;)
Favourite Place to Run: Fish Creek in Calgary. Amazing scenery and lots of wildlife to spot.
Favourite App: Strava! Strava is great to collect information from all the different apps I use for running, hiking, cycling and more.
Chris' Run Playlist: Foo Fighters – Everlong; Edwin – Alive; Chris Cornell – Dead Wishes; Mumford & Sons – The Wolf. I also like to listen to podcasts.
Shop Chris' Top Sporting Life Product Picks:
Trigger Point Foam Roller + CoreFX Bands
Oakley Sutro Prizm Sunglasses + Oakley Holbrook Sunglasses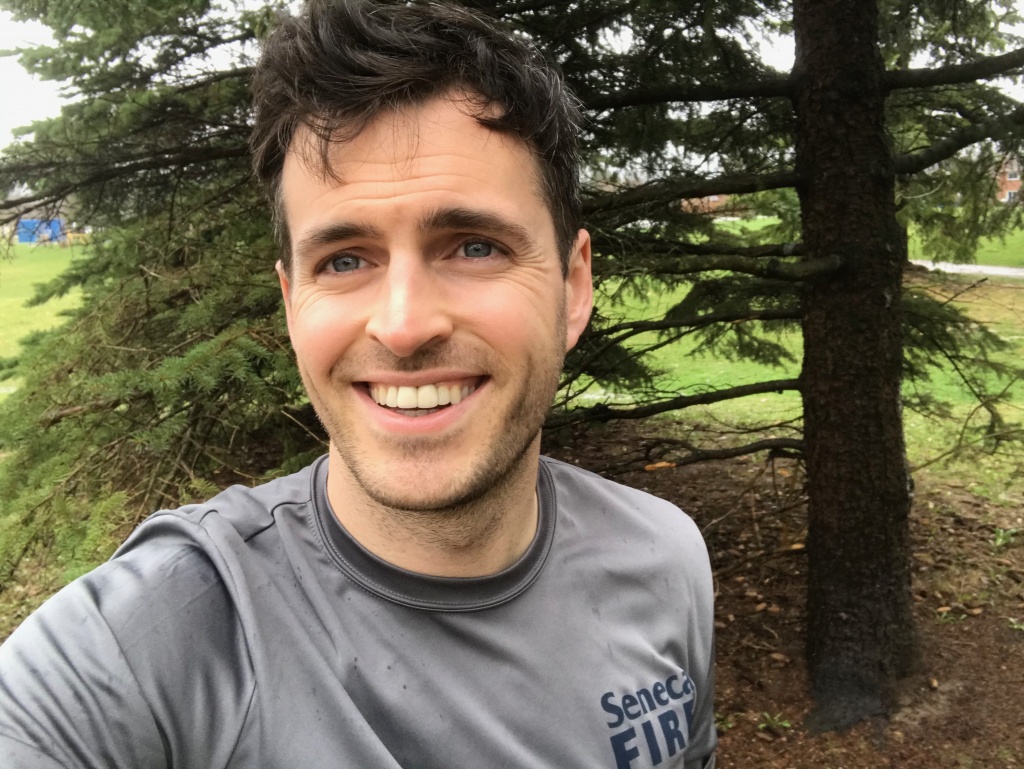 "I used to run track many years ago, but most recently, I really got back into it when I was living and working at our Calgary stores. There was something so alluring about running/hiking in that amazing technical terrain by the Rocky Mountains."
Connor Drake, Hardgoods/Service Technician, Yorkdale Mall (Toronto, ON)
Connor's Sporting Life Virtual 10K Page: Click here to support!
In training to become a firefighter, Connor discovered running as a great way to improve his lung capacity, which is incredibly important for firefighters.
Top 5 Running Tips:
Start slow! You can't expect to run a 10k at a sub 5:00/KM pace on your first run. Ease your way into it and set appropriate goals and your body will thank you by progressively adapting to your new training regime (and not getting injured!)
Buy yourself a new pair of running shoes that you love and want to wear and I bet you that you are way more excited to get out there and run than if you have an older, "rugged" pair.
Mix up your pace. Don't always run the same distance, at the same pace, all the time. Your training will plateau and you will be bored stiff. Try playing with some slower, longer distance days and some faster pace, shorter distance days. You will develop both fast and slow-twitch muscle fibres and you'll become a much more efficient runner.
Sign up for a race! Again, just running for the sake of running can get boring for some (i.e., me). If you have a race upcoming in the calendar, then training becomes that much more exciting. And don't forget to take a break after a race. Give your body adequate rest and your recovery and strength gains will increase much more efficiently than if you are exhausted and sore all the time.
Join or create a run group. You might not think you are a social person, but after a run with the endorphins running high, you will be surprised how fun it can be to chat with some of your friends or even complete strangers!
Run Ritual: Now that I am almost 30 (eek!), my body requires much more warm-up. Gone are the days that I could just get up and do anything and then stop and not be sore. I like to foam roll pre and post-run and do some light calisthenics to get the blood flowing pre-run. I will usually incorporate some static stretching after a run. Don't let some stiffness with age deter you, though. It is normal and you will learn to get more in tune with your body as your figure out what your body needs pre and post-training.
Favourite Place to Run: When I lived in B.C. and worked at our Brentwood store, North Vancouver had some amazing trails (for both running and hiking) and it was only about 20-30 minutes out of the city. I have never felt as spoiled as I did when I lived there. It truly is a breathtaking place.
Favourite Running App: My Garmin Instinct Solar watch is one my favourite pieces of gear I own. The Garmin Coach software that comes with Garmin products is an amazing tool for helping track, motivate, and keep you accountable to your training plan.
Connor's Run Playlist: I am way more of a podcast while I train kind of guy now. My favourite one at the moment is the Multiple Calls Podcast. It is about firefighting, so it may not be for everyone, but they have some amazing guests on there and it is very motivational for an aspiring firefighter like myself.
Shop Connor's Top Sporting Life Product Picks:
The North Face Active Trail Dual Short
Garmin Forerunner 45 GPS Smartwatch
I also always pack some GU gels and Skratch bars, in case I need a quick glycogen boost!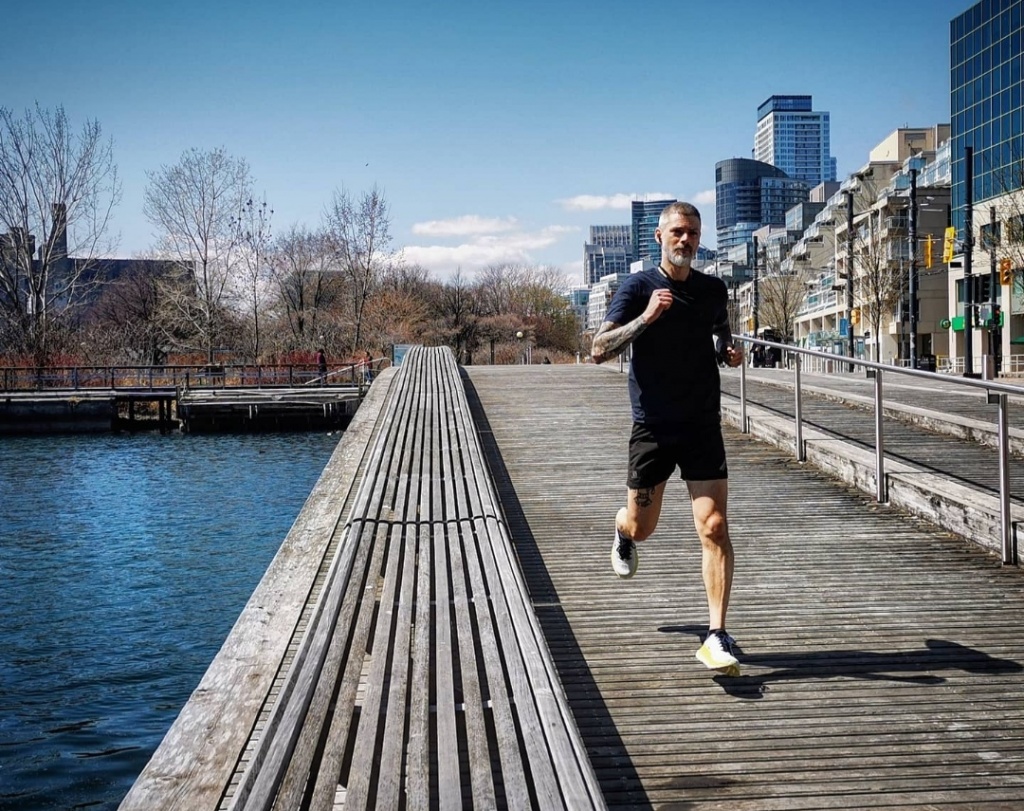 "In a word, engagement. I love the way running allows me to engage with my body, my brain and my surroundings, whether I'm discovering hidden spots in my neighborhood or exploring new places while traveling."
Dan Mark, Customer Experience Manager, Yonge Street (Toronto, ON)
Dan's Sporting Life Virtual 10k Page: Support Team Yonge St!
Dan has been running for over a decade, off and on. He started running to add cardio to training plans he develops for backcountry expeditions. Today, he runs mostly just for the sheer joy he gets out of it.
Top 5 Running Tips:
It's important to find a routine that you can stick to. I run my commute from home to work every day. It's something I know I can commit to, and the run helps me re-center so I'm fully present for my family when I walk in the front door.
Start slow, but keep at it! The key here again is consistency. If you're just getting started, it can feel like your lungs are going to explode after only a short time. You have to think of it cumulatively, and every run in the bag is a step towards the goals you're looking to achieve.
Listen to your body. It's easy to get into a rut, and even if you're running a lot, you might find you go a long time without seeing improvements. It's important to have goals, whether it's speed, distance or health oriented, and to push yourself during your workouts. Don't overdo it though, or you might end up sidelined with a pesky injury.
Start slow and finish fast; a typical mistake I see people making all the time is starting out hot and reaching the end of their run gassed, or worse, not finishing at all. Always start off at a slow pace, gradually gaining speed with each successful kilometre. You'll give your body a chance to ease into the activity and improve your stamina with every completed run.
Disconnect every once in a while. Every few weeks I'll hit the road or trail without my phone, watch or music. I use the time to get inside my own head and reaffirm who I'm doing it for.
Run Ritual: See tip #5 above. The other day I looked at my watch during a run and realized I hadn't restarted after stopping at a light. I was so mad that I had lost those kilometres, and for what? It's not like I didn't run them! The next day I went out without any tech to really let that point hit home.
Favourite Place to Run: I have the Don Valley close by to my home and I spend a lot of time on the trails in that area.
Favourite Run App: I'm on Strava!
Dan's Run Playlist: Instrumental, Black Country, New Road; My Queen is Albertina Sisulu, Sons Of Kemet; When I was done Dying, Dan Deacon; None Shall Pass, Aesop Rock; I am John, Loney, Dear.
Shop Dan's Top Sporting Life Product Picks:
Strato Tech tee from Vuori (It's soft and comfortable, and I can wear it casually AND for workouts!)
Hoka One (they've been excellent on my shorter speed workouts and long runs as well)
Stance Socks all the way
Garmin Forerunner 245 Music if you'd like to dump the phone and still listen to tunes
JLab Go Air True Wireless Earbuds
What's your call to run? Tag @sportinglifeca to share your run routine with us and shop here to refresh your run this season!