Going for a run in the dead of winter might sound like the last thing you want to do when Netflix and a blanket are calling your name. But it's also an opportunity to keep up your training, clear your head and maybe even meet new people. Personally, running all year round has been a key to my healing through many difficult times in my life — this pandemic included!
Through my studies of kinesiology and dance, and founding and owning my Toronto-based fitness studio, YOGAthletix, I've found that pairing running and yoga together is a great way to achieve a well-rounded fitness regime and lead a healthier life. For many people running can be a daunting activity, but I have five tips to help get you started or keep you on track!
Invest in winter running gear
If you're new to winter running, you'll want to make sure you have the right gear so you're less likely to give up due to the chill. Canadian winters are no joke, so you'll want to grab a moisture-wicking long sleeve base layer, long sleeve top, thermal tights and a winter running jacket. The key here is to make sure you look for fabrics that will keep you warm and dry, but are also breathable. Don't forget your toque and mitts!
2. Get a running buddy
Running with a friend or community makes it so much easier to hold yourself accountable — that's why I started the YOGAthletix run club five years ago as a way to offer the same support running provides me to my community. If you don't have a local running club, there are several great running apps that allow you to connect with friends, challenge each other and create a community together to make running more fun! Even if you're just keeping each other posted on your progress, you'll find motivation comes easier when you're in good company.
3. Embrace the winter air
The cold air can be intimidating, but there are many benefits to running during the winter months like cleaner, fresher air and less crowded trails. Plus, if you're like me, you can use running as an outlet to clear your head and find inspiration for starting new projects. Embracing this new perspective will help you see the advantages of those chilly runs!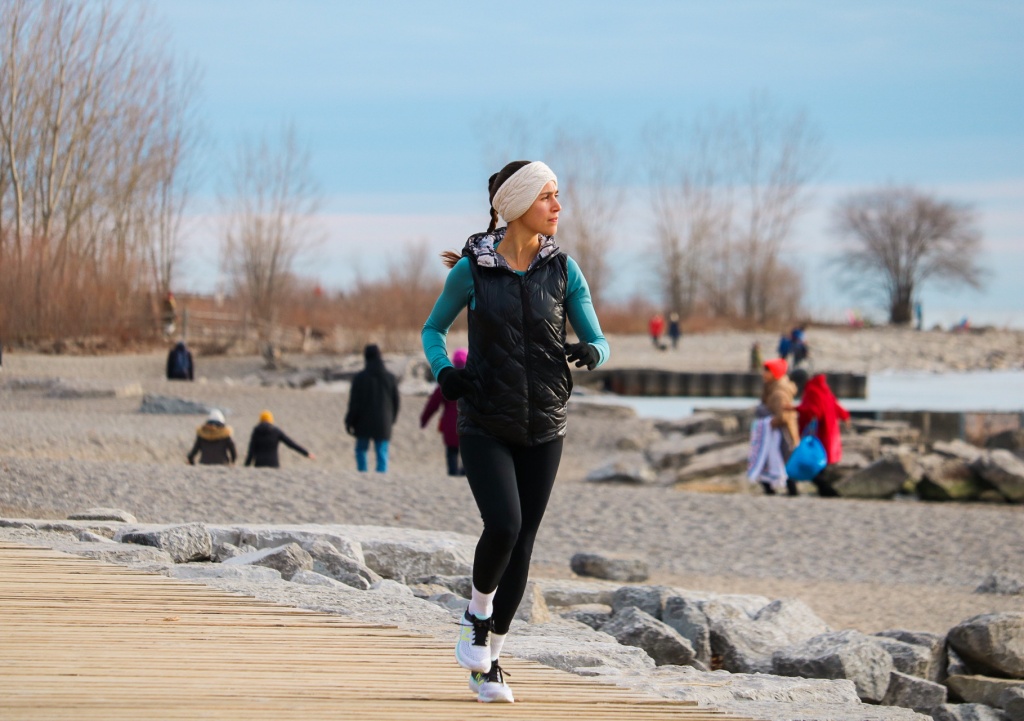 4. Don't let the snow keep you inside
Snow day? S(NO)w problem! If a fresh blanket of snow has fallen, it's actually an ideal time to go for a run because the snow provides a softer landing. It can also help increase your ankle strength, balance and stability and provide a challenge since it may feel similar to running on sand. Staying safe while you're running should always be a priority, so if it's icy out, save your run for another day since running on ice can be very dangerous. 
5. Channel your inner winter warrior 
I know running during the winter isn't a walk in the park; it requires perseverance and commitment. But taking on the chill will boost your mental toughness and resilience. Not to mention your friends, family and colleagues will credit you as a next-level badass athlete! Ready? You've got this!
Jamie Bell is the Owner and Director of YOGAthletix, a Toronto-based studio that offers traditional and unique styles of yoga, high-energy fitness programs, therapeutic, restorative workshops and a seasonal run club. All classes are currently offered virtually.