Can you believe running season has begun and spring is nearly here?! Running is the perfect activity to make sure you spend more time outside, and it carries a whole host of other benefits including building cardiovascular capacity and boosting your mood. Plus, when you run or walk with a goal in mind, it's even more motivating.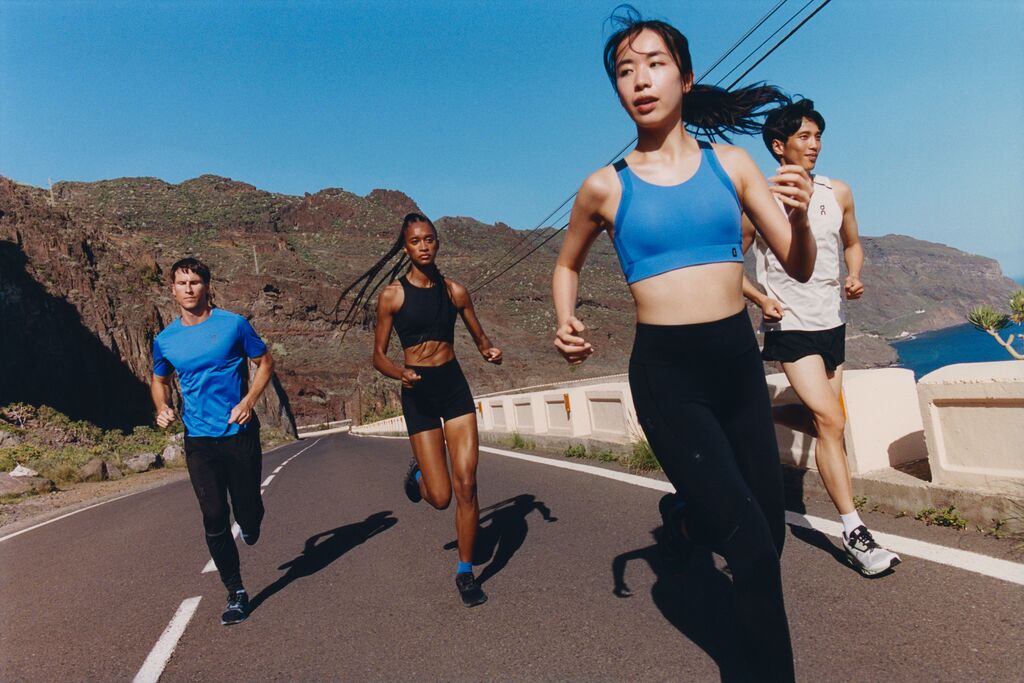 To help you reach your goals, On has created a 4-week training plan that will help you reach your 10K goal.
Let's Get Started:
Running Schedule: Establish a regular running schedule with a mix of rest days and running days. 
Set your goals. How do you want to feel during your race experience? Goal race pace? Finish time?
Build your run community. Who are you running with on Thursdays? How can you build this training plan into your work week? 
Learn the lingo. What are strides? What is cross training? What is a run club? Check out our vocabulary sheet in the appendix. 
Gear up. Shop the On collection at Sporting Life for head to toe look that will help you get out the door. Shop Here: https://www.sportinglife.ca/en-CA/on
Listen to your body. This is just a plan. Modify as needed. 
Here's an idea of how each week will look, with run intensity and length varying, as detailed below in the weekly training plan. 
Monday: Reflection (Backwards + Forwards) 
Route Suggestions: Your neighborhood 5km route
Tuesday: Gear up + Get After It.
Route Suggestions: Complete on flat running path and/or on a hill.
Wednesday: Recovery/Rest Day
Thursday: Community
Route Suggestions: Lean on your local run club or run specialty store to build the route.
Friday: Shortcut to Runner's High (i.e tempo)
Route Suggestions: Flat, paved, straight course. Less navigation = heightened focus on the intervals.
Saturday: (Endur)ance
Route Suggestions: Rolling, paved or gravel run path.
Sunday: Cross Train X Strength Training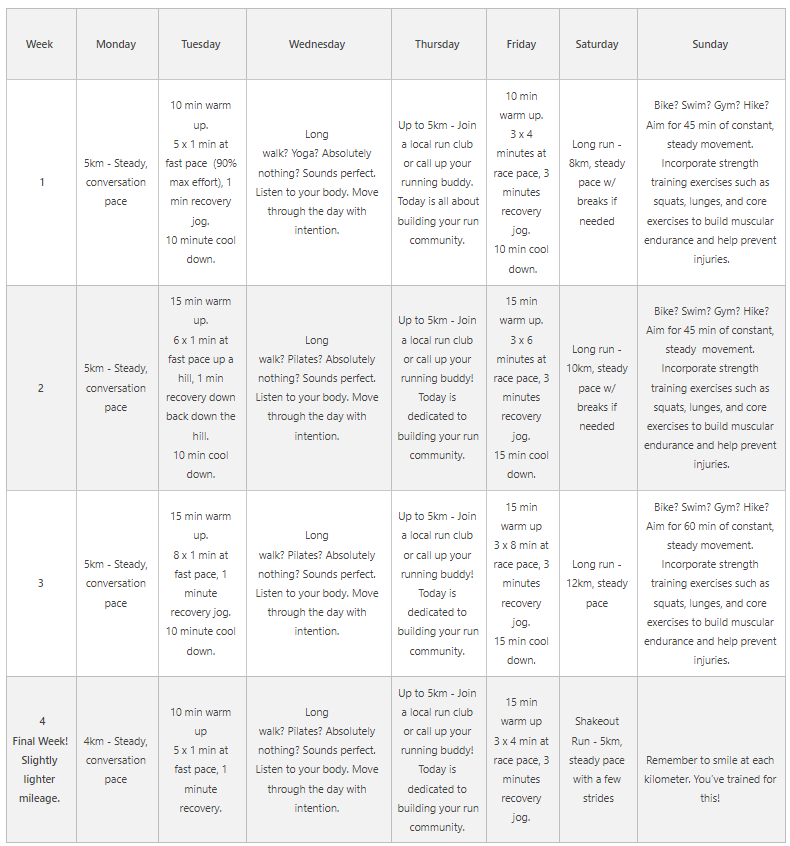 *Reminder: Don't forget to warm up before all of your runs to ensure you have blood flowing to your muscles. This will help prevent muscle tears and other injuries.
Vocabulary:
Pace: How fast you're running. Generally measured in minutes / kilometer.
Warm Up: Easy jog, slowly elevating your heart rate, with a few 10 second strides peppered in to get the legs moving
Cool Down: Easy jog, slowly decreasing your heart rate
Tempo / Race Pace:  The goal minute / kilometer you would like to hold for the duration of the 10km. 
Steady / Conversation pace:  A pace that is sustainable, easy enough to hold a conversation while running. 
Run Club:  Weekly running groups that meet on certain days / times. How do you find a run club? Reach out to an On ambassador to lead your way! 
Cross Train: Alternative, endurance based workout that is generally less impact than running. Examples include – cycling, hiking, swimming, skiing, etc.