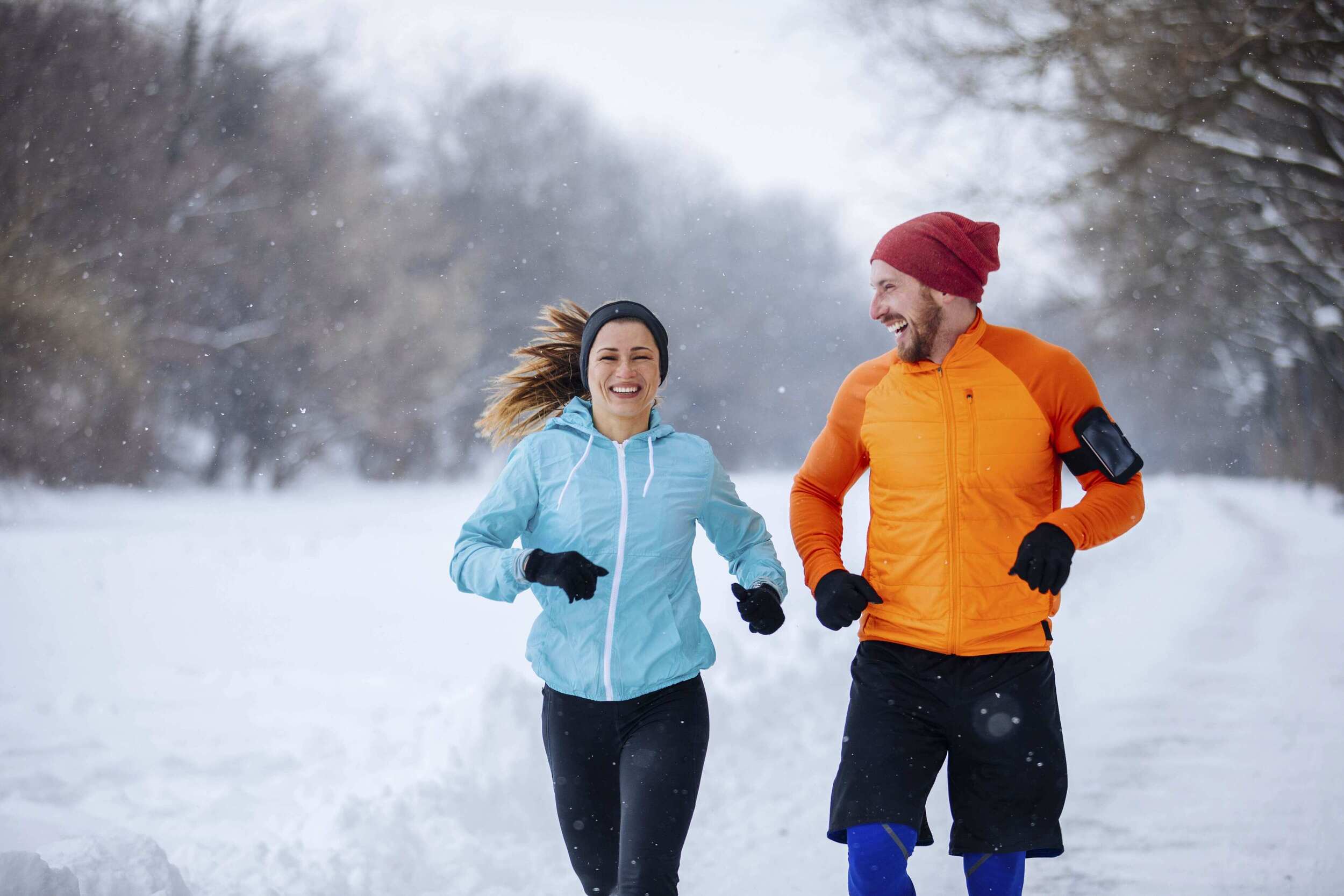 You might be tempted to stay bundled up inside this Valentine's Day, but we have a better idea — take you and your special someone outside! The winter season brings tons of activities that are perfect to do in the snow. Whether you're adventurous and want to hit the slopes or would prefer to slow things down strolling through a snowy trail, we've rounded up the best outdoor activities to do this Valentine's Day.
Skiing
There's nothing like a day on the hills to get your adrenaline pumping. In British Columbia, consider dropping into fresh powder at the world-class ski destination of Whistler Blackcomb known for its legendary terrain, reliably deep snow and over 200 runs. Come midday take a lunch break at one of their five-star dining destinations.
Lake Louise Ski Resort in Alberta's Banff National Park is a favourite for a reason, with its spectacular scenery and over 4,200 acres of terrain. Its unique layout with runs of all levels from almost every chair means you can be zipping down a black diamond while your partner goes down an intermediate run.
In the east, Blue Mountain Resort in Collingwood, is Ontario's largest ski destination with 365 skiable acres, including 30 runs that are lit for night skiing. Post-ski, wander the pedestrian village and grab a bite at one of 30 eateries. Quebec is home to many incredible ski destinations, including the largest resort in the province, Mont Tremblant. Best for intermediate to advanced skiers, it has 102 ski trails on four distinct slopes, and boasts having one of the most powerful snow-making systems in North America.
From ski equipment to ski apparel, visit our Ski Shop for him and her, to get everything you need to hit the slopes.
Snowboarding Gear up boarders and take your pick of mountain destinations across Canada. A top pick out west, Big White Ski Resort in Kelowna, BC, made Condé Nast Traveler's Readers' Choice Awards 2021 for the "Top 5 Ski Resorts in Canada." With 119
designated trails, five powder bowls and plenty of snowboard-friendly terrain, whether you like the tried-and-true runs or are a free-rider, you'll love carving down this mountain.
Southwest of Calgary is Castle Mountain Resort, the second largest ski resort in Alberta that's also owned and operated by skiers and boarders. It has eight alpine bowls over two mountains and has one of the only resort-based cat-skiing operations in North America, perfect for adventurous riders looking for fresh powder.
In Ontario, Calabogie Peaks in the Ottawa Valley is known as the ski hill with the highest vertical drop in the province at 780 feet. Featuring 24 trails and 80 acres of board-able terrain, it's ideal for beginner and intermediate snowboarders looking for a fun-filled day.
Boasting the highest vertical drop east of the Rockies, Le Massif de Charlevoix northeast of Quebec City, is a riders paradise. You'll find over 53 trails and more than 15km of off-piste terrain, for hours of boarding fun.
For her and him, our Snowboard Shop is your one-stop destination for your snowboarding essentials.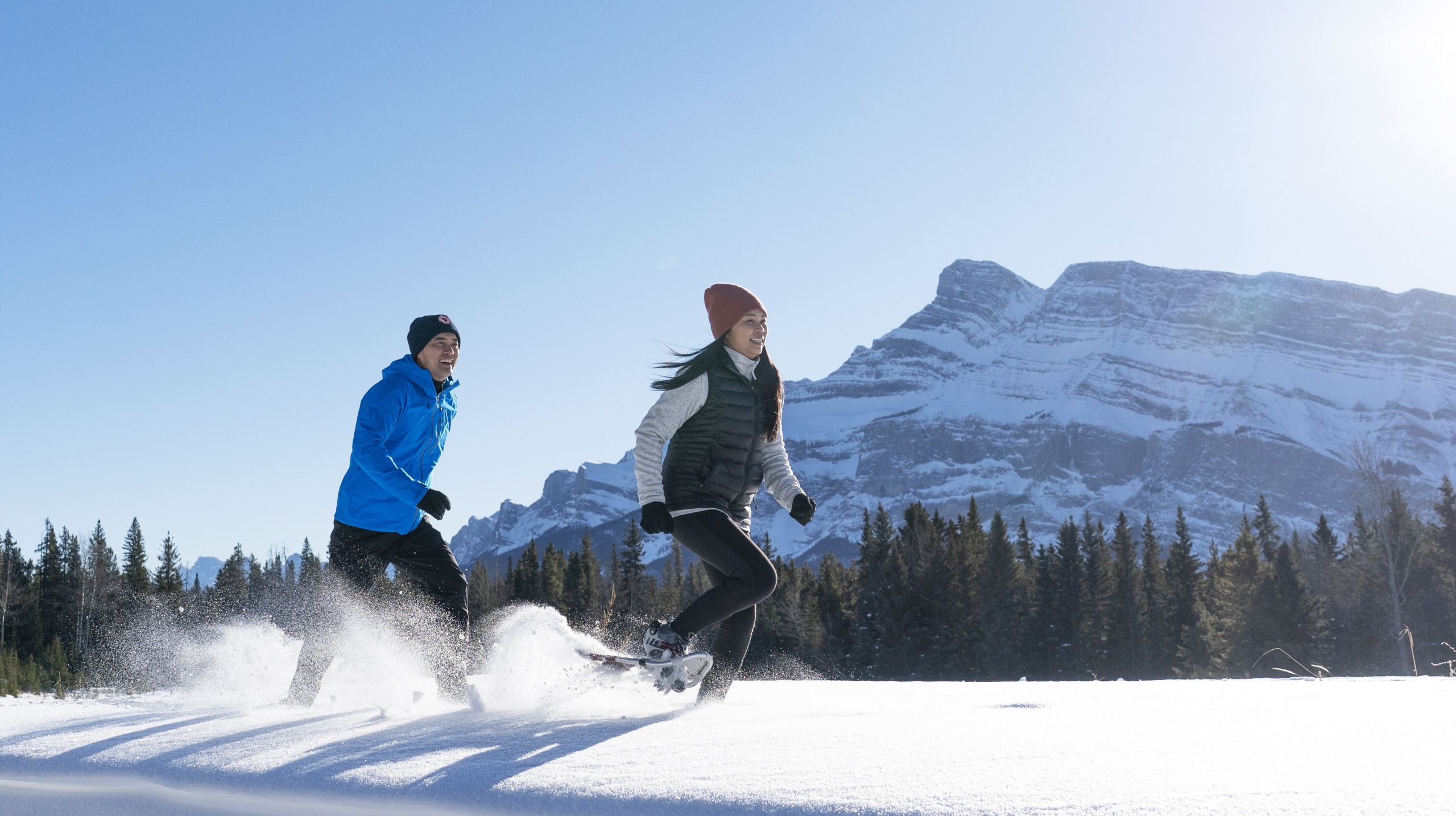 Cross-Country Skiing
Work up a sweat as you glide across the snow-covered ground. Unlike downhill skiing, flat terrain is your friend, meaning there are tons of places to enjoy this full-body workout. Mount Washington on Vancouver Island in BC is rated as one of North America's top Nordic Centres. At the edge of Strathcona Provincial Park, there are 55km of machine-groomed and classic trails, and stunning scenery surrounding you.
The Canmore Nordic Centre an hour-and-a-half west of Calgary is a local favourite, with more than 65km of grooming and natural trails, including 6.5km of illuminated trails for night skiing. Easily accessible for skiers of all levels, the meadow offers beautiful views of the surrounding Rockies. In Ontario, Arrowhead Provincial Park near Huntsville, has terrain for all levels of cross-country skiers, with a total of 33km of classic ski trails and 16km of skate trails. Over in Quebec, Aiguebelle National Park is a perfect Nordic ski destination if
you're dreaming of breathtaking landscapes to glide by. They offer 30km of marked trails which pass cliffs, frozen lakes and snow-covered forests. Doesn't that sound romantic?
Get prepped for a day of Nordic skiing and shop our cross-country skis, for him and her.
Snowshoeing
Experience the beauty of winter as you float on the snow with a pair of snowshoes. A low-impact way to get out on the snowy trails, it's an ideal activity for all levels, meaning you can work up a sweat or take it easy.
Only fifteen minutes from downtown Vancouver, Grouse Mountain offers four different trails from groomed to single track. For those who want a challenge, head to the top of the mountain for the Snowshoe Grind, a 4.3km trail with gorgeous scenery and some tough terrain.
Snowshoeing in Alberta's Jasper National Park is a must. With more than 11,000 square kilometres of protected land, there are an endless number of trails to choose from. For those in search of an easy snowshoe, Beaver Lake has a gentle grade that meanders through a forest, eventually taking you to snow-capped mountains.
Not only a summer destination, Wasaga Beach Provincial Park offers trails for Nordic skiers and snowshoers alike. For those looking to snowshoe, you'll find a 10km trail system that winds through the forest and if you're quiet enough you may be lucky enough to catch a glimpse of a white-tailed deer or fluffy rabbit.
One province over, Quebec's Gatineau Park is the perfect snowshoe destination no matter if it's your first or fiftieth time. With almost 80km of snowshoe trails, ranging from easy to difficult, the natural landscapes will take your breath away.
Check out our snowshoes for him and her before you hit the trails.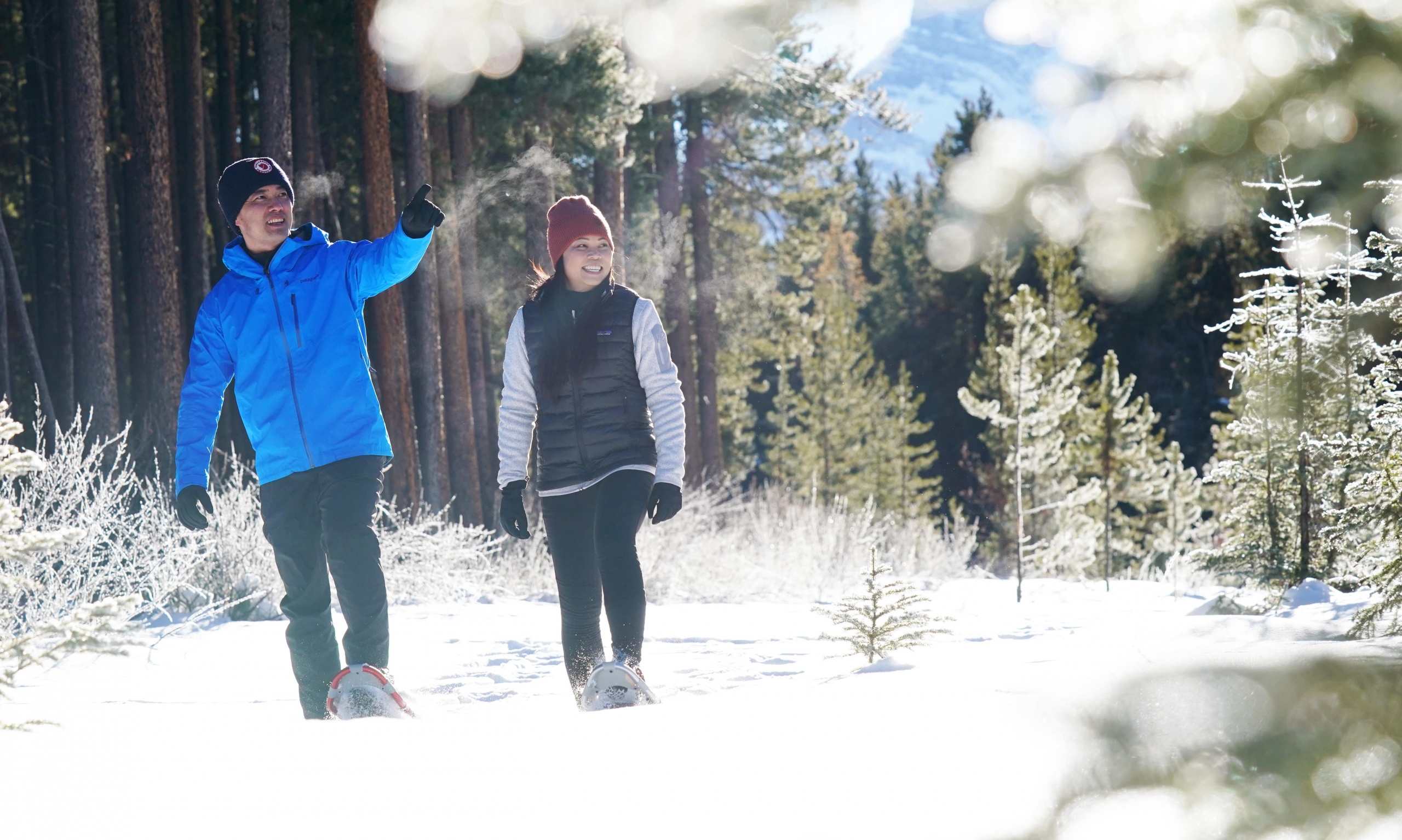 Snowy Trail Walks
What's more fun than winter hiking? With photo ops abound, you can stroll at your own pace, taking in the sights and sounds of nature as you explore the wilderness. With the backdrop of the city of Vancouver, Cypress National Park offers dozens of trail options, depending on how adventurous you feel. If a view with a selfie for two is what you're after, consider hiking up the Hollyburn Peak Trail where you'll be rewarded with beautiful 360-degree views of the surrounding area.
A scenic walk in Banff National Park, Johnston Canyon trail in the winter will take at least a couple of hours, but the effort is worth it, as the trail ends at a beautiful frozen waterfall (don't be surprised if you see ice climbers working their way up!). In Ontario, take a trip up to Sleeping Giant Provincial Park, an hour outside of Thunder Bay. The park features over 100km of hiking trails, including Middlebrun Bay Trail, an easy hike that leads to a beach with amazing views of Lake Superior.
The province of Quebec is home to some fantastic winter hiking trails, including Parc national des Îles-de-Boucherville just outside of Montreal. With flat terrain and two marked trails, it's the perfect natural escape from the hustle and bustle of city life.
Be comfortable and warm in style by shopping our collection of Coats & Jackets for him and her.
Enjoy your dates outdoors and show us what you were up to by tagging @sportinglifeca and using the hashtag #MySportingLifeCA.