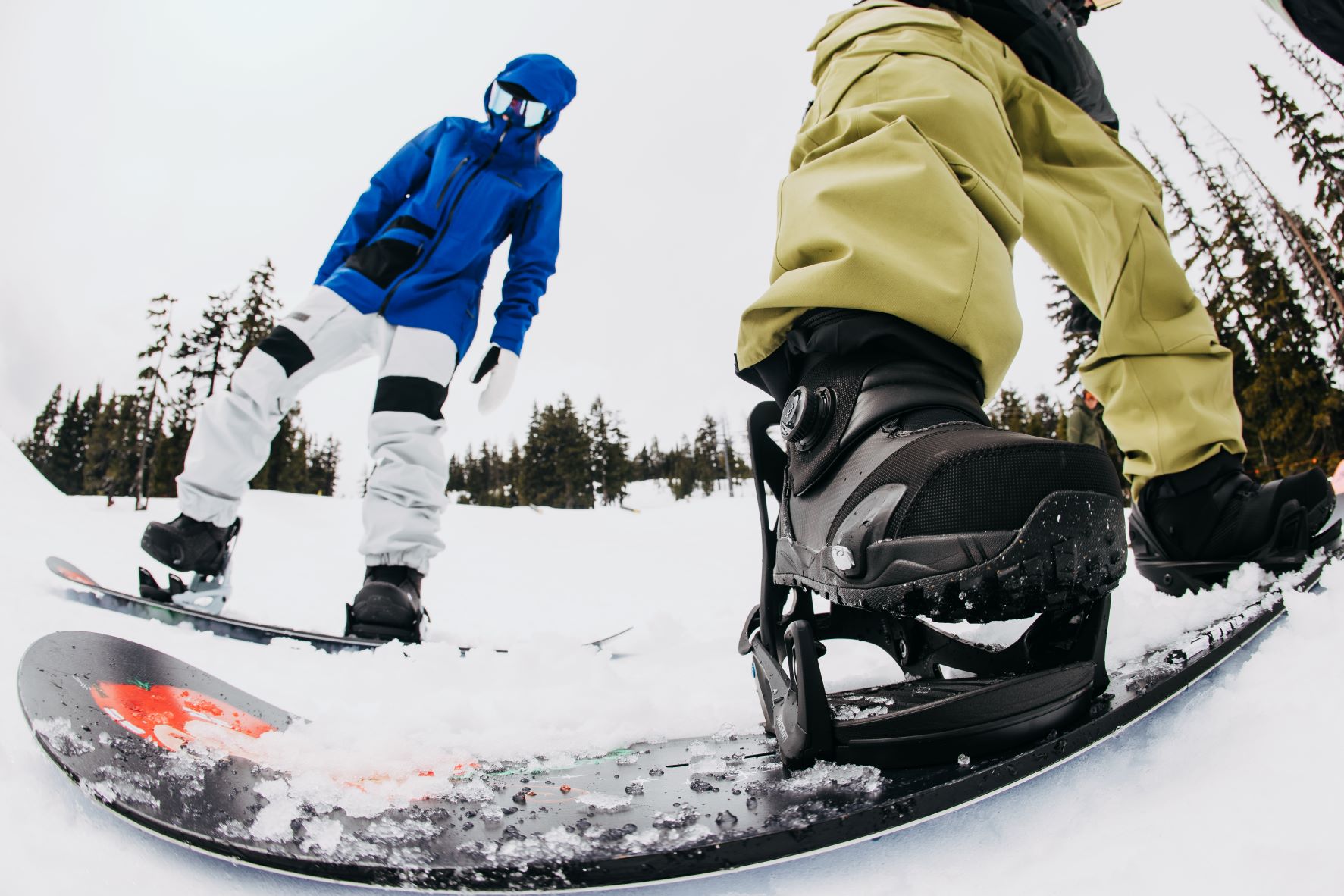 Burton's innovative new binding system is set to fly!
First, a question: Would you rather be slamming down the slope on a sleek board or flailing around on the cold ground trying to get a grip on an uncooperative strap? 
We're guessing the former. With Burton's Step On binding system, getting ready to ride is now hassle-free — even better, you'll spend more time ripping over the snow and less time sitting on it.
It's hard not to call Burton's Step On heel-to-binding interface "revolutionary." For the snowboarders who use the system, it most certainly represents a revolution in everything from ease of use and comfort to response and performance. For Burton — arguably the company that made it a mission to perfect the strapless binding approach — the process was a gradual evolution, one that was several years in the making.
But it's here now — and riders at all levels are reaping the benefits.
Looking back to the early days, when snowboard companies were trying to crack the strapless code, says Burton Canada's Brendan Cordell: "Everyone tried and failed. Because nobody knew enough about the anatomy of the foot." Memories of those early attempts were wiped clean when Burton's Step On hit the market six years ago — after four years of development, hundreds of hours of rigorous testing, and a heck of a lot of riding.
Jake Burton put an entire team of developers on the project, releasing them from any other commitments so they could focus on the task at hand. It was that important to him. The first thing they did was put a bunch of cameras on a board and study exactly how the foot, binding and board perform on the hill. Because if the ride wasn't right, it just wouldn't fly.
Burton was driven to remove barriers to entry for newbie riders by reducing the hassles of suiting up. Sitting on your butt on the freezing ground while struggling with straps can wear thin pretty quickly, especially for a newbie. "People were quitting because it's too hard, but now we're seeing whole generations embrace Step On," says Brandon. Pro athletes are taking to the system, too — testament to the fact that the ride is right.
Sporting Life's Rebecca Brownridge — a self-confessed "winter baby" who grew up on the slopes — credits Burton for focusing on the spot that matters most: the connection to the board. Step On provides the control, feel and feedback of straps but with none of the headaches.
"The most important thing for a new rider is to feel confident and enjoy that first day," says Brownridge. "With Step On, you're standing, not sitting — so it's confidence-boosting. You step in, you step out."
Brownridge is absolutely confident recommending Step On to a new customer — and she rides the system herself. "It's the same quality of ride. Burton is the best at bindings, hands down. You can ride just as confidently, and you don't have to change your ride in any way."
The barrier to learning to snowboard, Brownridge says, "is almost inherently gone. If you come from skiing, the gear is completely the same. We used to say you'll spend the first day on your butt, but not now. Imagine that this is what you learn on – you'll never buy anything else."
The future is now, so to speak. This season, riders will see the Step On system at rental shops on some hills across Canada. That's a great way to try out — and join — the revolution.
"They are change-makers at Burton," Brownridge says. "They always have the best and the latest and the greatest. And they wouldn't launch something unless it was perfect. They update and stay current, and now Step On is totally the next thing. Burton made it work well, but they also made it cool!"
The most important thing for a new rider is to feel confident and enjoy that first day.
Release Lever
This low-profile and easy-access lever is located on the heel cup of the binding. Pull the lever up, let it go, and the boot releases — twist your foot and step out. The handle resets automatically so you can step back on immediately.
Heel Cleat
Similar to the locking teeth in traditional binding buckles. Two levels of connection allow for varying accumulations of snow and ice pack in the binding. Simply step down, apply pressure, and listen for a click.
Sequence BOA
Fit System features two unique lace paths for a fit that snugs evenly from top to bottom with the simple twist of a dial. The rider can choose the level of stiffness with the lower sequence boa to customize the fit.
Toe Hooks
Toe hooks on the front of each boot securely fasten to the Step On binding. After you lock into the heel cleat, apply pressure to both toe hooks and listen for two clicks. Now you're secure and ready to ride.
Discover Burton's collection from Sporting Life here!