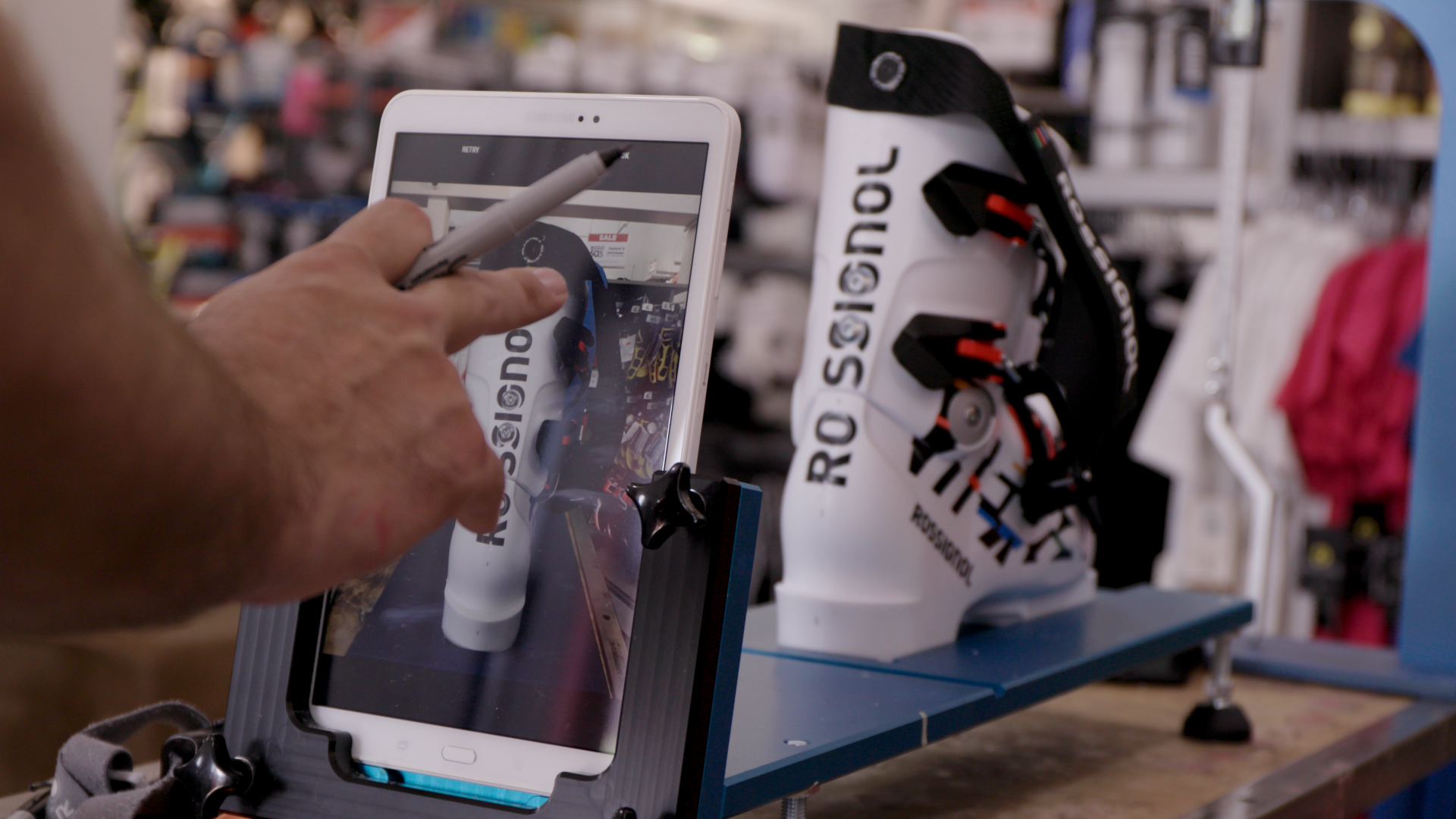 Sporting Life's boot fitters have you covered – and that truly is a comfort.
There aren't a lot of jobs in this world where a happy customer will hug you. But it happens at Sporting Life — it happened to Wesley Landman when he customized a pair of boots for a woman who thought her skiing days were over due to foot issues.
Sporting Life's boot fitters have never met a foot that couldn't be made to be supremely comfortable and happy in a ski boot. These experts understand the anatomy of feet and, more importantly, how the foot and leg interact with a modern ski boot. Their services are available to anyone at Sporting Life stores across Canada — and it's the same level of service they provide to Canadian athletes. No matter their abilities on the slopes, any skier will find more pleasure and comfort — and be able to spend more time on the hill — from having their boots custom fitted.
"An experienced boot fitter will be able to assess your needs and foot type and take the path of least resistance when it comes to selecting the right brand and model," says Chris Powers, who works at the Ottawa store and coaches for Alpine Canada. "Finding the best initial fit will require less modification and ultimately save you time and money and enhance your experience."
It's not just problem feet that need TLC. Sporting Life's boot fitters are trusted by national and provincial Alpine and Ski Cross athletes to help them maximize their performance at competition.
"We learn from their feedback, and it makes us better boot fitters. It's especially motivating to see athletes reach and surpass their goals and we take a great deal of pride in the service we provide to them," Powers says. "The junior skiers coming to our shop have access to the same service as a World Cup skier but tailored to their stage in development. Seeing gear I've worked on perform at the European Cup and World Cup is a dream come true and I'm just glad these amazing athletes are not held back by their gear and can perform to their potential."
Step 1: Assess the foot
Never stray from the basics, says Powers. The first step is a thorough examination of the feet.
"Measure the length and height of every foot and identify what type of foot the customer has and how it will react and change shape in a forward, weighted position," he says.
This assessment, says Landman, is done before he'll even think about which brand or model of boot to recommend.
"I'll have a long look for spurs, a super long toe, a bunion, etc. And then, I find out how often they ski. Are they past the blue run, or do they ski like hair on fire? Weight is a factor, it determines flex," he says.
Step 2: Choose the boot
"Being in the correct size of boot is the most important choice you will make — and since the boots will pack out and change with time, it can be difficult to make the right decision," says Powers.
"We sit down and talk about what they need," says Predojevic. "What level skier they are, is it a race boot, or more comfort for freeride? We get them to take shoes and socks off, take a good look at their feet. Boot models come in all sizes and forms. A lot of people come in and say 'I want this' — and I might have to say, 'I can't sell you those!' and I give them two or three options."
Steering customers away from the wrong boot is as important as choosing the right boot.
Step 3: Customize the footbed/insole
The correct insole, says Powers, is key to the quality and longevity of the fit.
"Our Sidas custom-fit stations allow our boot fitters the flexibility to use different techniques with the custom insoles to stabilize or increase cushioning depending on the foot," he says. "The majority of customers will benefit from a custom insole and report warmer and better fitting boots."
"Everyone wants a proper foot bed in the boot, so we're either going to trim to fit or do a custom mould fit," says Landman. "This is an integral part of the boot fit, otherwise the foot is bouncing around."
Step 4: Adjust if needed
"As the fit goes along, I'll look at the foot without a sock on, and mark out the problem spots, say, a bunion, with lipstick," says Landman. Then he'll have the customer put their foot in the boot without the liner to see if the lipstick transfers to the boot. This highlights a point of contact, which he can then adjust by heating the boot with a heat gun or in an oven, and then press the problem spot out. If more space is needed, boot fitters will use a Dremel tool to grind out the plastic.
Step 5: Fine tuning
One thing is certain, feet change over time. The team at Sporting Life is always there to revisit a customer's boots over time. Landman likes to nail the fit on the first visit, but says sometimes a second visit for fine tuning might be required after the customer has spent some time on the hill.
"We have pads and different densities of foam we can cut out and make shapes, then glue them onto the liner," says Landman. "This can take up some volume and affect the shape."
DATE YOUR SKIS, MARRY YOUR BOOTS
No joke, a skier's relationship with their boots should be intimate. You should fall in love with your boots, and that's a lot easier when you have someone to help with the matchmaking.
Says Landman: "When someone tells me that they were told that 'you're the guy to go see,' it makes my day. There's the trust too — a boot fitter makes your ski shop."
WHAT TO EXPECT AT A BOOT FITTING SESSION
"Don't buy online, as you have no idea how a boot is supposed to fit," says Landman, who works at Sporting Life in Toronto. "Ninety percent of folks on the hill have boots that are too big." It's a misconception, he says, that athletic equipment should ever feel uncomfortable. In fact, ill-fitting equipment can cause permanent physical damage.
Because everyone's feet are different, not to mention their skiing style, says Landman: "There is very rarely a 'Cinderella' fit." Adjustments are almost always needed to enhance comfort and performance.
Feet change over time, too, due to age, accidents and the vagaries of life — so getting to know the customer is vitally important.
"If someone tells me they've had three kids," says Anya Predojevic, who works at the Burnaby store, "they probably need new boots, as your feet change during pregnancy. Age makes arches weaker. A broken toe will affect comfort. People don't realize there are different widths and instep heights, and so many ways to customize. And then they're in shock that it's so comfortable!"
Come and get ski & snowboard ready so you can live your best Sporting Life from the top of the mountain this season!