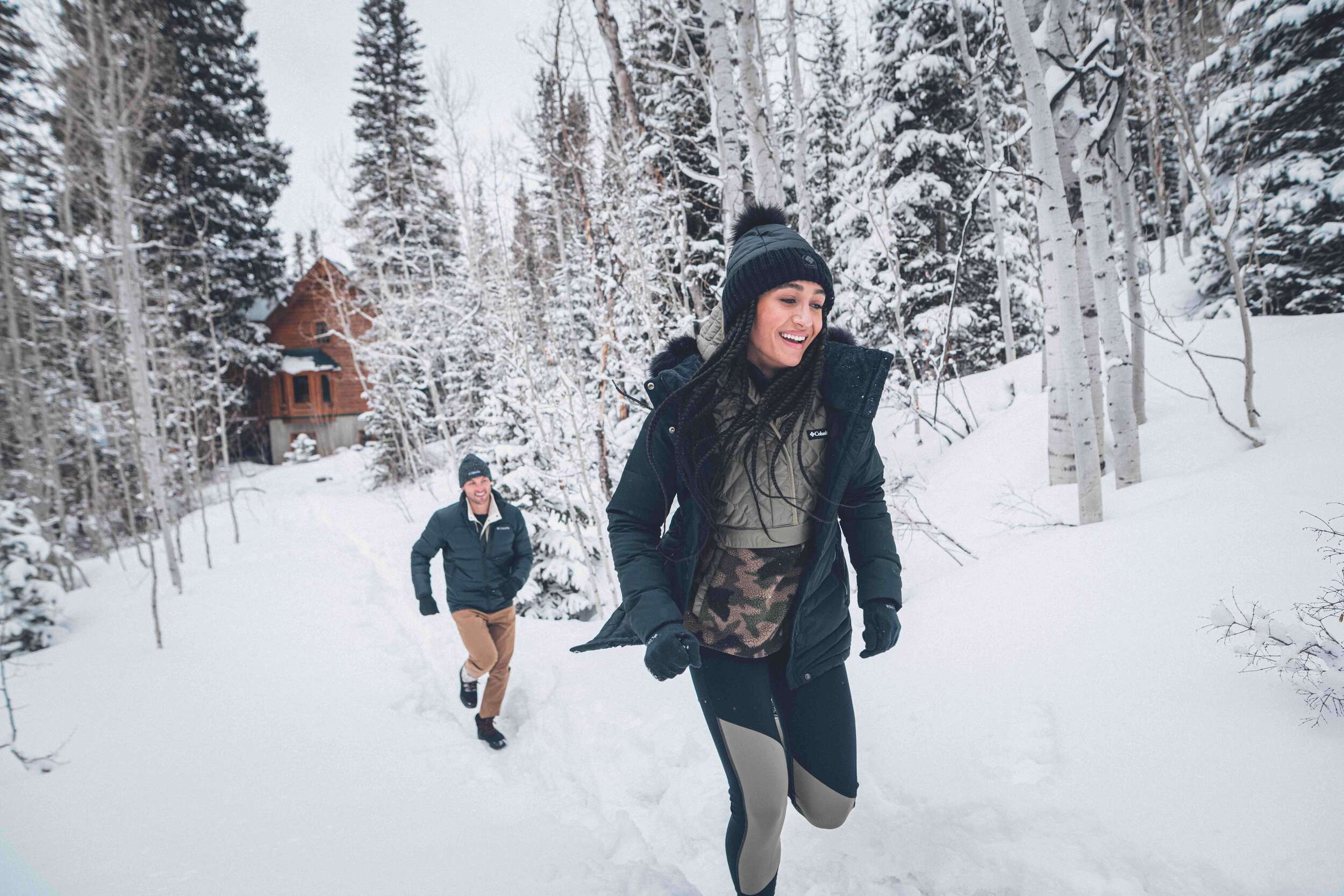 It's no surprise that brands who design products for the outdoors are passionate about getting people outside and protecting their playground. From incorporating sustainable practices into product development to inspiring people to have fun in nature, the following brands are leading the way when it comes to putting planet earth first in everything they do.
The North Face
Designed for explorers, since 1966 The North Face has always had nature at the forefront of the products they create. Making a difference for the planet isn't just a buzzword for the brand, as they have four actionable commitments created to keep them on the path to sustainability. These initiatives include keeping their gear out of landfills, having 100% responsibly-sourced fabrics by 2025, working with suppliers to help them reduce their environmental footprint and eliminating single-use plastic packaging by 2025. Explore their stories and dare to be inspired.
Shop our complete collection of The North Face.
Arc'teryx
The core philosophy of Arc'teryx is guided by their belief that durability is the strongest path to sustainability. With a mindful design process, innovation drives their product development, knowing that every stage of the manufacturing process impacts the planet. In addition to their sustainability focus, Arc'teryx wants its customers to connect outside, with tons of events from outdoor clinics (from running to cross-country skiing) to speaker series and musical performances. For serious style and performance on the hill, look no further than Arc'teryx.
Shop our full assortment of Arc'teryx.
Patagonia
One of the world's leading environmentally-driven brands, Patagonia puts the planet first. From their 1% pledge, which funnels their profit back to the preservation and restoration of the environment, to their Ironclad Guarantee, which promise product satisfaction, every part of their process from start to finish aims to be sustainable. Patagonia helps to foster environmental activism with Action Works, which connects people to organizations in their community. Plus you'll find inspiring stories of adventurers on their blog that will guarantee to motivate you to get outside.
Shop our collection of Patagonia.
Cotopaxi
A certified B Corporation, Cotopaxi's mission is to create sustainably-designed outdoor gear that fuels adventure and global change. Not only do they dedicate a percentage of their revenue to non-profits, but they focus on ethical manufacturing, and have a Gear for Good™ pledge that promises to make products that last — and have a lasting impact. Another impressive goal Cotopax reached was becoming Climate Neutral certified, which means they measured the carbon emissions of every aspect of their business and worked with CarbonFund and BEF, to offset them. Whatever outdoor adventures you have planned, Cotopaxi wants you to feel good doing it.
Shop our full assortment of Cotopaxi.
Burton
Founded in 1977 by Jake Burton Carpenter, snowboarding and the mountains have always been at the core of the Burton brand. Today the brand's purpose is to reduce harm to the environment, positively impact the lives they touch and to have fun while doing it! From fair wages to responsibly sourcing products, Burton wants to make a real difference. They're also doing that with The Chill Foundation, a program designed to remove the financial barriers for youth getting into snowboarding (like free lessons and gear). Boarders, it's time to get ready and hit the powder.
Shop our entire collection of Burton apparel and equipment.
Save The Duck
The first fashion brand from Italy to obtain a B Corp Certification, Save The Duck believes in taking care of planet earth. All of the products they produce are 100% animal and cruelty free, and every year they donate 1% of their profits to initiatives that help the environment. Their ultimate goal is a world without textile waste and they are continually looking for ways to innovate and ensure they're meeting their sustainability goals. With nature leading the way, Save The Duck inspires its customers to get outside (and love mother nature while they're at it!). 
Shop our full assortment of Save The Duck apparel for him, her and kids.
Salomon
Remember that feeling of being outside and only thinking about having fun? That ethos is really at the core of Salomon, who believes in making outdoor play a priority. Inspiring people to make time to play influences everything from their product development to the people who use it. Since they got their start in the French Alps in 1947, the brand is passionate about outdoor sports, innovation and craftsmanship. From the athletes that lead the way to free events and workshops (including hiking and cross-country skiing) that are open to everyone, Salomon wants you to get outside — and play!
Shop our entire collection of Salomon gear.
Rossignol
For more than 100 years, Rossignol has been at the forefront of winter style and performance – with their legendary skis to their iconic red, white and blue palette. The brand is taking environmental challenges to heart with their Respect Program, developing concrete actions to make real change to protect the natural playground their brand is built on. Some of the ways they're protecting it include developing eco-designed products, reducing as much waste and packaging as possible, ending the use of animal fur, and encouraging the use of recycled materials. Whether you plan to ride the slopes or go off-piste, Rossignol has you covered.
Shop our complete assortment of Rossignol.
Fjallraven
Born in Sweden, Fjallraven's vision came from one man who wanted to make nature accessible to more people and in 1960 he launched his first product – a backpack. Today, the brand's mission is to inspire people to spend more time in the great outdoors by developing products that are thoughtful and made to last. As you would expect, sustainability plays a part in every step along the way, from their design process to production. With how-to guides to help you prep for your next adventure, Fjallraven wants you to fall in love with nature.
Shop our complete collection of Fjallraven.
Yeti
Founded in 2006 by two brothers who were frustrated with the cheap coolers that didn't last on their adventures, set out to design a cooler for the outdoor enthusiast. Today they've expanded beyond their iconic cooler, and are ensuring sustainability is at the core of their product lifecycle. It's hard not to be inspired to get outside when you see all of their cool projects, including films from the wild (from surfers to snowboarders) and their podcast featuring everyone from climbers to fishermen. Yeti wants you to get outdoors and crush every minute.
Shop our assortment of Yeti products.
Helly Hansen
A trusted brand for more than 140 years, Helly Hansen is worn by more than 60,000 professional skiers (including Alpine Canada), sailors, ski patrollers, rescue services and mountain guides. Born in the environment (sea captain Helly Juell Hansen needed better gear to protect him from the harsh Norwegian climate), the brand believes it's their duty to be sustainable on all fronts — from using materials with a low environmental impact to ensuring they develop durable products that last. Alpine skiing or winter hiking, Helly Hansen has the apparel you need for whatever snowy climate you're headed for.
Shop our entire assortment of Helly Hansen apparel for him, her and kids.
What are some of the brands you love? Show us when you tag @sportinglifeca and use the hashtag #MySportingLifeCA.