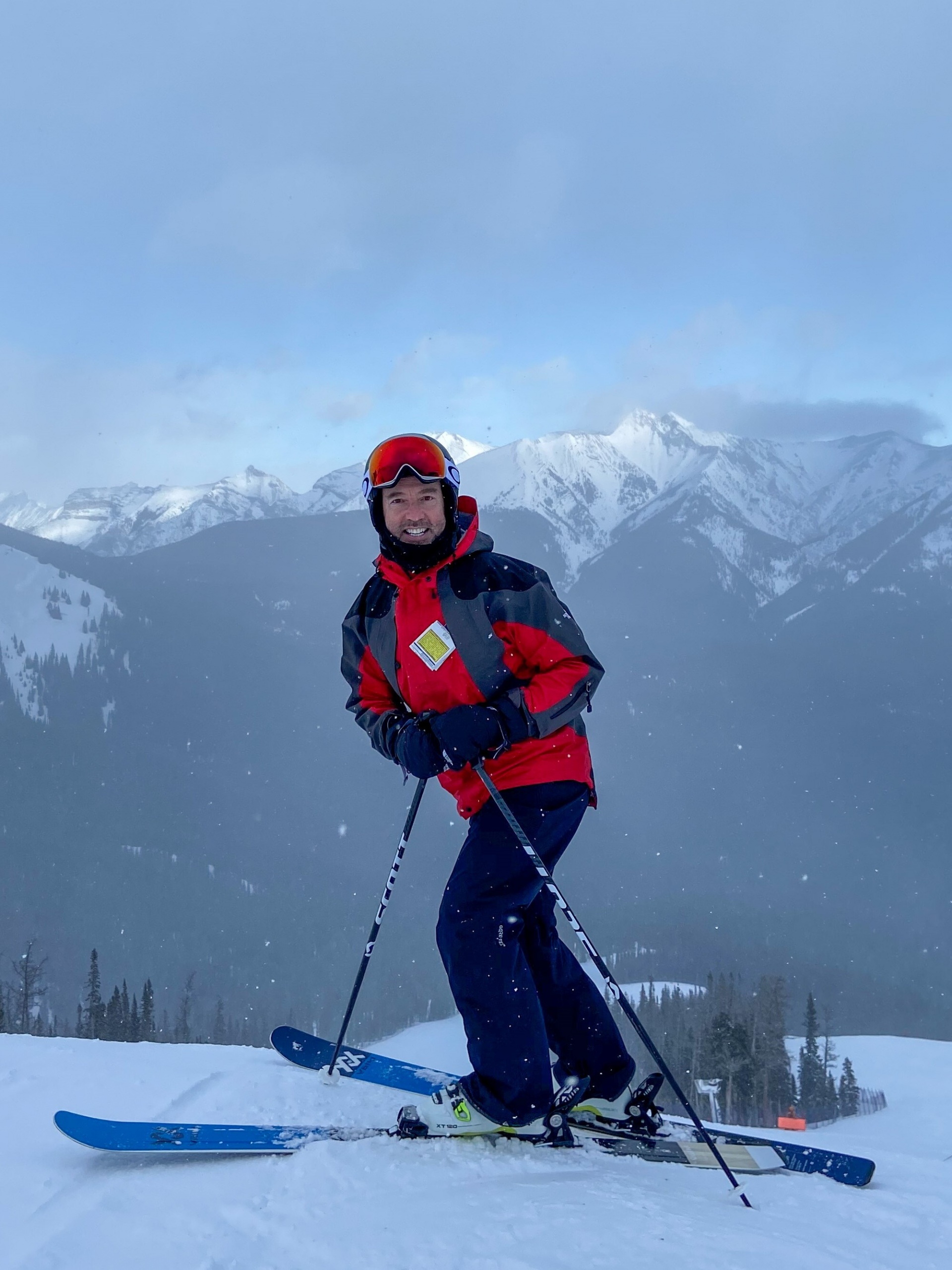 "I loved skiing from the moment I got on snow and have been skiing ever since," says Andrew McDonald, Sporting Life's Senior Buyer for Bikes and Skis. Originally from Glasgow, Scotland, Andrew's family moved to Alberta when he was seven. Eager to integrate him into all things Canadian, his parents enrolled him in skiing lessons and the rest is history.
Working at a ski shop as a teenager furthered his love of the sport. "I started working in a ski shop at age 15 because I wanted to work with and learn about all the cool products," he says.
Now as the parent of a teenager, he recalls how he got his daughter into the sport. "She started skiing when she was three-and-a-half at Glen Eden in Milton. She's been a loyal participant of the junior halfback program ever since," he says. "We didn't force her to ski. Younger children cannot ski all day, so we only went skiing for a few hours and then spent another hour just playing in the snow."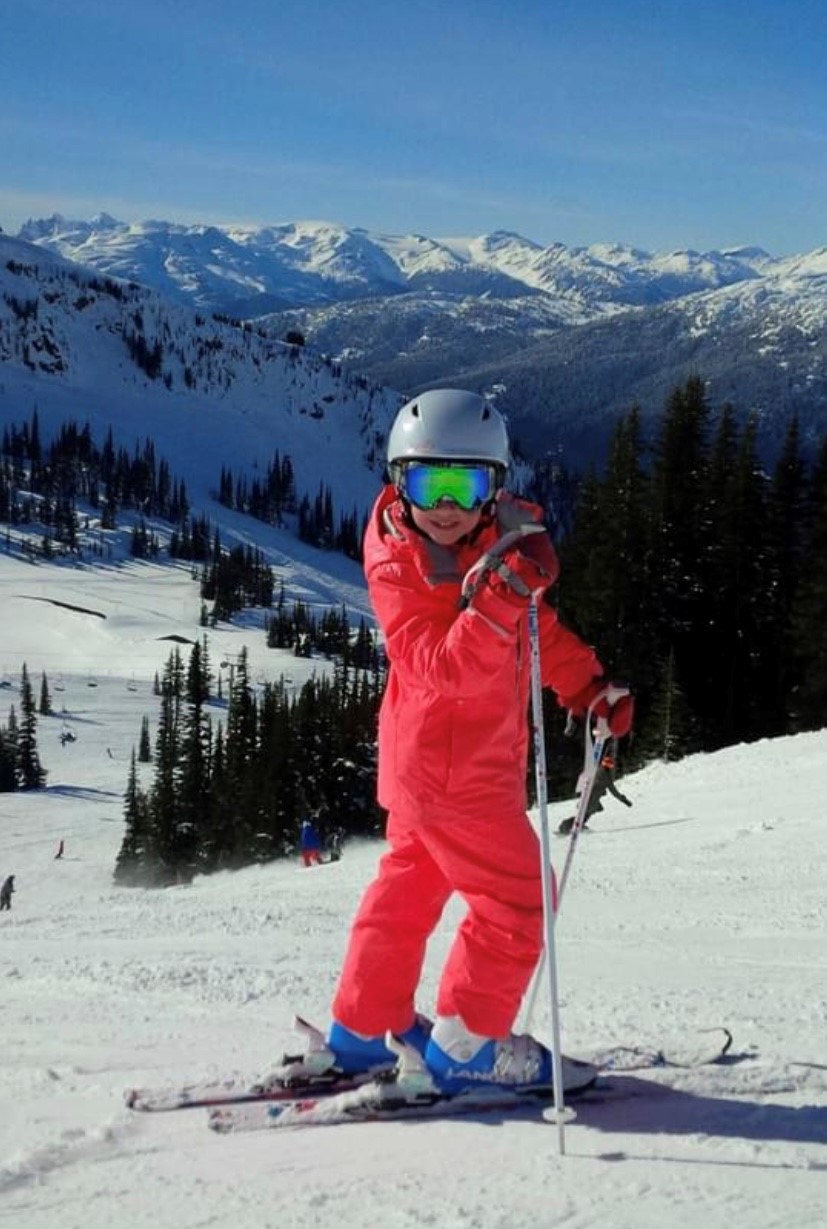 Although Andrew is an avid skier, he decided to leave it to the professionals when it came to teaching his own daughter. "She always had fun showing me what she learned during her lesson when we would ski together afterwards," he says.
His family's love of skiing extends to regular family ski trips. "My daughter still talks about the Enchanted Forest at Whistler," he reminisces. Typically, they take one to two ski trips out west every year, since his parents are in Calgary and his brother lives just outside of Whistler.
His Advice for Beginners
His biggest tip for beginner skiers is to get the right size equipment and to sign up for lessons! "It's harder to learn when you're on the wrong sized skis," he says. He also suggests committing yourself to going multiple times over a few weekends, since it's easier to build on what you learn when you don't have a big gap between your ski days.
And don't dismiss the value of skiing with a friend. "Learn with a friend. Misery loves company," he says with a laugh. "But seriously, learning with a friend is good because you can motivate each other."
What about gear? When it comes to all mountain/carving gear, Andrew has tried these products out and knows a few people who have, too. Check them out below!
Rossignol Hero Elite ST Ti Ski
A slalom-inspired race ski for technical on-trail skiers, this ski from Rossignol features Line Control Technology with a more narrow waist width and short-turn sidecut for precision and power. According to Andrew, this is the kind of ski you want to use for tight turns on freshly groomed runs.
A hybrid ski for experienced skiers looking for flexibility for all types of terrain, the Head Supershape E-Rally Ski offers EMC technology to reduce vibrations and increase stability for a smoother ride and Graphene technology for optimizing weight balance distribution for additional control. Andrew likes this ski for when you want to do a little wider turns on groomed runs.
Andrew calls Volkl's Deacon 84, "A true east and west all-mountain ski." What makes it so versatile is that it performs on everything from icy slopes to fresh snow. Designed with an integrated titanal frame, it has power and stability. It includes a full sidewall construction and P-Tex 4504 base and the 3D radius sidecut technology makes carving a dream.
"One of the best all-around skis on the planet," raves Andrew. A go-to choice for women who want versatility on groomed runs, but are forgiving when it's time to cruise, it features a Flipcore design and an all-new WSD TrueBlend wood core interior. Made for whatever mood (and terrain) you're on.
"If you could only have one ski this might be it," admits Andrew, who says he's recommended Volkl's Kenja 88 Ski to multiple members of his family. Plan to experience an impressive performance as you carve down the slopes thanks to the 3D Radius Sidecut design, which allowed the ski to support your turns.
The Oakley MOD3 MIPS Snow Helmet, is what Andrew wears while he's tearing into the mountain. The design offers adjustable venting, so you can dial in exactly the ventilation that's right for you. The fit is comfortable and secure thanks to the 360-degree BOA® closure system, while the Modular Brim System lets you choose between a brim or no-brim look.
Oakley Flight Deck L Prizm Snow Goggle
For bright days, Andrew likes the Oakley Flight Deck L Prizm Snow Google. Designed to maximize your field of view, it features a Ridgelock interchangeable lens system so you can adjust for whatever the weather. With wide-racing helmet compatibility, its discrete frame notches at the temples, so you can wear your prescription eyewear.
Andrew's Ski Apparel Picks
Rossignol Men's Fonction Jacket &Rossignol Men's Rapide Pant
Andrew's a fan of the Rossignol Men's Fonction Jacket. "I like the way it is cut slimmer. It has a real ski vibe." Besides being high in style, it features a waterproof and breathable membrane, so keep you dry and comfortable from first run to après. For warmer days you can take advantage of the zip vents, while features like the built-in powder skirt and helmet-compatible hood, means you'll be ready for all conditions.
Complete your on-hill look with the complementary Men's Rapide Pant from Rossignol. Made in a classic straight cut, it features lightweight synthetic padding, a waterproof exterior and details like coated nylon gaiters with anti-slip elastics and dual side zip pockets to store your essentials.
Shop Andrew's ski favourites and our complete lineup of gear and apparel in our Ski Shop, and remember to visit our in-store experts for a tune and boot fit. Sporting Life experts make up a big part of why it is the ultimate destination for ski and why it's the official partner of Canada's ski team!