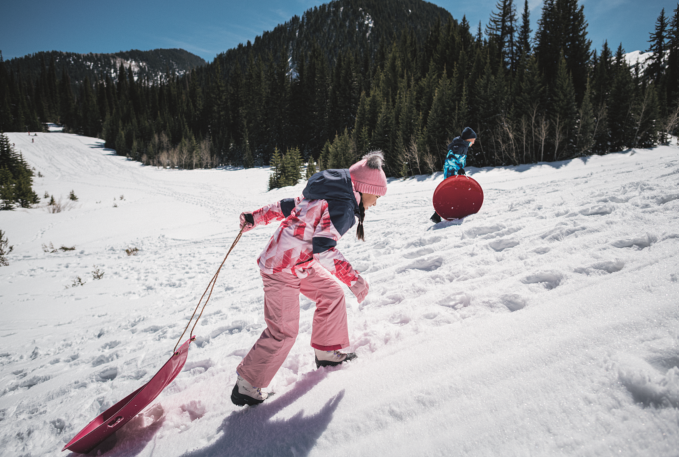 If you're looking to get some winter shopping done, you've come to the right place! Sporting Life carries winter wear for babies, kids and juniors. You'll find boots, gloves, snow pants, toques, sweaters, jackets and more from some of the best brands out there. And it's easy to get everything you need quickly: You can come in and shop in-store, use our contactless curbside pick-up, or have your haul delivered straight to your door.
Here are some of our biggest brands for your little ones:
Sorel
Sorel was founded in 1962, and originally created cold-weather boots that were known for their practicality and ability to take on the harsh Canadian winters. Now, it's grown into a best-selling brand that combines both craftsmanship and trendy designs to make footwear for all of the seasons, including winter. Shop our Sorel collection and you'll find tons of colourful options for your kids. You can't miss the classic faux fur cuff and fleece lining!
Patagonia
Patagonia, which is based in Ventura, California, has been around since 1973. The iconic brand spans over 10 countries and five continents and is known for creating everyday and technical apparel. They believe that there is no good reason to stay inside if you've got the right winter wear, so check out their variety of sweaters, toques, jackets and pants for kids and then head outside!
The North Face
You and your kids have probably seen The North Face on celebrities like Drake and hardcore outdoor recreationists alike. However, the brand started off in 1968 as a climbing equipment retail store in San Francisco, which slowly grew its following to achieve its now-iconic status. Take a look; they have sweaters, jackets, hats, boots, beanies and more!
Columbia
Columbia has been making quality outdoor gear for more than 80 years. The brand, which is based in Portland, Oregon, is now a global sportswear company that prides itself on providing no-nonsense apparel, footwear and accessories that help you brave all of the elements, rain or shine. You're sure to find something you love in the Columbia collection. They have tons of cozy and colourful snowsuits and jackets for babies, juniors and kids!
Kamik
Kamik is still family-owned and operated with the help of over 400 employees. This Canadian company brings over 120 years of expertise to create a winter boot that has proven quality and comfort for those long winter days and nights. And when it comes to sustainability, Kamik is doing a great job of reducing fuel costs and water consumption through their process. Take a look — their boots come in a variety of colours and lengths so you can find the perfect pair for any type of activity.
What's your favourite outdoor winter brand? Share it with us on social media by tagging @sportinglifeca on Instagram. We can't wait to see all of your winter adventures!