Article by guest blogger Julie Redmond.
Eat your heart out fashion enthusiasts. Spring is here which means it's time to renew and re-establish relationships with your mind, body and closet. Dust off those rain coats and rubber boots because it's starting to pour…tears of happiness for it's a new fashion season. So, let's start it off right with jackets and rubber boots!
Even though rubber boots are their own respective category of footwear and a shoe strong and versatile enough for the ages, I can't help but think of the Sesame Street Rubber Ducky song or of a micro pig in rubber boots. I know I'm not as cute as either of those but the theme of this blog did give me an opportunity to splash around in puddles (sans rubber duck) and have some fun matching my wellies to some stylish spring sheaths. In my opinion, that gives rubber ducks and tiny pigs a run for their money.
Something that we typically don't think about styling are rubber boots but, the best way to in fact style them is with a jacket! I might be stating the obvious but if it's raining and you're wearing boots, you're probably going to want a jacket in tow. And if you're like me, you might wear rubber boots when it's not raining. (It's all for the Instagram pics amiright?)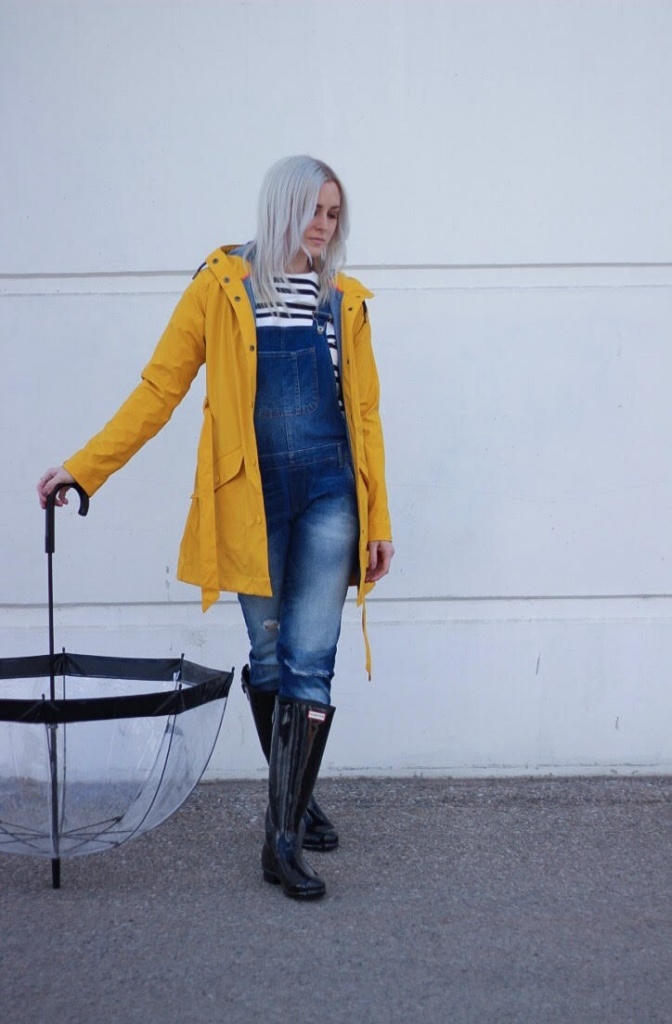 We are starting out strong with this classic fisherman's inspired raincoat so naturally I'd pair it with overalls for a strong east coast vibe. Of course, there are many outfit alternatives for underneath but be advised that this is still very acceptable to wear even when you're not catching fish.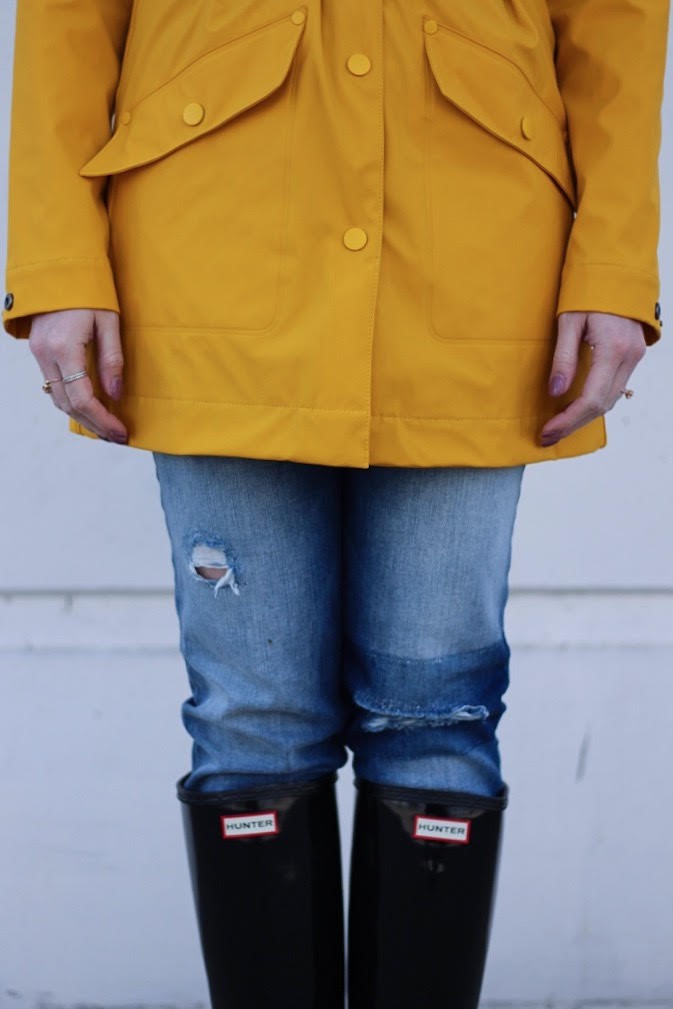 This jacket and boot combination got me very excited because much like the Rubber Ducky song, it took me back to my childhood when all the kiddies had rubber boots and a polyurethane coat. Not to have this confused with the ever-daunting question, "am I too old for this outfit?" The answer is no…for some things. We can have fun with our fashion too and that's the beauty in these two pieces. They are youthful enough for the youngsters yet graceful enough for the grownups.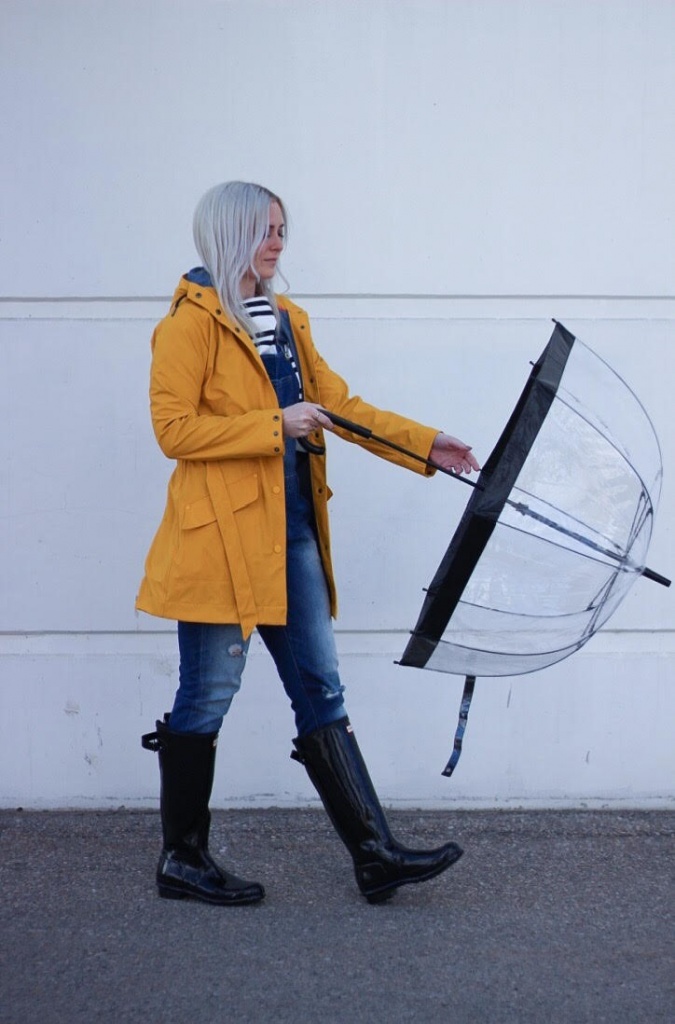 Have fun with those weather shielding accessories too! This bubbled, birdcage umbrella lets me see where I'm walking, it doesn't flip inside out when a gust of wind comes in hot and it is ever so perfectly coordinated with the boots. Let's not forget, this is about fashion after all.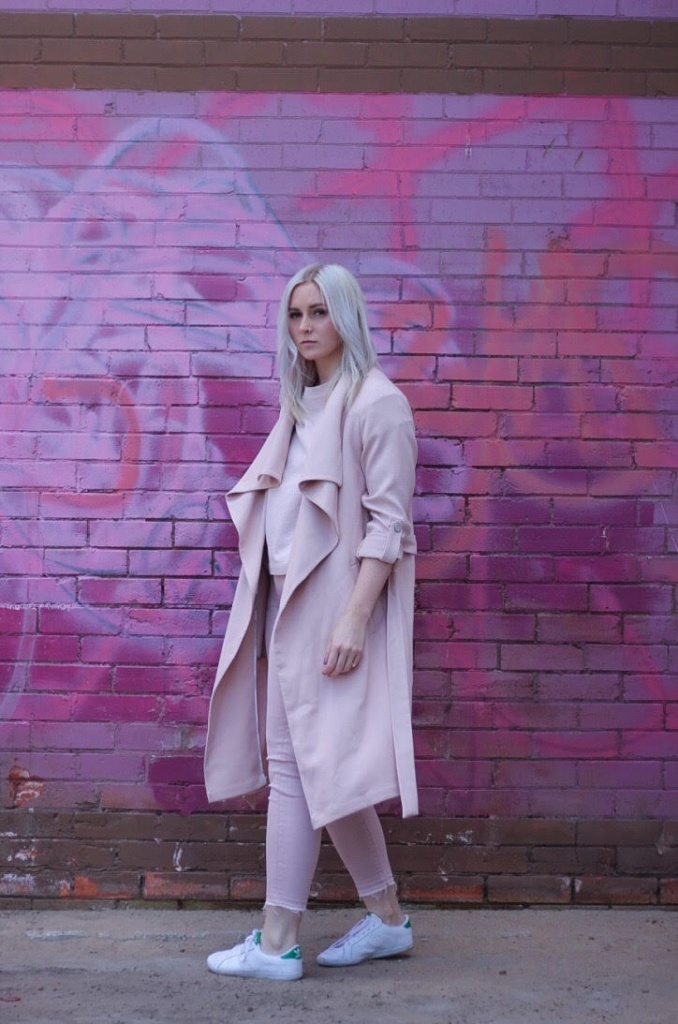 I'd like to move the focus slightly away from rubber boots and on to trendy trenches for a jiffy. I wanted to showcase a great way to style a beautifully blush jacket with pieces all in the same colour family. Monochromatic outfits are a thing of fashion's future and I'm beyond excited that I got to do this in my favourite colour! I've paired them with a light colour sneaker mostly because it's still wasn't raining. Don't get me wrong, I'd be pairing this outfit with my Hunters anytime but it's great to see versatility especially head to toe in one colour because one may not have pink shoes.
Dressing head to toe in one colour takes a lot of pressure out of planning an outfit because you're only working with one colour palette. This also gives you an opportunity to add some colour into your wardrobe. Everyone has a black, navy blue or grey jacket. Now, there is nothing wrong with that, I myself have many in those shades but pink can still be timeless as well. You would wear a black coat with black pants and a black top so do the same with other colours. Have fun my fashion friends!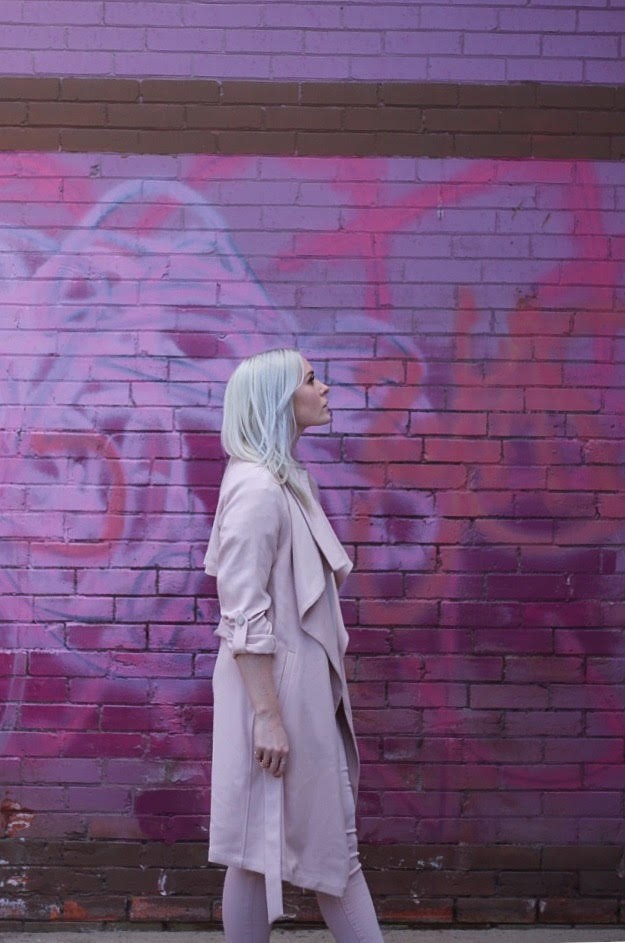 Don't be afraid to plan your outfits starting with your outerwear. We often view our outerwear as a function over fashion which makes sense but why can't it be both? It can be and it is. We invest in these pieces that protect us so make use of them.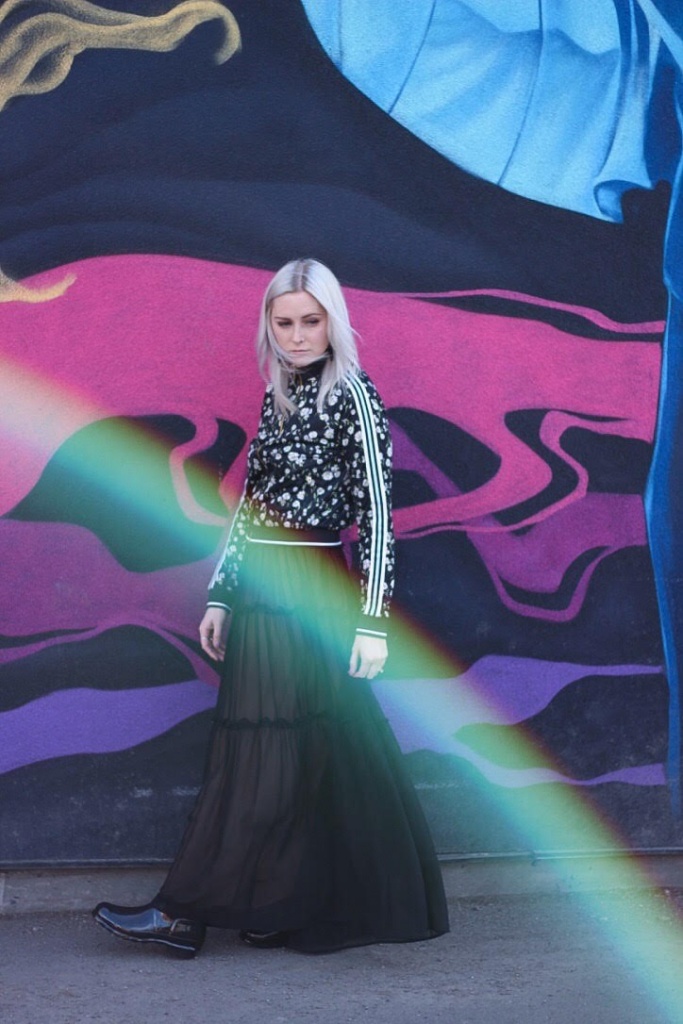 Some of you might be inquisitive about this outfit. I myself am very inspired by it. I felt there was a lot I could do so why not just take it over the top? Says the girl who's worn a faux ostrich feather coat on top of overalls with a glittery belt and metallic socks paired with silver high heels. And that's just a normal day so this is quite dressed down for me.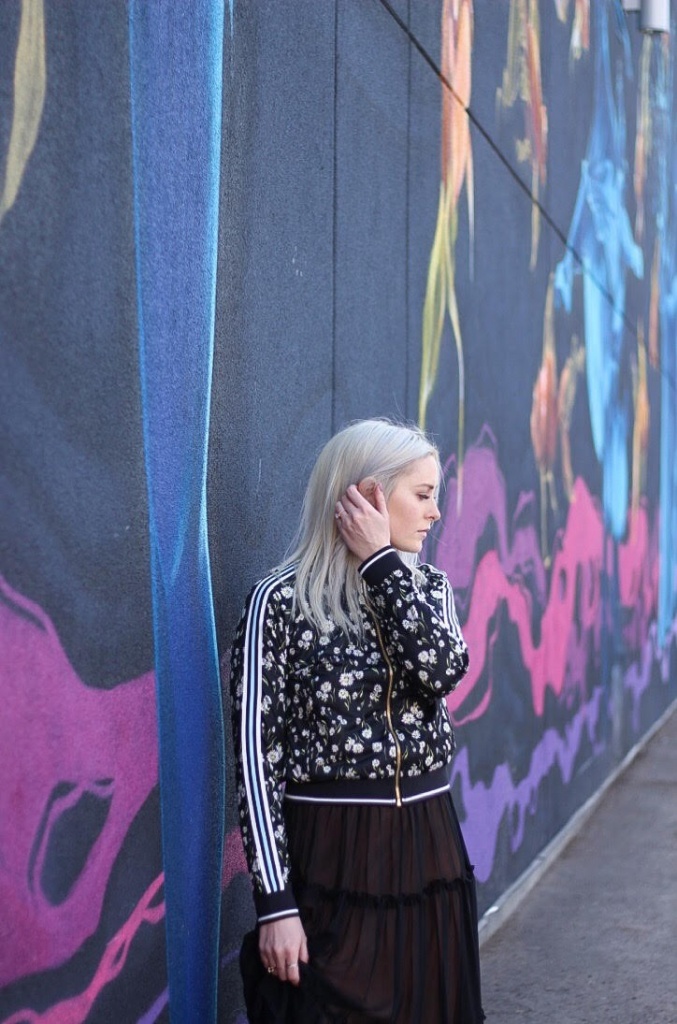 The bomber style track jacket is something we saw hitting the street fashion trends a couple seasons ago and they're back in full force. Designers are using this an opportunity to play around with prints, patterns, textures and update previous designs from their collections. This is a Juicy Couture piece you guys! I bet you weren't expecting that. This isn't Mean Girls circa 2004 anymore. They are updating and retailing for all the right reasons!
We are also seeing a lot of the floral and athletic stripe combinations straight from the runways to street style. If this bomber and the graffiti wall behind me don't scream #streetstyle then I'm doing something wrong.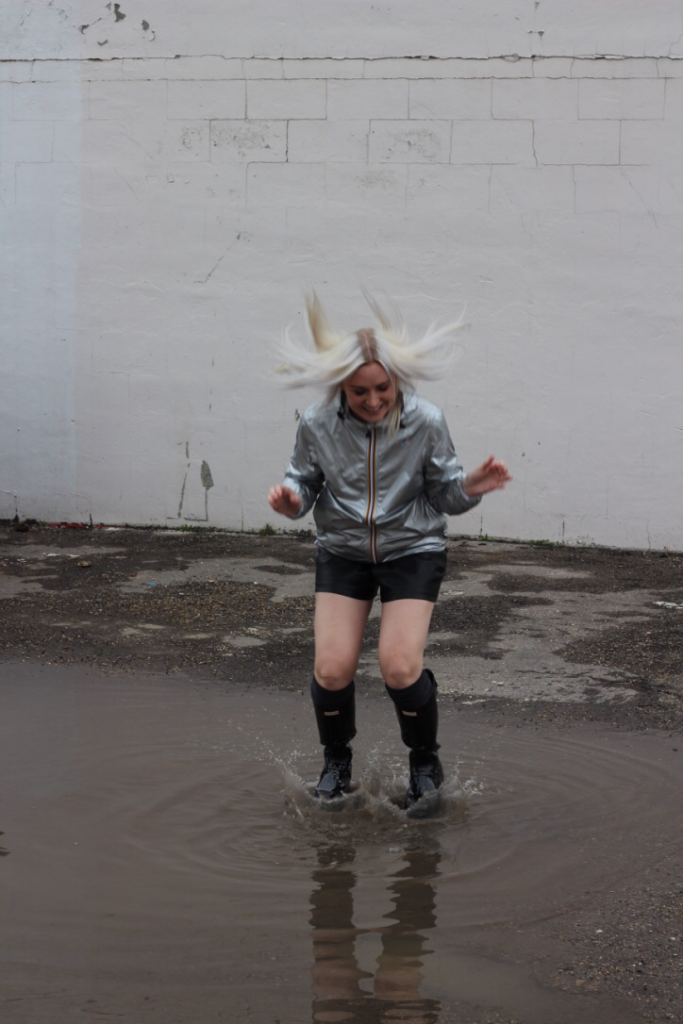 It finally rained! Well, it snowed and then melted but naturally I'd take an obligatory jump-in-the-puddle pic! Oh, to be a kid again. As these images were being taken, a gentleman walked by and stated that my parents would be upset I'm playing in puddles. Well sir, even if they are, it was worth it!
The point that I'd like to make with this outfit is the weather changes in five minutes or less but you can still be chic while staying somewhat dry. There have been numerous times I've been caught in a rainstorm in shorts but there is no rule against wearing rubber boots and a raincoat with shorts or a skirt or a dress. Ok, my stems might get a little wet but I'm not mad. Clearly! Look how much fun I'm having!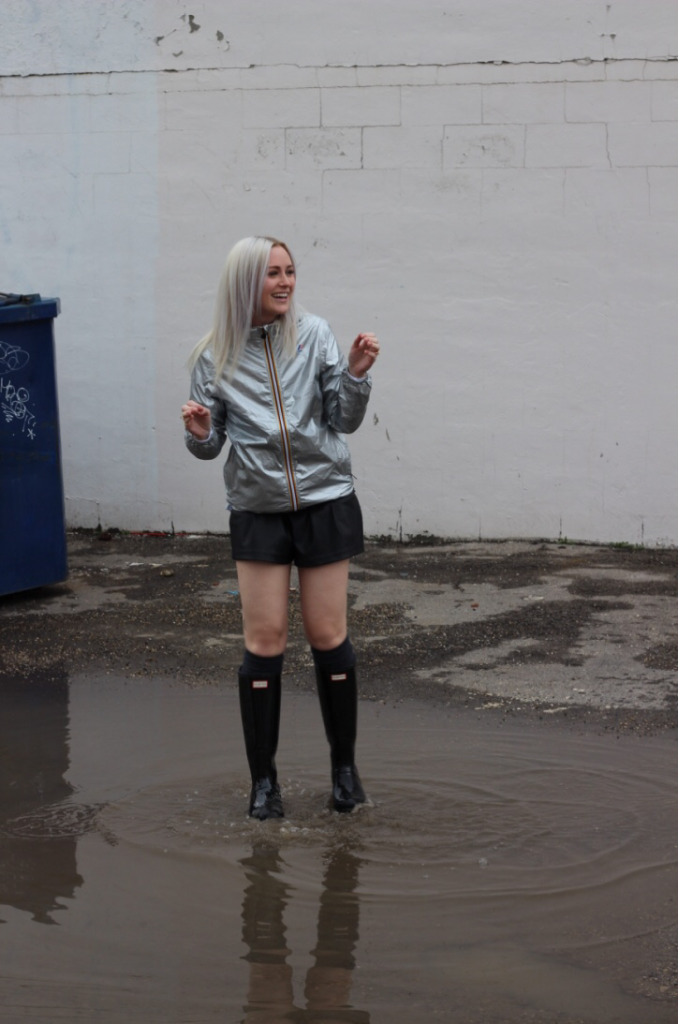 The most beautiful part about this jacket is, just like when we were kids, we can roll this up and turn it into a fanny pack! Voila! Compactable for when the skies stop crying and we get to bring back that rockin' 90's trend.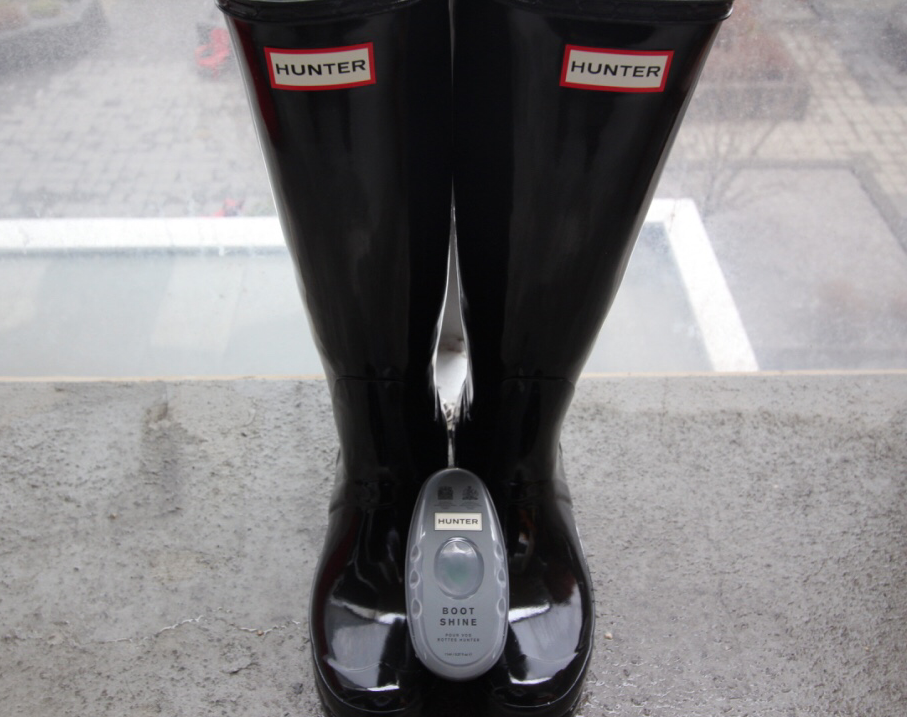 I'd like to take our attention back to the gentleman who said I was essentially acting like a child in the puddles. I truly was not offended by that but what he doesn't know is that it wouldn't matter if I was splish, splashing away or rolling in mud because I have boot shine! (Insert infomercial product revealing sound effects here.) I bet a lot of you didn't know you could shine and protect your rubber boots. I didn't know until recently either and I'm never looking back. The product shown is specific to the shiny boots but there are protectants for matte finished ones too. I believe this is crucial because this style of shoe takes a big hit, much like our winter boots. They guard us from the elements so in turn, we should take care of them. We spray, polish and wipe away the salt stains from our UGGS and Sorels so please do the same with your rubberized kicks. I'm not joking when I say this was the easiest shoe clean I have ever done. That says a lot because you don't need a lot of elbow grease to polish your shoes.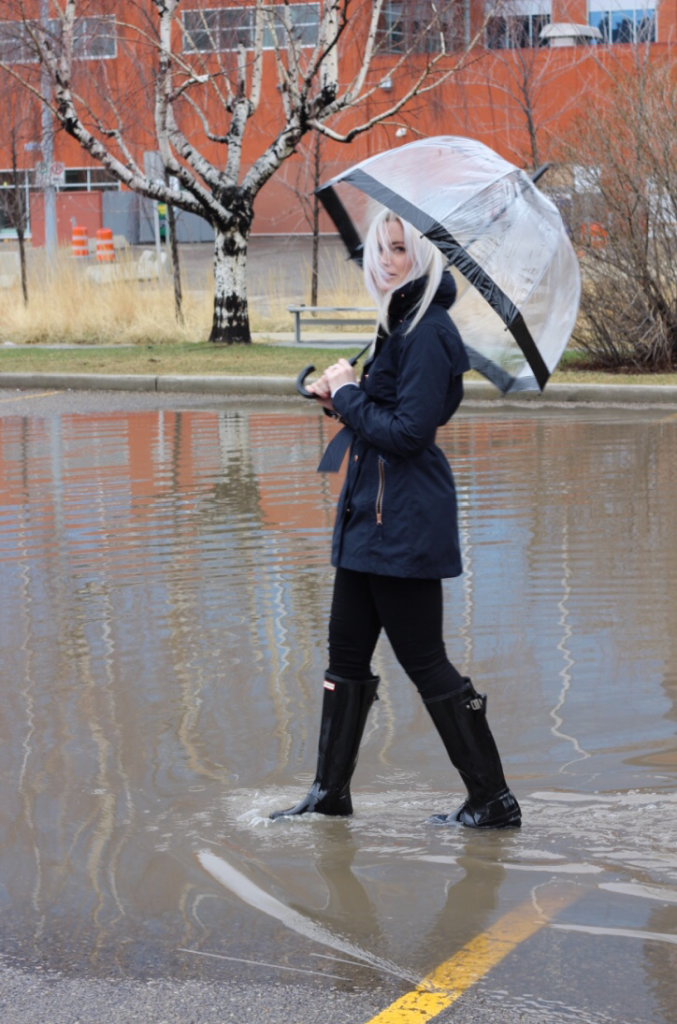 I'm fearless in these boots! Seriously, this was a deep puddle and I was just on the shoreline.
This look is a more classic and practical combination but there's a twist. Rose. Gold. Hardware. And now it just went up ten points on the fashion scale. What I love so much about this jacket is I can easily wear it with jeans and a t-shirt while I'm out and about but I could also sport this for a dressier event. The rose gold immediately spices it up in all the right ways and I can control the shape of the silhouette with the waist tie. It is also navy blue so it's not obnoxious but it's also not the same black jacket that everyone else has. No offence.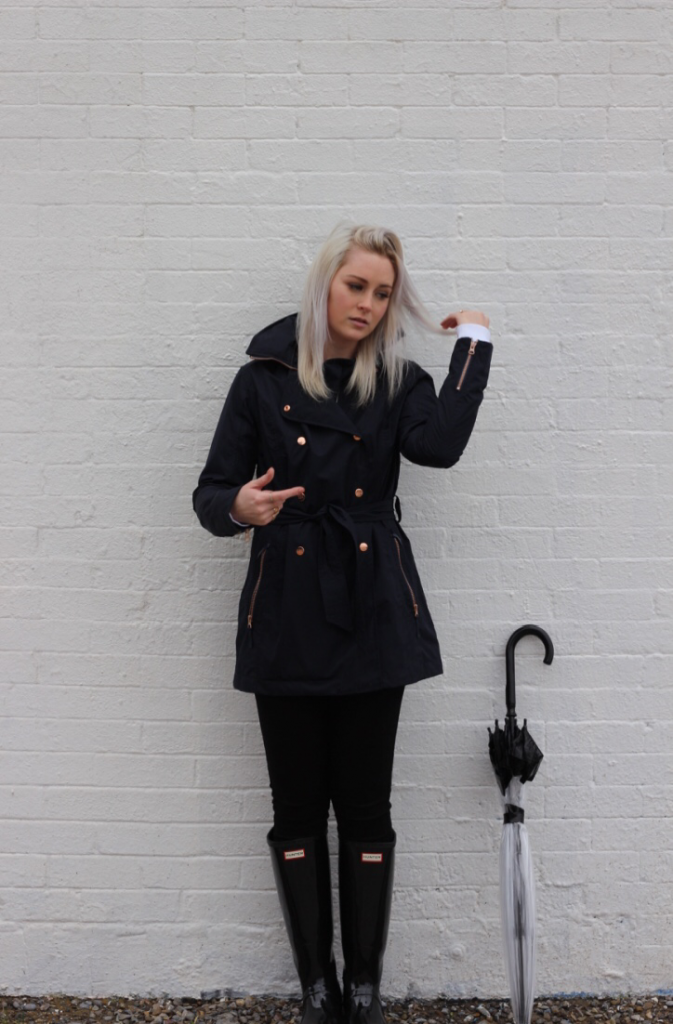 This trench immediately transports me to London Town, especially with my walking stick umbrella. Sophisticated and well-travelled, right?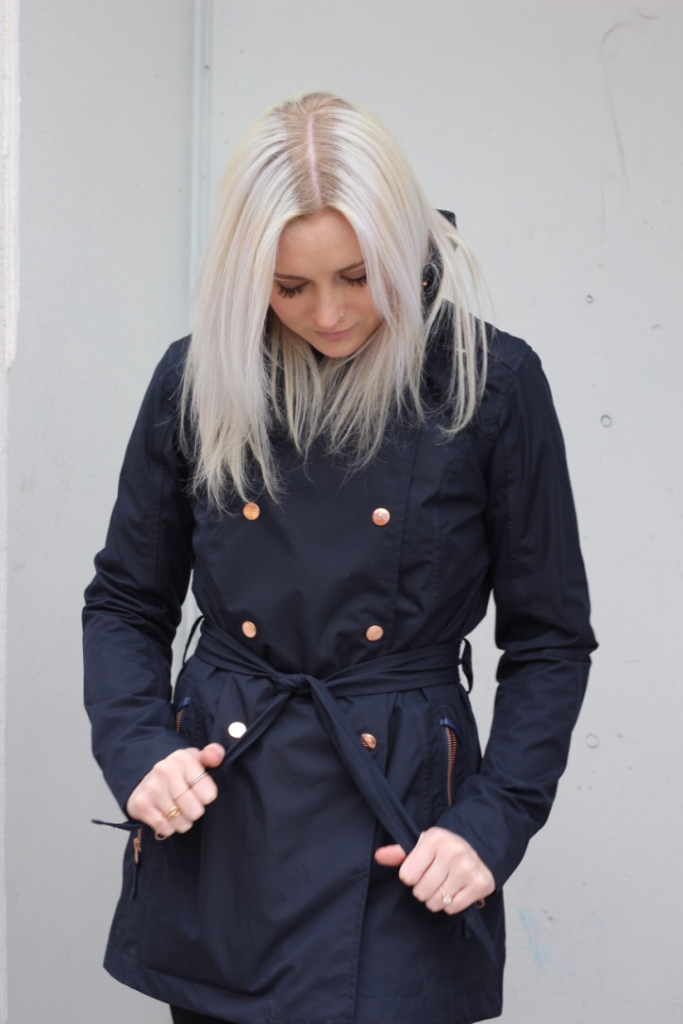 Here's a closer look at the beautiful details of this jacket. The popped-collar is extra popped because I tucked the hood in it making it stand closer to the heavens. Having rose gold hardware, well, need I say more? I practically lunged at this piece when I saw it because this really sets it apart from other outerwear.
So, whether it's a trench, bomber, raincoat or fanny pack-able jacket, tall rubber boot, short rubber boot, shiny or matte, take advantage of the changing season and the extreme uncertainty of the climate. There is so much opportunity for creative combos and don't forget, these pieces are meant to be worn in the elements so go ahead and splash around!
xoxo,
style by jr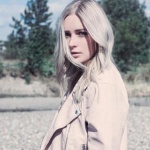 Julie is a Calgary-based fashion stylist with a background in event management and administration. She is a sparkle-loving, gold enthusiast who had a vision of styling more than just herself. While working for a leading boutique public relations agency in Calgary, she was recognized by top-tier clients to assist with their styling needs. Balancing current trends with classic pieces, Julie will ensure your wardrobe is a genuine reflection of your unique personality while helping you radiate an inner self confidence. Regardless of age or body type, Julie will help you feel your absolute best through a relaxed and comfortable process. www.stylebyjr.com