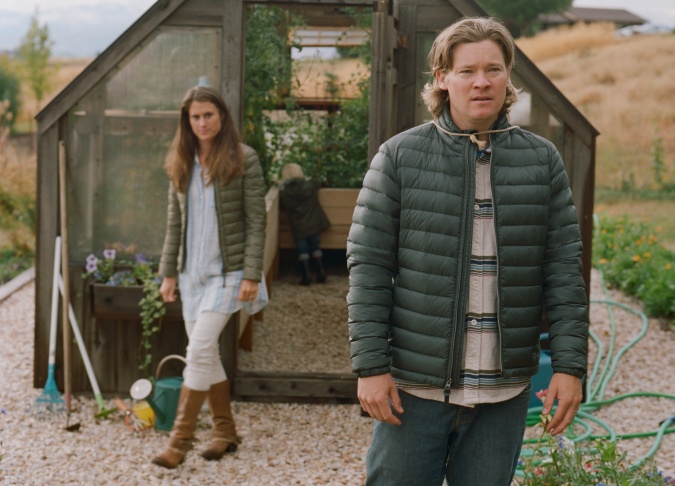 With spring in full force, we are feeling a renewed commitment to saving the environment. Many of our favourite brands have put forth collections that emphasize sustainability (way to go, Columbia and Patagonia!) and this season, we are looking forward to finding other ways to become more eco-friendly.
An eco-trend that is popping up across the city is urban farming – we can get on board with the idea of gardening in the city! Despite a lack of surface area, earth lovers within the city limits have found ways to grow their own produce in a small home or condo. Save some money on groceries, save your body from GMOs and pesticides, and save the planet – this summer, try planting vegetables in your own backyard. Here are a few of the tips we've picked up from researching how to make urban farming happen.
What is Your Set-Up?
In order to get into urban farming, you do need a certain level of sunlight. The ideal direction is a South-facing garden without any obstructions – that way your plants receive light for the majority of the day. Second best is a West-facing set-up, as the sun will shine on your garden during the afternoon. While an East-facing garden isn't impossible, it isn't ideal as sun-loving plants won't grow as well.
Once you've figured out your sun situation, the next step is deciding on the style of garden you are able to have. If you are in a condo, a small container garden may be your best bet. Go with a hanging planter to live on your balcony, or get creative and Pinterest-y with some rustic containers to bring out that farmer-chic style. If you happen to have a backyard, you are likely lucky enough to have room for a real garden! Using nothing but plywood and some good soil, you can craft your own garden box to suit your size needs – even a 4×4 raised garden bed can house a wide variety of delicious vegetables!
For either location, a vertical garden can be a great choice. Either make your own (spring DIY?) or find a multi-potted vertical planter at your local store. It looks beautiful with the various leaves poking out, and allows you to grow more plants with less square footage.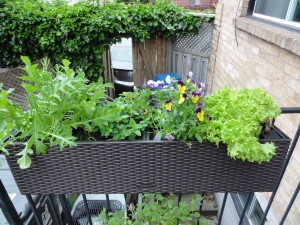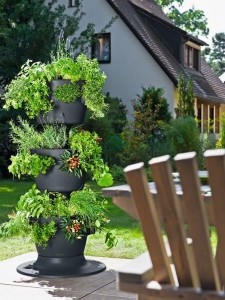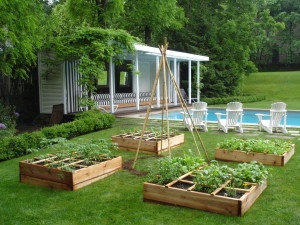 Pick the Right Crop
Just because your garden is small doesn't mean that you're stuck growing herbs (but don't get us wrong – herbs are a great choice)! There are a variety of vegetables that will flourish in condo containers or small backyard gardens. Almost anything can be grown in a container as long as you are aware of spacing and don't overcrowd your veggies. Bell peppers, hot peppers, peas, tomatoes, and lettuce are all easily grown in an urban setting. Add in some of your favourite herbs such as parsley or mint, and you'll be ready for summer barbecues in no time!
Here's a helpful tip to improve the taste of your tomatoes: plant them next to a basil plant! The basil will enhance the flavour of the tomato (and probably make you crave a homemade pizza).
Dress the Part
Just because you don't live in the country doesn't mean you can't dress the part! If you plan on spending time outside tending to your garden, make sure that you are properly clothed for spring weather. A waterproof outer layer paired with convertible pieces will allow you to spend the day outdoors without feeling uncomfortably hot or cold. Columbia and Marmot's convertible pants will take you from shorts to pants and back again with no effort at all, and a chic pair of overalls combines fashion and function, keeping your bottoms from sliding down while you are bending down closer to the earth.
Since you are dressing for an eco-friendly task, why not look to some of our eco-friendly brands? We have recently focused on the sustainable fashions put forth by Columbia and Patagonia, and are so proud to carry a wide variety of brands that are committed to saving our planet.
SHOP MEN'S
SHOP WOMEN'S
SHOP KIDS'