Camp is one of the best times you can have as a kid. Between action packed days, campfire nights and friendships that last a lifetime, there is so much to look forward to in a week of camp! With your checklist in hand, take a look at the top 10 things that should be in your child's suitcase when you send them off on a new adventure – aside from the obvious…t-shirts and shorts galore! Download the checklist here, and save big with our Buy More, Save More deal.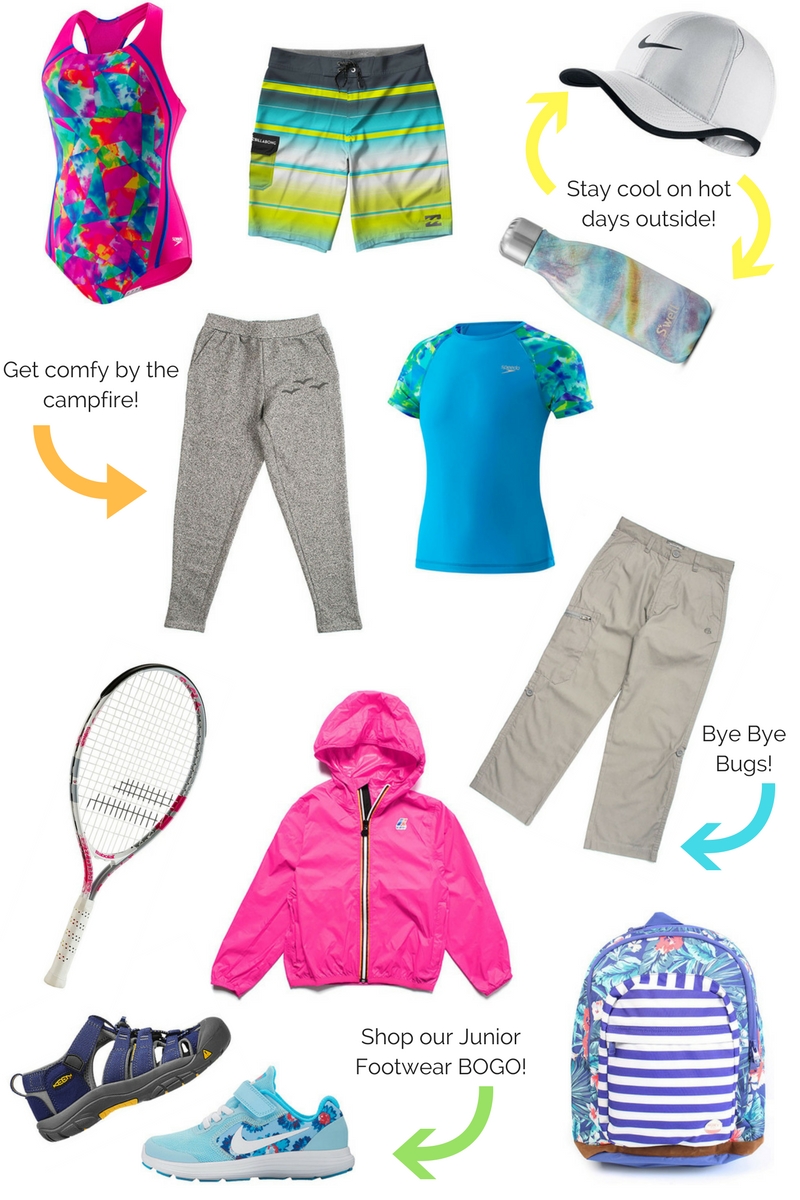 Swimwear
What would camp be without a dip in the lake? Be sure to check your camp's guidelines for appropriate swimwear – some have restrictions regarding one vs. two piece suits. Whether used for playing on the sand or swimming your heart out, the right bather will make the difference between a good and a great week at the beach!
Rashguard
Okay, so this does go along with swimwear. But it really does deserve its own category! This is a great way to get around the aforementioned "two piece restriction" in place at some camps. A rashguard can serve as a nice barrier underneath a life jacket, and many have UPF protection to keep your child from getting a sunburn.
Sun Protection
Another great segue – sun protection is an obvious MUST for camp! Long days spent playing outside need the right clothes to keep sunburns at bay. Along with UPF clothing, a hat is an easy and affordable way to keep the sun off your child's face. Don't forget sunscreen!
Hydration
Play hard, hydrate harder! A reusable water bottle will ensure that your child is hydrated and healthy on hot days at camp. We love S'well bottles – their water will be cold all day long!
Comfy Clothes
Who doesn't love being comfy and cozy on a cool summer night? When the sun sets and it's time for campfire games, you want your child to be warm and comfy. A great hoodie or sweatpants are sure to do the job…pass the s'mores!
Bug Protection
Can you believe that clothes can be bug repellent? Craghoppers clothing has insect repellent woven into the fabric…perfect for those late night campfires we were talking about! We also love that these pants are convertible – easily rolled up into shorts for those warm, buggy days.
Equipment
Are you sending your child to a sports specific camp? Make sure that they have the right equipment to play their best!
Rainy Day Wear
While we have our fingers crossed that this will be a rain-free summer, chances are there will be a damp day or two. Make sure that your child is prepared to stay dry to prolong the fun! K-Way jackets are colourful, waterproof AND packable – the ideal camp jacket.
The Right Shoes
It's summer – sandals are a must. But don't forget that many camp activities require closed toe shoes! Make sure your child is ready for days at the beach, but also skills that require foot protection like archery or rock climbing. Take advantage of our Junior Footwear BOGO while you're at it! Buy one pair of kids shoes and get the second pair 50% off. This is perfect for grabbing fresh new runners and some funky sandals for your child's week at camp.
Backpack
With all of these layers, accessories and equipment, your child needs a backpack to haul it all around! Small, summery packs are lighter than the one they may use for school, and come in some fun colours perfect for a week at camp.
SHOP KIDS CAMP GEAR