Article by guest blogger Julie Redmond.
Summer trends. Aka, the best way to look stylish without getting bad tan lines or being too sweaty. In my 27 years of experience, the sunburn is way worse than being hella trendy and sitting in the shade. So, with that said, let's grab some sunscreen and blow this popsicle stand! We've got some summer trends to strut.
Summer in Calgary is…difficult to explain. It's been 30 degrees celsius and in the same day, hailed so much that people had to shovel and make some serious insurance claims on their vehicles. Take from this what you will because I've got summer on my mind and there will be bathing suits and cowboy boots. Not particularly together though. If you can't take the heat, I suggest you move to another city that doesn't get the most amount of sun in Canada.
Instead of dipping a toe into the daunting "bathing suit season", I'm diving right in! Ready or not, pale or tanned, I'm making a splash with this gorgeous graphic Trina Turk one piece (similar here). (I'm not actually splashing though because I don't like getting my hair wet.)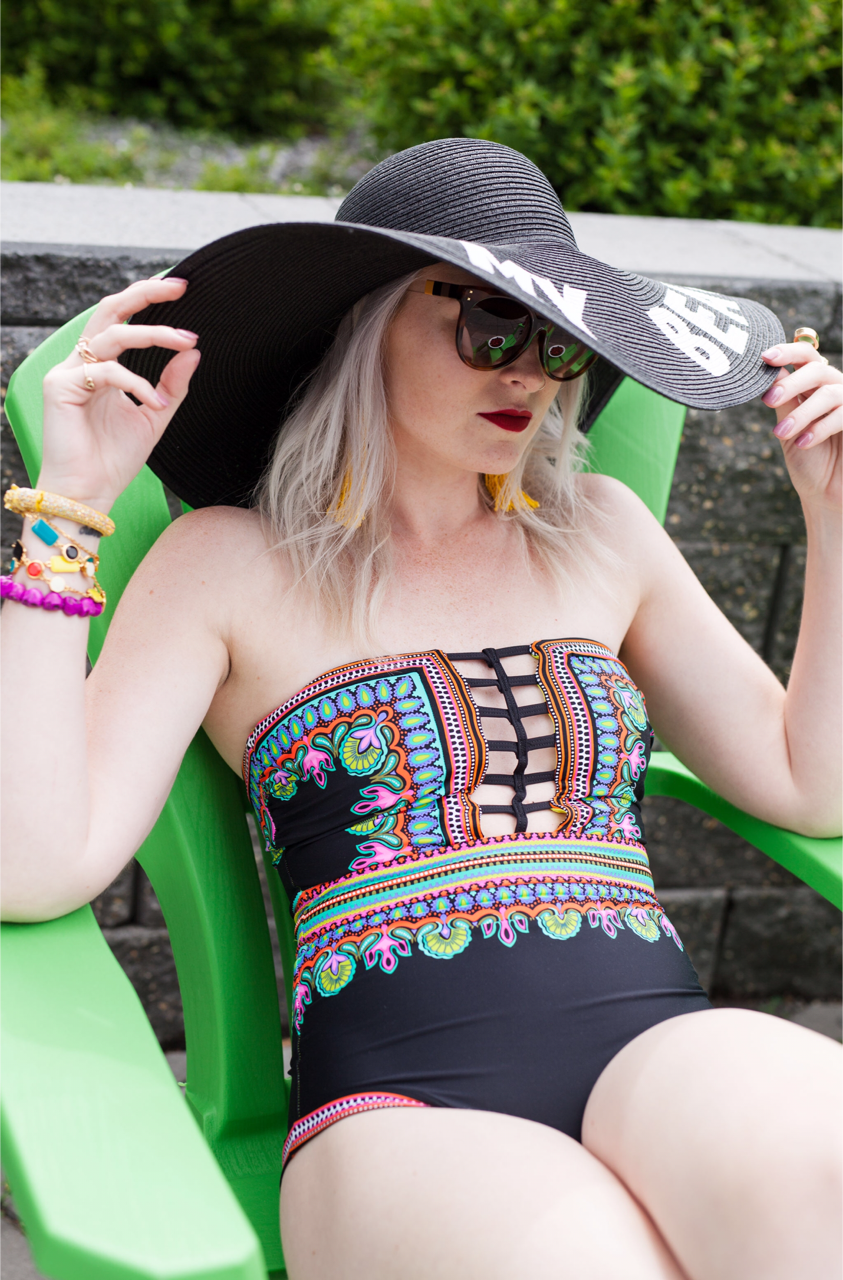 I reference SPF a lot and for good reason. One, I'm extremely fair, as I'm sure you can tell. Two, you probably don't want a twelve-pack looking sunburn on your chest. Don't be caught off guard by the beautiful designs and colours of this suit!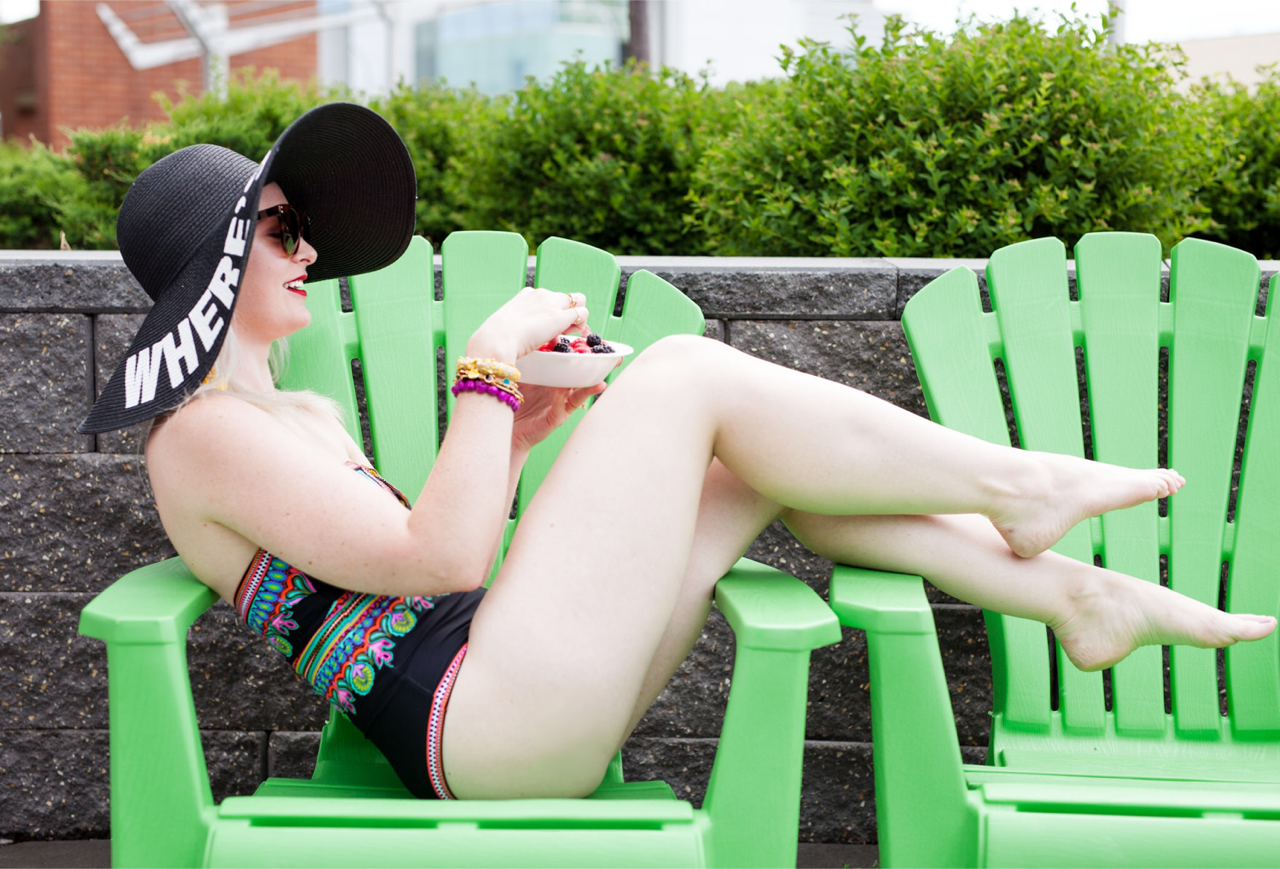 If you don't know that one pieces are making a huge comeback in the bathing suit and summer trends scene, then you need a Pinterest account. This suit is extremely comfortable and it also comes with a removable halter strap for extra security. The style of this can also double as a fashionable strapless top. I've already layered it with some fly Levi's that you'll see shortly with another ensemble.
Bathing suits and their styles can be quite personal and this might be too much information for some but it's no secret that I was not born to be well-endowed. I'm not upset by it either. With that said, this Lspace bikini is beyond perfect for my needs and it's reversible. Who doesn't love a twofer (two-for-one)?!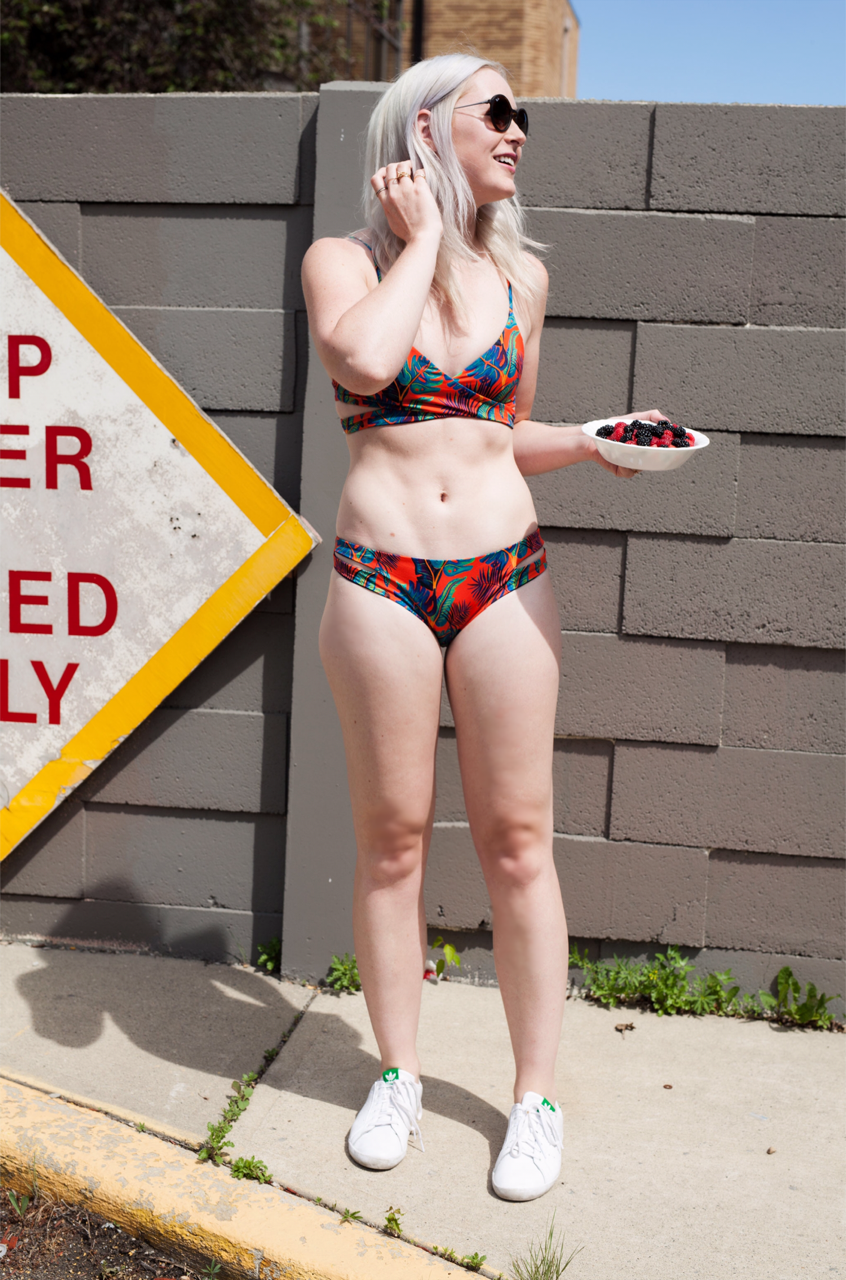 Years ago, I got my first Lspace bikini top and I actually remember saying that it was the most comfortable swimsuit I had ever worn. If you ask me, that is a major plus for comfort points when it's sweltering outside. Nobody likes fidgeting with their 'kini.
Obviously, this look is more geared towards backyard tanning sessions or the pool deck and I paired it with some retro Ray-Bans and some classic Stan Smith adidas Originals. Why you ask? Because flip flops are what you expected me to wear and this way I can run faster after the ice cream truck.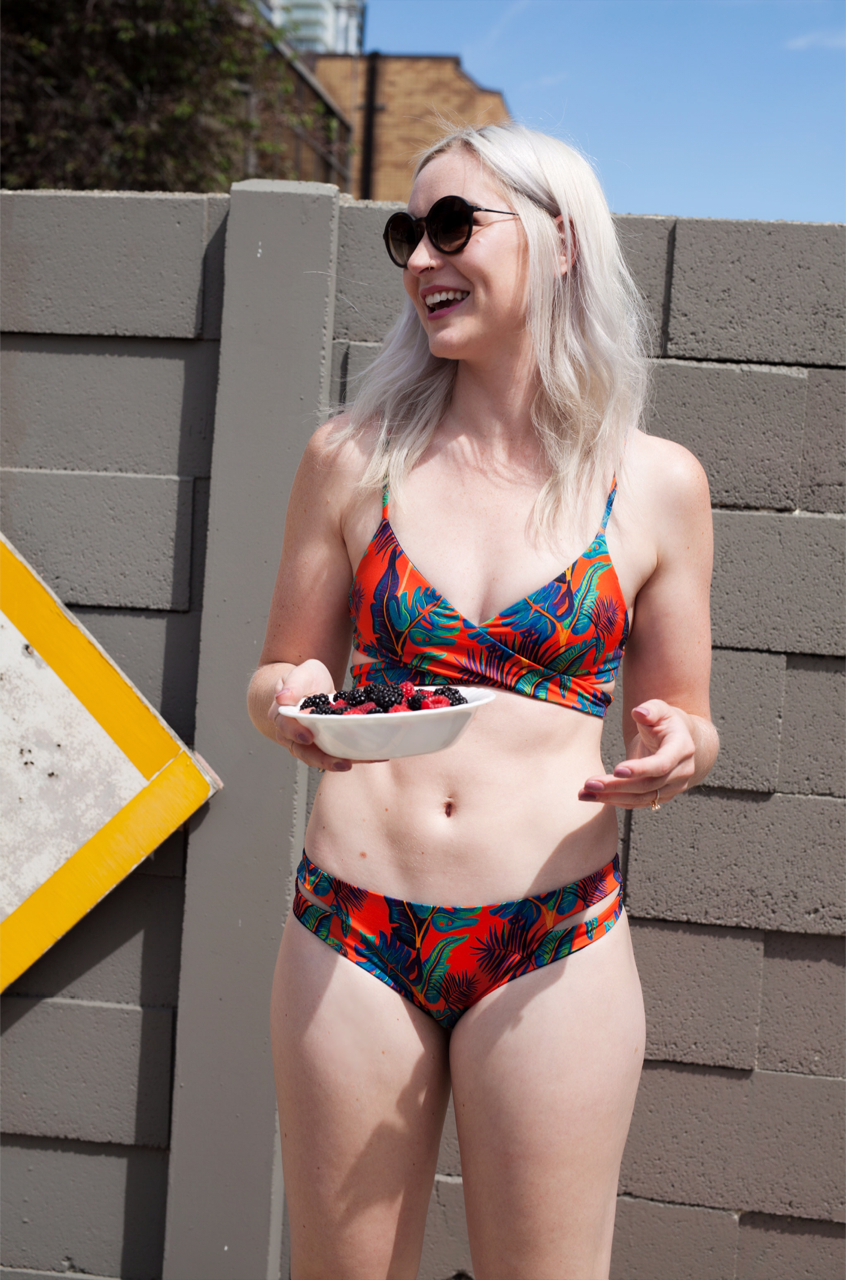 Sorry folks, berries not included with this suit.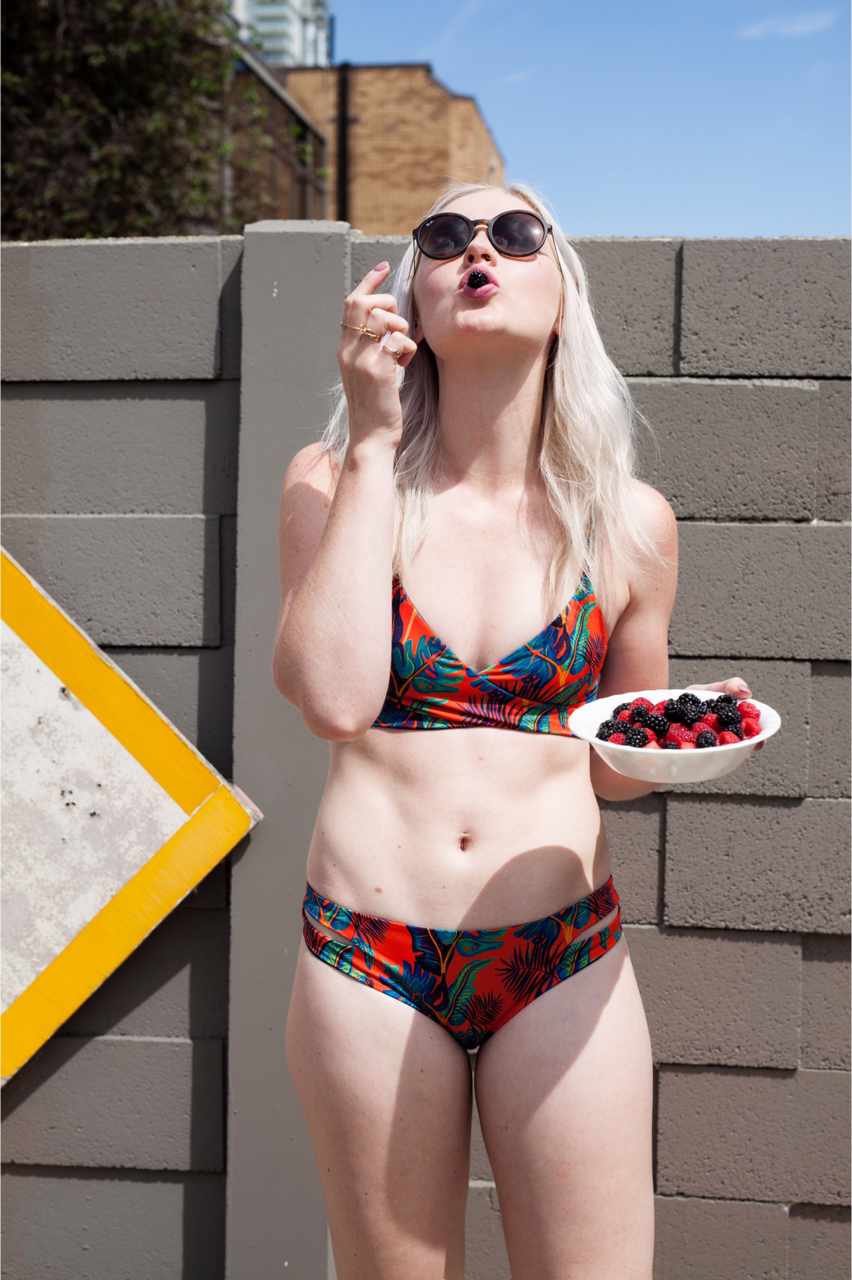 Ok, stay with me now. I'm switching gears so giddy up and grab your boots! Before I get straight into my rocking rodeo duds though, please keep in mind that these pieces can also be worn to and from the pool because as much as bathing suits are summer trends, you may want shoes, shirts and service. Pants too.
This outfit is white hot but also very cool to beat that summer heat. Levi's have quickly become a staple brand in my closet and it's no wonder why. They fit very well and have years of customer loyalty to back this up! These high-waisted white denim shorts are a dream and the distressed edge give it that don't care vibe. (Insert "did you pay extra for those holes?" dad joke here.)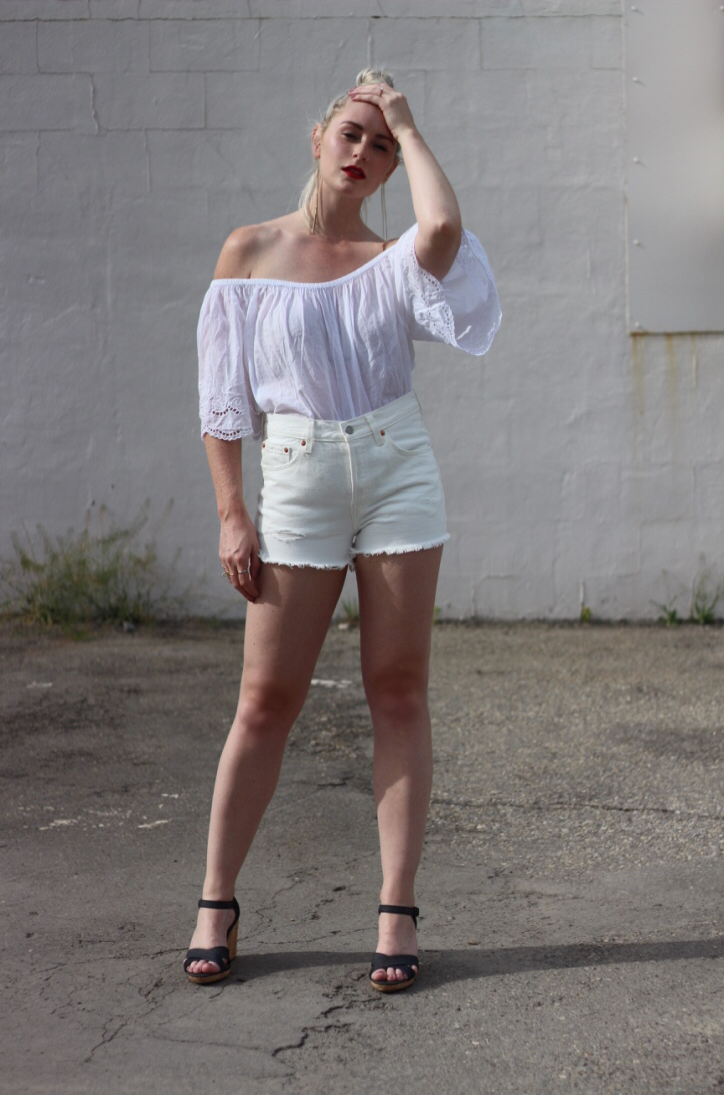 White on white is luxurious and chic but also dangerous around the corndog stand. Keep that in mind but also know, you are hitting a major trend with a white, off-the-should blouse. This one specifically is airy and super lightweight but it covers my arms for when I stay out after the sun goes down (similar here). Like I said earlier, it can be hotter than the underworld and then snow so, sunscreen and contingency plans are crucial. If you didn't catch on by now, I plan my outfits based on the weather report and my estimated time of outdoor activity. I can feel you judging but I can't see you because I'm blocking haters and UV rays sitting in the shade in my summer trendy threads.
This is also a great opportunity to get patriotic. (HBD Canada!) All you need to do is add a little red and no, I don't mean a sunburn. We've got a lot to celebrate this summer and #Canada150 is at the top of the list. One week after that, Calgary Stampede. Ten days after that, more summer. One month after that, our final days of summer so make the most of it with your summer trends. Summer, summer, summer, soak it up! Did I mention I love summer?
I switched up the bottom half just to showcase how great this blouse is and to show you that it can be worn the week after Canada's birthday for what has become my favourite extended-long holiday, Calgary Stampede. Featuring embroidered chambray shorts with cowboy boots, this sounds like a good country song to me.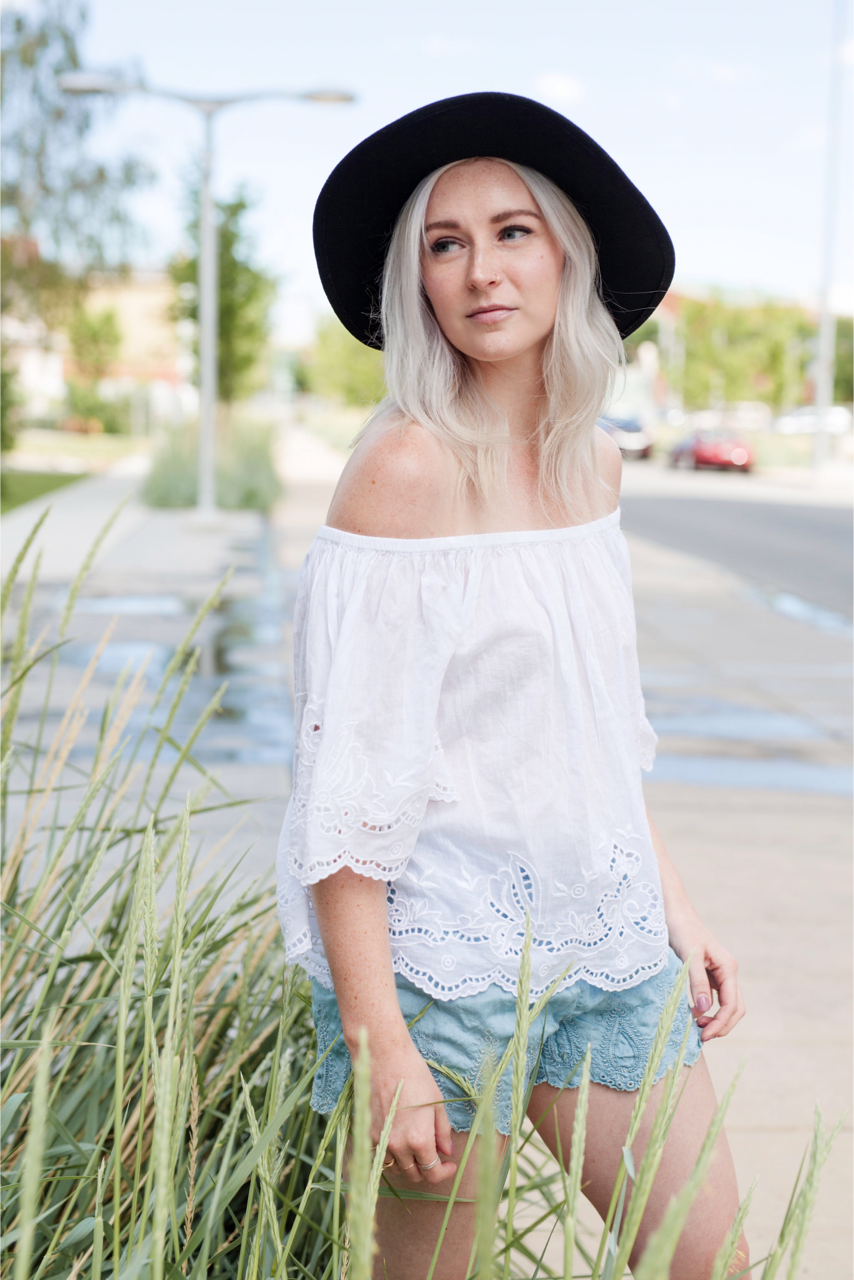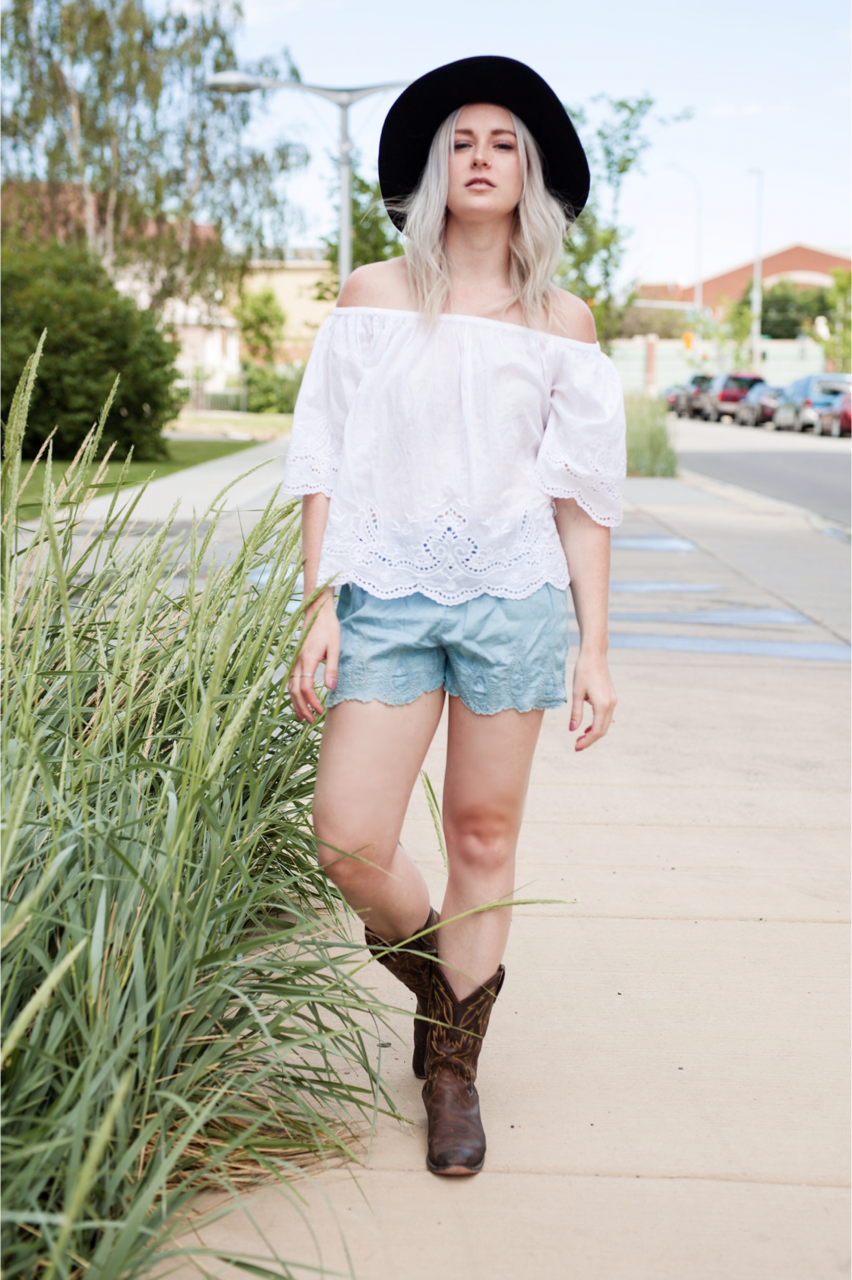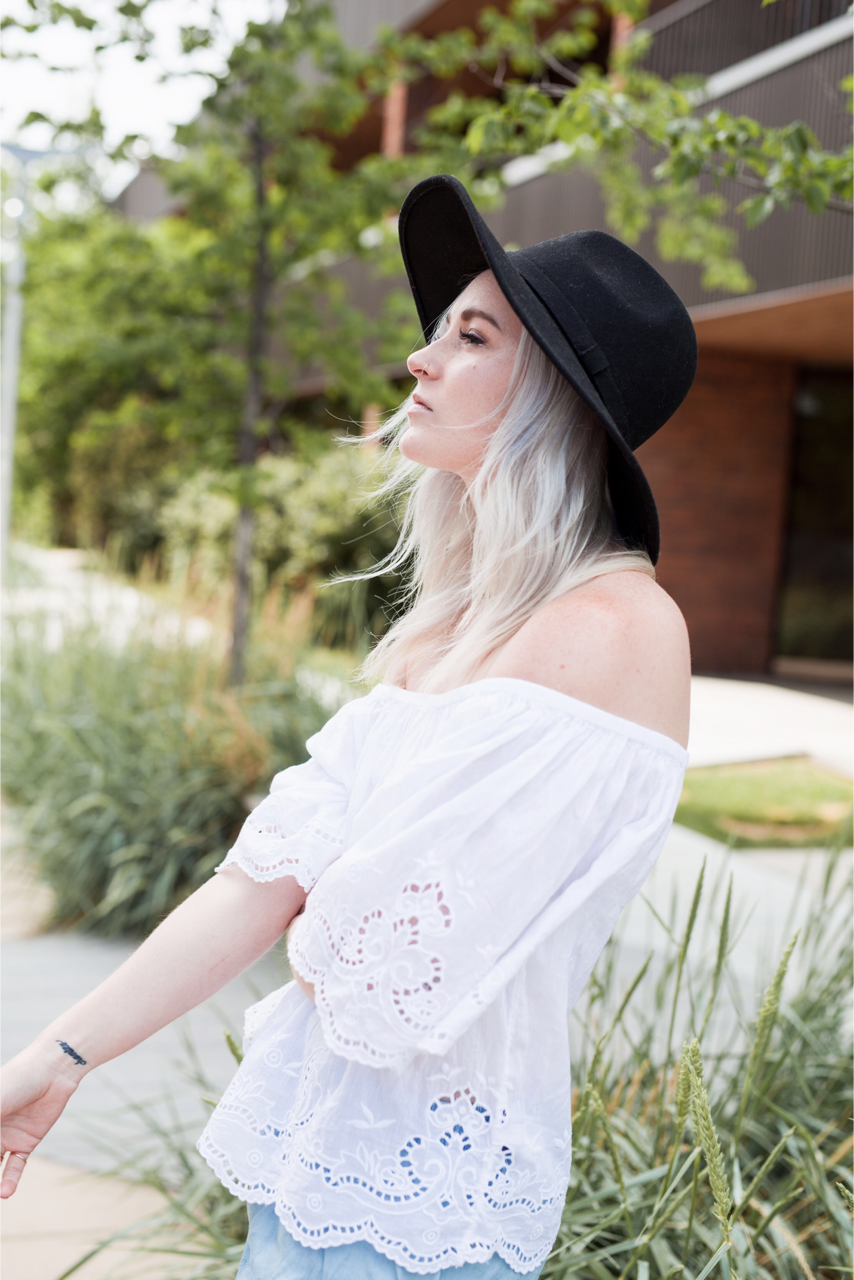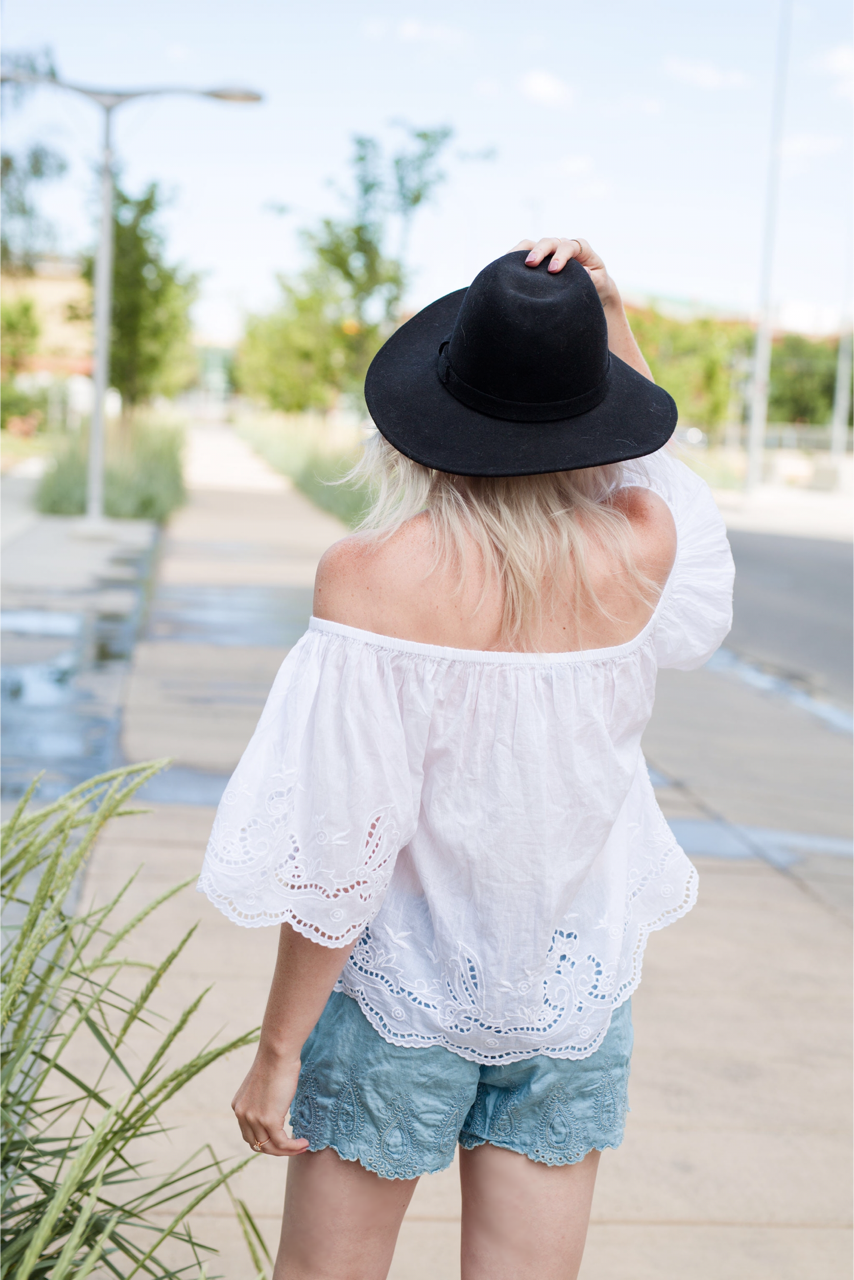 Next Stampede/summer staple; jortalls. Jean short denim overalls. (I just made that up.) The only thing that would make this even more Stampede-ish is putting on a plaid shirt, a cowboy hat and a piece of hay in my mouth. I'm not doing the latter but I'm not against it. I went a different route with the footwear because not everyone in Calgary owns cowboy boots so there needs to be multiple alternatives. These Toms are beyond comfortable and I know I can two-step the night away or cruise the midway for worldly treats.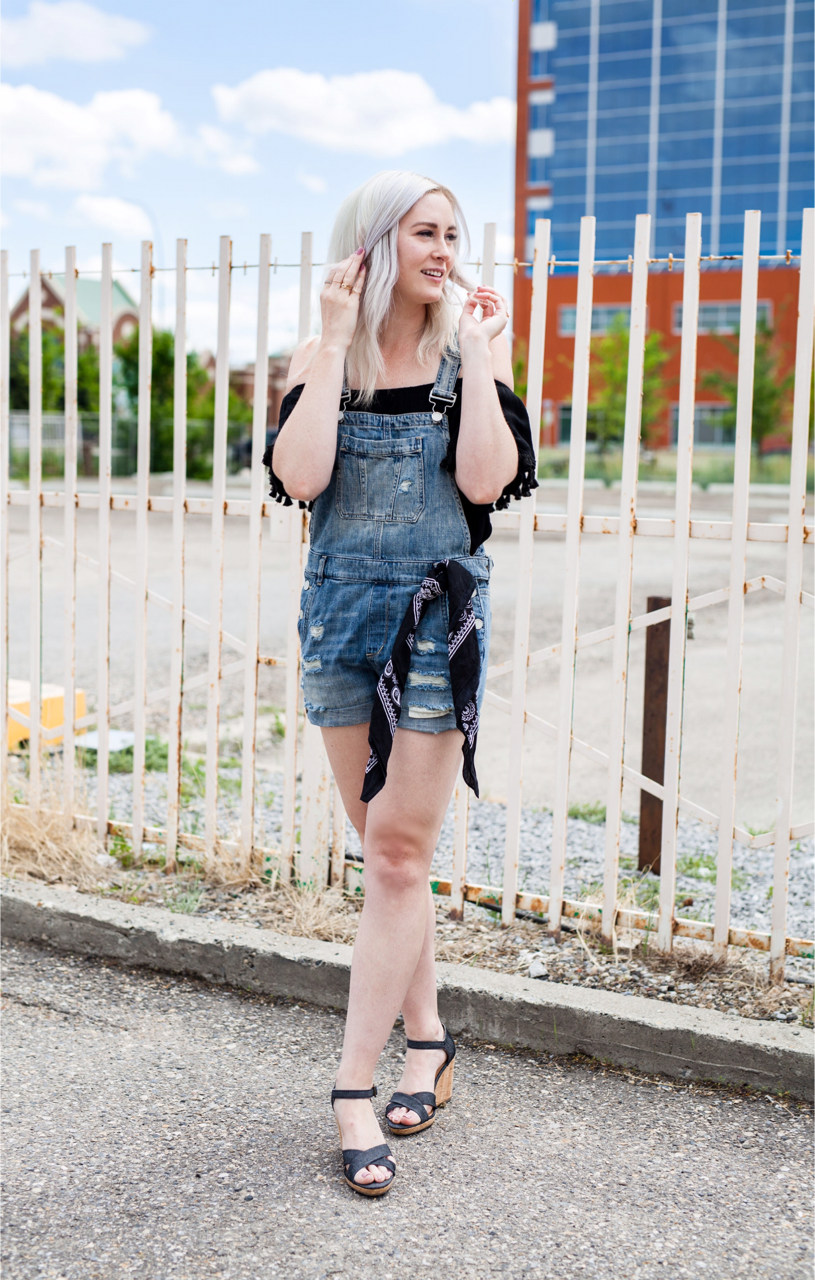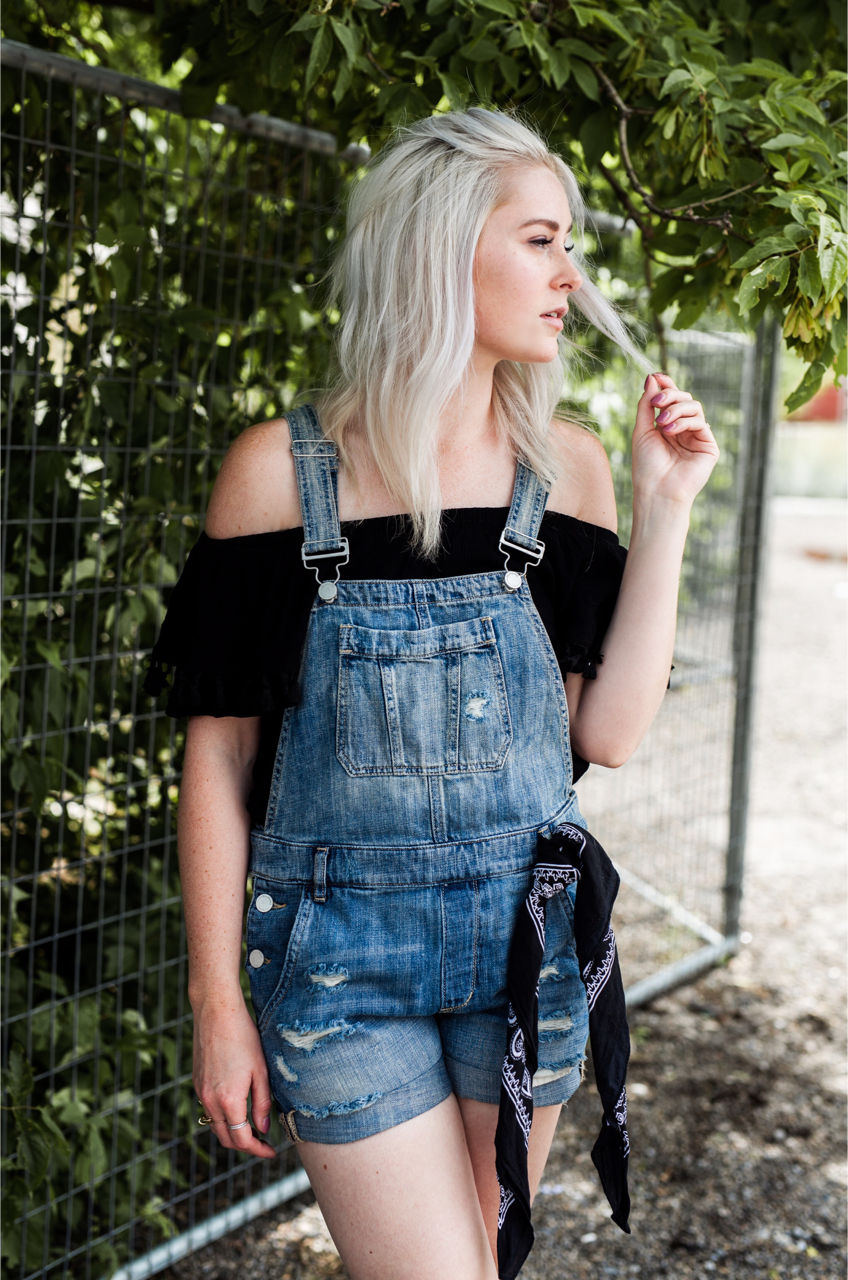 Overalls have a juvenile reputation but let me know tell you, trends repeat themselves. I wear all the same styles I did when I was 6. Kidding, sort of. I think I actually cut off a pair of overalls into shorts when I was a youngster. So it's probably not surprising that I'm not a fashion designer and stick to putting outfits together as a fashion stylist but this is still a charming and enjoyable summer trend.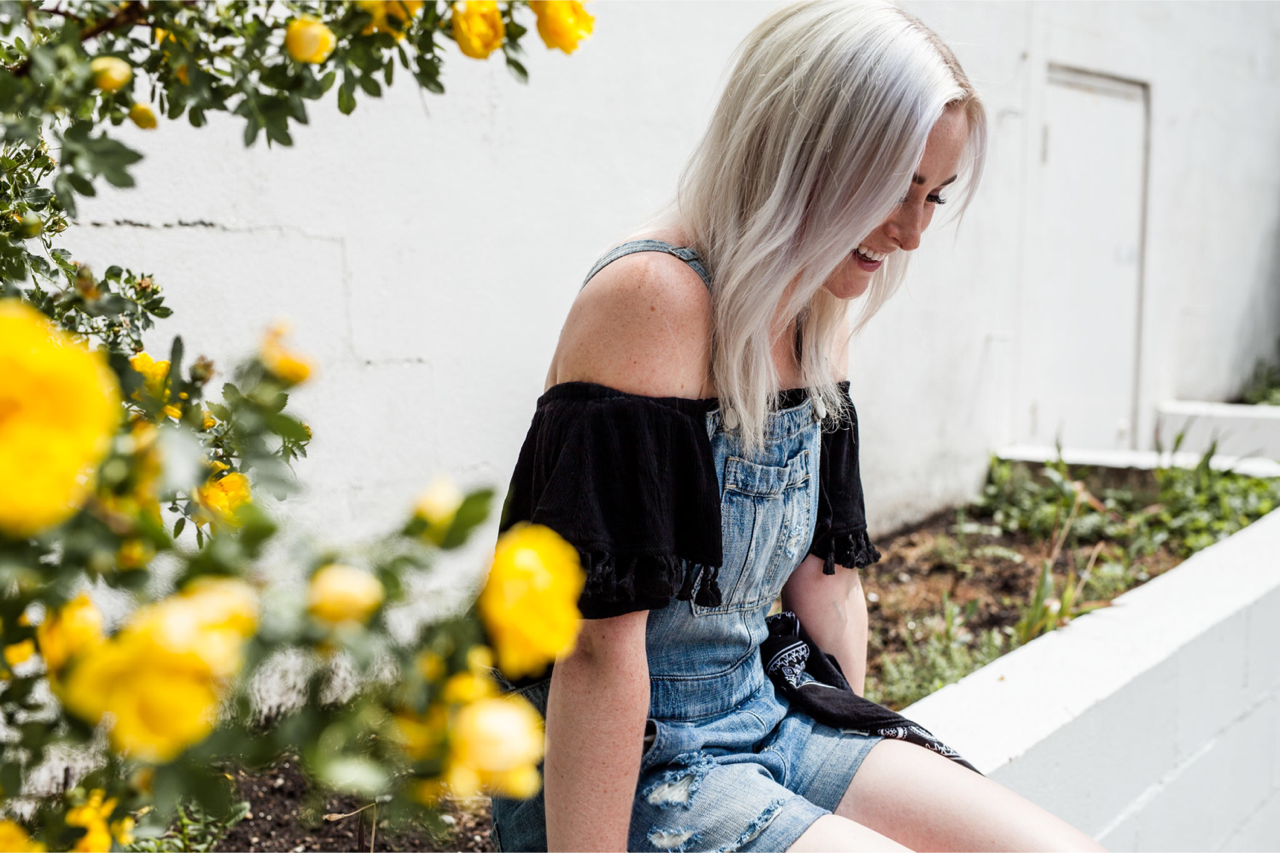 Versatility is my favourite word to use in my closet because not only is it key to have pieces that will last you through the summer months but it's important to be able to wear these pieces when the leaves fall and our tans fade. Brrr. I just got cold thinking of that. Anyways, I don't believe in overhauling my wardrobe from fall/winter to spring/summer because ain't nobody got time for that. I think it's important to be able to wear what you buy. No, this isn't always going to be appropriate from minus 30 to 30 above but versatility within your wardrobe pays off. My point is, when I was planning these outfits, I was able to pair everything together and switch their combinations. Summer is roughly 12 days long here so make the most of it with your threads and don't forget your sunscreen.
xoxo,
style by jr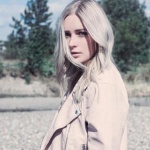 Julie is a Calgary-based fashion stylist with a background in event management and administration. She is a sparkle-loving, gold enthusiast who had a vision of styling more than just herself. While working for a leading boutique public relations agency in Calgary, she was recognized by top-tier clients to assist with their styling needs. Balancing current trends with classic pieces, Julie will ensure your wardrobe is a genuine reflection of your unique personality while helping you radiate an inner self confidence. Regardless of age or body type, Julie will help you feel your absolute best through a relaxed and comfortable process. www.stylebyjr.com