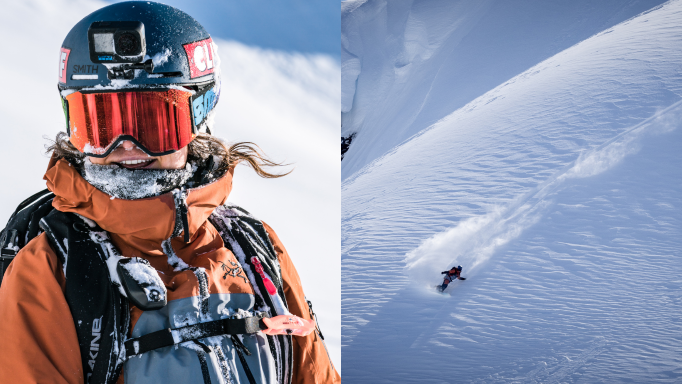 Photos by: Chad Chomlack
'Retired' Olympian snowboarder Elena Hight continues to push the limits.
There isn't much left in the world of snowboarding for Elena Hight to master, but she's certainly not done exploring new ways to get down — or up — a slope.
At 33, the Kauai-born Olympian has retired from the competitive circuit — but she's certainly not retired from snowboarding. For this, we are fortunate — watching Hight's meticulous carves and effortless lines as she descends a big-mountain peak is a mesmerising display of rhythm, grace, and momentum tamed.
In recent years, she's become enamoured with splitboarding and back-country riding, a natural attraction for a self-confessed eco-warrior and nature freak. Splitboarders seek the most remote of remote settings, choosing to hike to places that have — hopefully — never received the gaze of a human. Or, certainly not from a human on a snowboard. Splitboarders eschew the use of engines, relying on human locomotion.
"I got into it when I did a film with Jeremy Jones. He's the godfather of this type of snowboarding. Ode to Muir is a good peek into what is honestly my first trip into this style. I also have a film on HBO called Edge of the Earth. It's a docuseries in four parts, and ours is one of the features, more based on the splitboarding adventure style."
The challenges — and the unknowns — of backcountry boarding appeal to Hight's unwavering curiosity and connection to the wild.
"There are only so many places you can go with helicopters and snowmobiles. But if you're willing to walk, the possibilities are endless," she says, the touch of wonder in her voice revealing an infectious enthusiasm for her latest passion. It also helps to be willing to camp… in the snow… at minus 20C or colder. And she is — in part because she's got the gear to back her up.
Three years ago, as Hight was becoming increasingly enamoured with back-country boarding, she connected with the Canadian outdoor gear manufacturer Arc'teryx. You could say it's a natural alignment, with an emphasis on "natural." Hight's passion for the preservation of planet Earth is a symbiotic fit with the brand's commitment to leadership in sustainability.
On the mountain, Hight says, Arc'teryx outerwear performs like no other — and in a way that Mother Nature would approve.
"Arc'teryx is really making the top-of-the-line gear for mountain adventures, and everything about the company is in line with my values and what I'm doing in snowboarding," she says.
"They make everything I need for these big adventures, and they are at the forefront of the environment. They are very conscious around the materials, and the waste, and the footprint that they create with the products. For me, it's a very important aspect. I feel very lucky to be aligned with them."
Hight's Arc'teryx ski closet includes the Incendia one-piece and Incendia Jacket, as well as the Shashka pant which she pairs with the Sentinel AR Jacket.
"Arc'teryx gear is very lightweight, breathable and a bit stretchy … I really like that kind of mix in my fabric, as obviously I need the Gore-tex to be water resistant, but also to be able to move and bend over and stand up is key. I put this gear on and I don't even feel like I'm wearing outerwear."
When she's riding a mountain peak on one of her back-country adventures, that's when her gear really needs to step up and do its job.
"The gear is created for these far-out and really intense weather scenarios. All of it is made to withstand the elements. When we are out there we rely so heavily on our gear, it needs to respond. When we're on these long adventures every piece of clothing has a specific job to do."
A high-performing under-layering system is crucial for back-country journeys because the physical demands change over the course of the day.
"In splitboarding, layering is most important, as you get hot and sweaty on the way up, and cool off on the way down. Layering is crucial to happiness in the mountains."
Hight is also a big fan of the Andessa Jacket. "It's a great down jacket. It's what I use at my local hill. It's a great resort jacket. It's insulated — it will keep you warm! — and the Gore-tex makes it super weatherproof."
These days Hight splits her time between San Diego and Lake Tahoe — she moved from Hawaii to Tahoe as a young girl with her parents, younger brother and two older sisters. They traded surfboards for snowboards, and six-year-old Elena set out to master the mountains. Her competitive life started soon after, and at 13 she landed a 900 in competition, the first female to do so. In 2013, she landed a double backslide alley-oop rodeo at the Winter X Games, the first snowboarder — male or female — to complete the trick.
I HAVE THE ABILITY TO SHOW THE NEXT GENERATION THAT THESE DREAMS ARE POSSIBLE
"I was a super competitive kid with a lot of competitive energy… and loved the atmosphere of competition. From a young age, I felt I wanted to perform well in snowboarding. The turning point was 2002, watching the Winter Olympics, and Kelly Clarke and three of the US men on the snowboard team took the podium, and she won the half pipe. That turned into my driving force of wanting to go to the Olympics. I remember that moment… I was 12!"
She laughs. "I've always been an old soul!"
Her drive to succeed, she says, isn't necessarily about winning. Every athlete has his or her own personal relationship with ambition.
"I've been driven by pushing limits of what's possible. I enjoy walking that line of pushing myself to new extremes. I think I like to do that on a personal level and also within women's snowboarding specifically. There's a gap between the performance in male and female snowboarding, and I've never believed it's about ability or challenge, but more about fewer women doing it. So for me competing was always about having the platform to be able to really see what was possible and push myself to those new limits… and to help elevate the sport."
Hight believes that sponsors should be active promoters of women in the sport, and Arc'teryx certainly steps up on that front.
"It's about support from the industry and a lot of that comes from the sponsors," Hight says. "A company like Arc'teryx has a huge opportunity to elevate women. And they have a huge push to make their Athlete team 50/50 gender equal. That speaks highly to their commitment."
Being a pro athlete, she says, is both a responsibility and a great opportunity — and "a very blessed thing in life."
Hight is not one to take anything for granted — not the planet, her incredible skills, the people who support her, or the accomplishments women in her field will achieve in the future.
"I have the ability and platform to be able to share that inspiration and hopefully show the next generation that these dreams are possible. The women who came before me inspired me, so I hope to use that platform in the same way."
Discover Arc'teryx's collection from Sporting Life here!