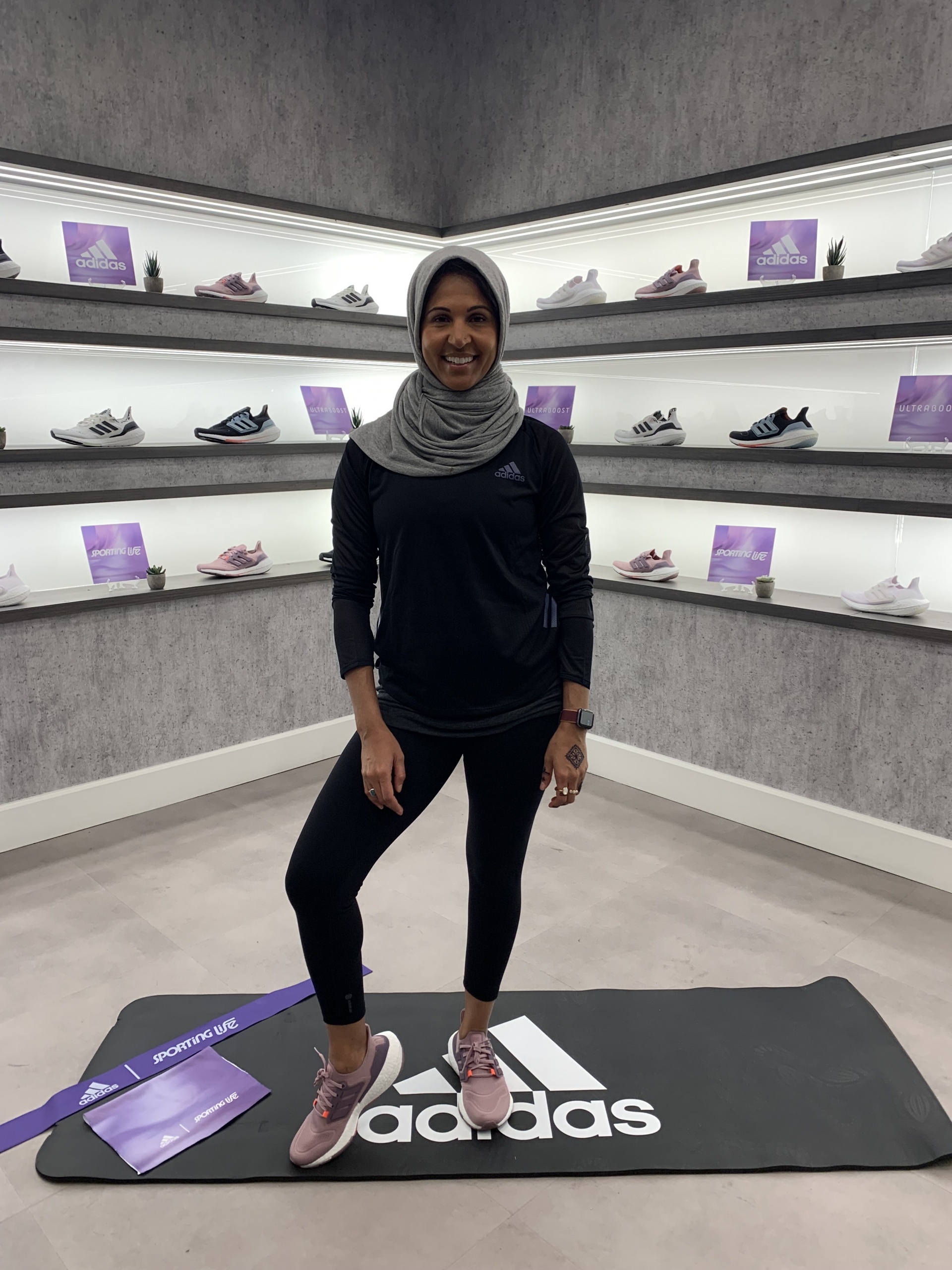 Zehra Allibhai is a Toronto-based fitness instructor, kinesiologist, and mother of two who is showing women all around the world that nothing should stop them from achieving their fitness goals. Zehra's Instagram page and website provide a variety of workout routines, healthy recipes, and motivational daily lifestyle content. We spoke with Zehra about how she balances family and fitness in her daily life, what advice she would give to someone just starting out on their fitness path, and her personal fitness goals for this year.
How did you first get into running and fitness?
I was an active kid growing up and loved playing sports, Volleyball, Basketball and Track were my favorites! I also studied Kinesiology in University and became a trainer because I loved sharing my passion for fitness with others! I loved training and learning new exercises and moves that I could share with my clients to help them reach their goals.
I started running after I had kids. We lived in Ottawa and I would take my running stroller out along the Rideau Canal and get some fresh air and movement while my little one took a nap or enjoyed all the sights :)
What does Fitness look like for your family? How do you encourage your family to stay healthy?
We've always made it a point to be active as a family. The kids love playing sports and love it when we join in with them! My husband and I also love to bike ride and play sports and that has been something we enjoy doing as a family as well.
We also love to hike and explore all the different trails around our neighborhood. The kids love it when the trails are a little more off road and they can explore a little more!
The most important thing in getting your family active is to find things you love to do together and lead as an example as parents.
What do you look for in running shoes?
It's really important to find the right shoe for you. I really like something with good support, made for a women's foot as mine are a bit more narrow and provides great cushioning for all the running and high impact workouts I do. I also like a shoe that is lightweight and super breathable.
I've been using the adidas Ultraboost 22 and love the fit and comfort. I also look for items that are made well with recycled materials and love that these are made with recycled Parley plastic from the oceans.
What tips would you give someone who is just starting out in their fitness/running journey?
Start off small and build from there. Make a commitment that you can stick to and show up consistently. This could be something simple like blocking times (20-30 minutes, 2-3 times week) to run or workout. It's a commitment you're making to yourself. Show up consistently and make it a habit you will come back to.
Set yourself up for success, have the clothes ready and the shoes all set out, your water bottles filled, music list ready to go and workout/running plan ready to go! The less obstacles you have in your way, the more likely you are to follow through.
A little progress each day will turn into lifelong changes! Just keep at it!
What are your personal fitness and health goals for this year?
I'd love to work more on my mobility and flexibility this year. Always feel so much better after a stretch session! Continue with my training and get back to some PR's that I was doing pre- pandemic as well as running more!
Are you ready to get your boost this season? Weight, cushioning, and responsiveness: adidas Ultraboost 22 is designed with these three factors in mind to provide the most comfortable running experience possible, mile after mile.
Gear up like Zehra Allibhai by shopping the adidas Ultraboost collection here.