While our Calgary community is lucky enough to have scenic mountain trails and some of the best hiking in Canada, Ontario has some beautiful hiking spots that are perfect for the beginner hiker. You don't have to be an experienced outdoorsman to get out and enjoy nature! We're sharing some of the best places in the Toronto area to go for a hike, some tips for the first-time hiker, as well as the gear you will need to make the most of your adventure.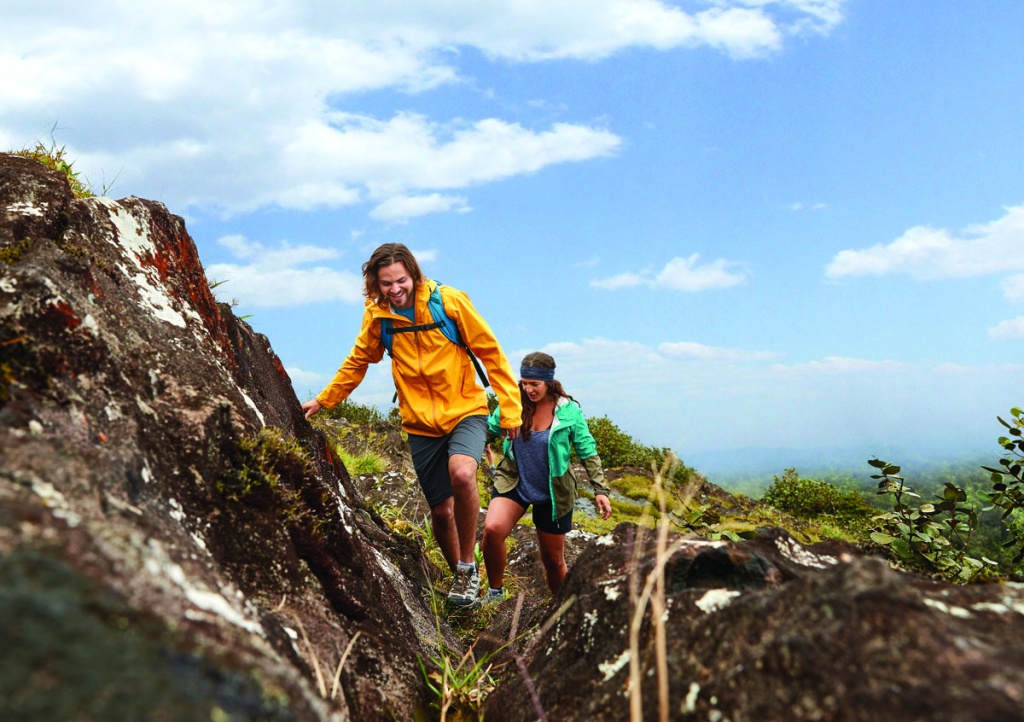 5 Beautiful Beginner Hikes in the GTA
Scarborough Bluffs Park
Before leaving the city entirely, why not stop by the beautiful Scarborough Bluffs Park right here in Toronto? The Bluffs offer stunning views of Lake Ontario and the beautiful bluffs. The trails are not difficult and are easily accessible, and sandy beaches await you once you're done your hike.
Webster's Falls Conservation Area
Who knew that some of Ontario's most stunning waterfalls were located just outside of Hamilton? Take a walk down beautiful trails towards Webster's Falls and Tew's Falls – totally Instagram-worthy! After chasing waterfalls, hop on up to Dundas Peak for a beautiful panoramic view of Hamilton.
Rattlesnake Point Conservation Area
While you probably won't see any rattlesnakes, this conservation area in Milton allows you to seek some extra adventure. If you've been practicing your hiking and are feeling a bit more advanced, explore some of the hidden caves or partake in some rock climbing! While this hike is most beautiful in the fall, it isn't the worst thing to look out upon miles and miles of green trees!
Elora Gorge
Elora is a bit off the beaten path for Torontonians, but it is totally worth it to make the trip this summer. This trail is perfect for all age groups – ideal for a family weekend or a beginner hike. While you're there, stop by the Elora Quarry and take a dip in the blue-green water, or partake in some kayaking!
Bruce Trail
Did you know that the Bruce Trail is Canada's oldest and longest foot path? This trail stretches for over 800km from the Niagara River all the way to Tobermory! You can enter at various points throughout Ontario, and walk for as long or short of a distance as you like. The closest entrance point to Toronto is just outside of Milton near Kelso Conservation Area, and the views are out of this world!
Hiking 101: Tips & Tricks
– Proper hiking gear is a must, especially for spring hikes. The weather is unpredictable, and you need to be prepared for whatever comes your way! Be sure to have these items in your wardrobe to make the most of your adventure:
Waterproof/windproof outer layer.
Base layers – moisture wicking fabrics to keep you warm (or cool!) and dry. This goes for socks too; bring extra, and go for a smart wool to keep your toes dry.
Hiking shoes – these don't need to break the bank, but they are absolutely crucial for both seasoned and first-time hikers. Good shoes are the key to a fun and safe hike; keep your toes and ankles protected, especially on uneven terrain.
A lightweight, sturdy pack…especially when you need to shed some of those added layers!
– Convertible pieces can be your best friend…who doesn't love pants that turn into shorts and back again? Adjust your outfit to suit the conditions at hand without leaving anything behind.
– As with any physical activity…HYDRATE! Be sure to bring enough water, no matter the length of your hike. Whether you prefer a colourful S'well that keeps your water cold for up to 24 hours or a hydration pack to keep your hands free, make sure you're stocked up on H20.
– Similar to hydration, your body needs fuel to get through your trip. Give yourself an energy boost on the go with gels, chews or waffles available at our retail locations. They contain carbohydrates to keep you fueled, electrolytes that aid in hydration and amino acids that reduce mental fatigue!
– We mentioned the importance of a solid hiking shoe; be sure not to embark on your hike with brand new, stiff boots! Our friend Leigh from HikeBikeTravel.com wrote a post about breaking in your hiking boots on her blog – check it out!
SHOP HIKING GEAR