There are few better places to dive into with pizzazz than the Canadian Rockies region of southeastern British Columbia. Winter enthusiasts know this place as the Powder Highway, but summertime fun in this outdoor playground is a breath of fresh (mountain) air.
See A Bear
Didn't see that bear on your last National Park visit? No matter – Boo is here. Kicking Horse Mountain Resort is home to Boo the resident grizzly bear, a highlight for many who see him each summer in his natural habitat. Learn about the plight of bears habitat and get to know more about what they eat and how they survive in the wild. Perfect for those junior rangers in your crew who have bear sightings at the top of their list this summer!
For the thrill of it – try the fast growing adrenaline sport called Via Ferrata
One of the few places you can go to hang with friends (literally), go agro on that fear of heights and share one of your most powerful high five moments upon completion. In Italian, Via Ferrata, means 'iron ladder'. Fixed steel steps secured to the rock become your footholds, you wear a harness that has you adhered to steel cable and provides a safe, fixed connection to the rock face. Hey, you're rock climbing but with assistance and support! Go now and add this exhilarating feeling to your summer bucket list.
The Climb
Sunset hike – Stay Mountaintop
Roughing it has never been so easy. Let the chairlift at Fernie Alpine Resort do the hard work, so you don't have to lug all your camping gear up the mountainside. Voila – don't sweat, camping in a high alpine meadow has never been more accessible! Take in Mother Nature's cinema, or explore a short hike to Lost Boys Pass viewing platform to kick back and watch the giant orb in the sky cast its artwork on the rocky skyline.
Add Something New to your Fitness Mix – Try Trail Running
Casual, no pressure and spectacular views, a perfect way for first timers to try trail running. Fernie Alpine Resort has added the new North Face Trail Running series, Thursdays in July and August. What a way to stroll, trading in views of skyscrapers and traffic for high peaks and cedar trees.
New adventure – Reebok Spartan Race, Rocky Mountain Trifecta Weekend
You wanted "adventure" this summer, right? Well here it is. Kimberley Alpine Resort will host something your inner kid has been calling for. Can't you hear the screams of joy now, as you slip into mud, spray some water, climb hills and mountains, crawl under barbed wire and hold on now – the crowd pleaser – jump through fire! Don't do this one alone, it's time relive the good old sandbox days.
---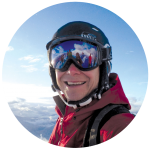 About Author:
Matt Mosteller    @powdermatt
One year, while his friends were busy getting jobs and settling down, a young Matt Mosteller spent 63 days living in his car so he could ski every day. Now, 20 years later, Mosteller has settled down a bit, but he's still seeking outdoor adventure and his stories can be seen regularly in the Calgary Herald, Vancouver Sun, Explore Magazine and many others. His first book, described by The Calgary Herald as "a kind of handbook for living life to the fullest," The Adventurer's Guide to Living a Happy Life offers 63 daily meditations to help you broaden your horizons and achieve the 'goosebump' moments in life (sleeping in the car is optional). Mosteller is a crusader, constantly trying to find ways to fight childhood obesity, and a hybrid of corporate marketing know-how and freelance media