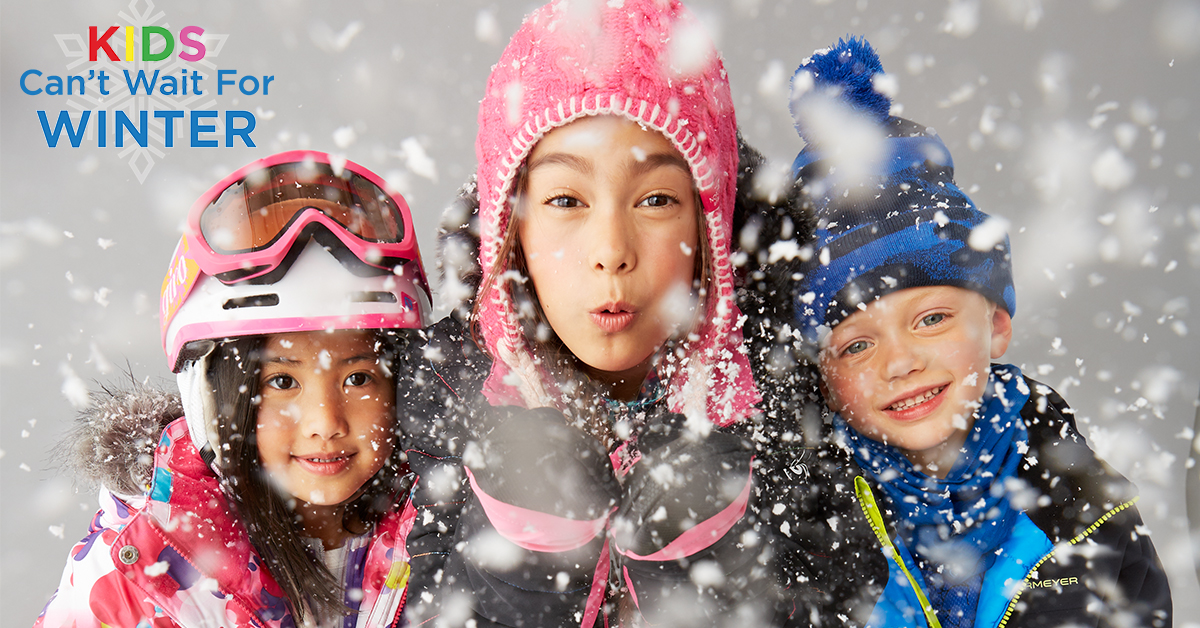 Temperatures are on their way down – winter is coming! Our favourite season of the year is just around the corner, and just like us, we're sure your kids can't wait for winter. Skiing, snowboarding, snowball fights, tubing, building a snowman…you want your kids to be prepared to go barrelling out the doors once the first snowfall hits. Now is the time to get their coats, snowpants, and gear ready to go!
Our Kids Can't Wait For Winter event is on now, and we are offering tons of deals on kids snow gear to prepare you for the imminent cold weather. Below are 5 of the best reasons to shop now – the slopes await!
You can't play in the snow without snowpants and a jacket! When you buy any new arrival junior ski or snowboard jacket, you get the pant 25% off. Have your kids looking fresh as ever as they fly down the hill this winter – find bright colours with brands such as Reima, Columbia and Sunice!
Keeping your kids safe on the slopes is the #1 priority. When you buy a junior helmet, goggle or ski poles, get one 50% off! The coolest new Salomon helmet has a built in visor, and new poles will help them improve their stability run after run.
You can never have enough accessories to keep your kids warm. The more you buy, the more you save! Buy 2, save 10% – Buy 3, save 15% – Buy 4, save 20% on children's winter hats, mitts, gloves, and long underwear!
These boots were made for playing. Sorel, Cougar, Kamik and Bogs are some of our most trusted winter boot brands, and during this event, selected styles are $49.99-$59.99. Keep those toes toasty warm all day long!
Have you heard of our Junior Half Back Program? You can learn more about it here – After purchasing a ski or snowboard package, you as a parent may return the package at the end of the season for a credit of half the value purchased to use for the following year!