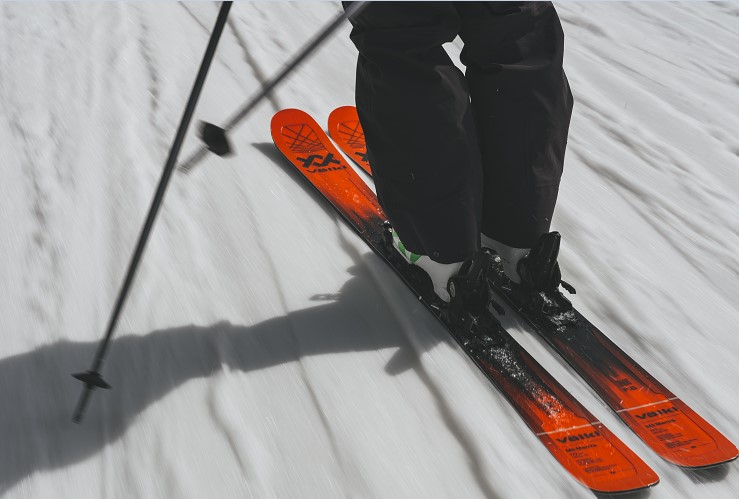 Since 1923 this "Made in Germany" brand had been at the forefront of high-tech innovation in the world of downhill skiing. Their mission is simple: to enthusiastically innovate the best products for skiers, in a sustainable way.
Volkl's cutting-edge technology, combined with traditional craftsmanship, results in high-quality, technologically advanced alpine skis — just ask the dozens of athletes who compete with them (many also happen to be decorated Olympians), including Alex Beaulieu-Marchand, a Canadian freestyle skier who took home bronze at the 2018 Olympics in Pyeongchang.
Sustainability is also at the core of their brand, as they have seen first-hand how winter sports are being disproportionately impacted by climate changes. As the last remaining ski manufacturer in Germany, Volkl makes the effort to be sustainable from the start to finish of the product lifecycle — from where they source their raw materials to using reusable, returnable packaging for distribution.
Whether you're an Olympian hopeful or just like to feel like one on the slopes, Volkl delivers.
All Mountain Skis
Groomed and soft, or icy and steep, all mountain skis are designed for all types of terrain. 
Ultra-versatile, Volkl's Deacon 79 skis have an extended tip and tail rocker and are designed for a playful and sporty ride. The ski has a 3D.Ridge construction and centre sidewall, while the base is P-Tex 2100 and is paired with the Dual Woodcore XL and GripWalk®-compatible WideRide XL binding. 
For skiers who want the freedom to choose any slope and condition, the Deacon 80 skis with an XTD tip and tail rocker are for you. Featuring Volkl's 3D Radius Sidecut technology, and built with 3D.Ridge and 3D.Glass construction, its carving performance is spectacular. You'll feel the power transfer thanks to the new LowRide XL binding with GripWalk® compatibility.
Expert skiers are in for a treat with the Deacon 84 skis, ideal for whether you're carving through fresh powder or bracing the icy slopes. Featuring 3D.Ridge construction and a Titanal frame combined with 3D.Glass, the ski is designed to increase your power transfer for an improved edge grip and liveliness. The carving performance is also impressive thanks to the new 3D Radius Sidecut technology.
Freeride Skis
For those dropping down into fresh powder, freeride skis give you maximum flotation to make those effortless turns through the backcountry.
Volkl's Blaze 94 ski was created for the skier who wants the freedom of freestyle with the control of an all-mountain design. Highly versatile, the Titanal binding platform allows for a direct power transfer and fast pressure build-up as you move from one edge to another. Primarily designed for short, fast turns, the three different radii together with the multilayer wood core, adapt to your riding style. 
Volkl likes to call the Blaze 94 W "sporty" because they made it for the skier who revels in agile, responsive turns. Designed with Titanal across the binding platform for a notable power transfer, the 3D Radius Sidecut and multilayer wood core, enhances the ski's maneuverability. Whether you plan for backcountry descents or resort skiing, these skis are for every condition.
The widest model in the line, Volkl's Blaze 106 ski is all about delivering fantastic flotation for the rider looking for a playful descent. A notable new feature is the suspension tip acting like a bumper in wind-blown or tracked conditions. These are made for those who want to freeride, but still get sporty maneuverability.
Speed-loving freeriders, look no further than Volkl's Kendo 88 ski, boasting remarkable carving performance thanks to the three different radii in the sidecut. Expect precise power transmission and optimum turning behaviour never before experienced with Titanal skis.
Incredibly versatile, the Secret 96 ski has a smooth feel thanks to the new tailored Titanal frame and carbon tips. Experience confident turns with the 3D Radius Sidecut, while the 96mm waist covers you for almost every snow depth without sacrificing performance.
If your ski style is all of the above (aka every and all terrain), then Volkl's Kenja 88 are for you. The 3D Radius Sidecut design delivers impressive carving performance, while the Titanal frame and carbon tips give stability. The result? A ski that holds at high speeds without sacrificing playfulness.
Even more versatile than its legendary predecessor (the M5), the M6 Mantra ski has a newly designed body with a 3D radius sidecut and Titanal frame, noticeably lighter and more agile. The handling is also enhanced by the tailored carbon tip.
Shop the entire lineup from Volkl here.