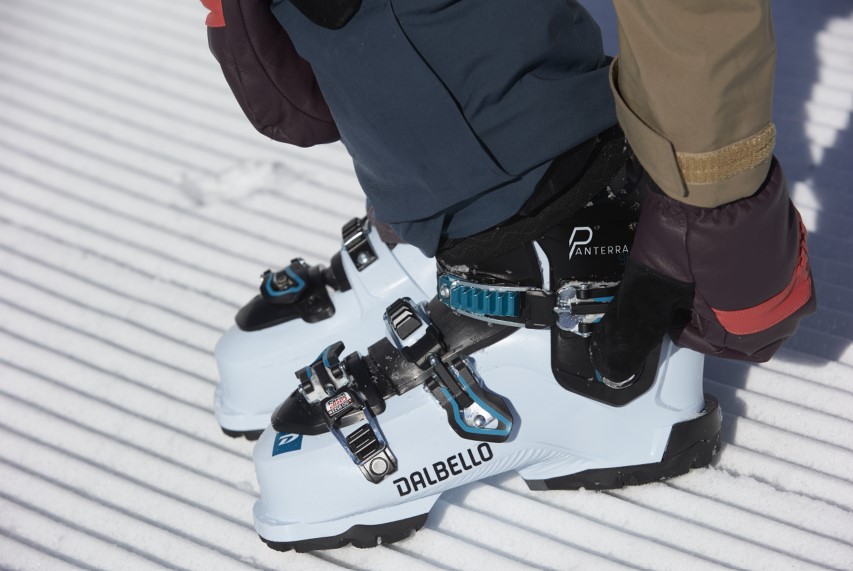 Did you know that finding the right pair of ski boots is one of the most important decisions when it comes to selecting your ski gear? Your boots tell your skis exactly what you're about to do on the slopes — whether that's taking a hard turn or building speed — which is why they need to be comfortable, warm and fit properly. Having a boot fitting is also important and that's where Sporting Life boot fitters can help.
Italian ski boot specialist Dalbello, knows all about creating high-quality, technologically advanced products. Founded in 1974 by shoe maker Alessandro Dal Bello, Dalbello is one of the remaining manufacturers that still produces every one of their ski boots in Italy.
Dalbello is worn by top Olympic athletes, from freeriders to world cup racers (not to mention decked out Dalbello skiers took home 10 Olympics medals in 2014). These athletes help to inspire product innovation and improvements, thanks to their daily on-hill experience and collaborations with the brand's in-house engineers and designers.
Sustainability is a core value of the brand and they're continually looking for new ways to become more eco-friendly. In 2019, Dalbello joined the Repair3D project, dedicated to researching new methods for recycling and repurposing plastic, which uses 3D printing to create new ski boots. Sourcing 50% of their raw materials from a nearby town and the remainder in Europe, they also look to avoid waste whenever possible and have almost completely eliminated the use of pollutants from their production process.
Whether you are a ski resort enthusiast or a backcountry freerider, Dalbello makes ski boots for you. Here are three of their top new 2022 ski boots.
Women's Panterra 85 W GW Ski Boot
Made for active women skiers, Dalbello's Panterra 85 W GripWalkⓇ has a softer flex and major comfort. These all mountain ski boots have a Powercage design that optimally distributes force across the entire boot, to reduce weight without compromising stability. This model features a new tongue for better shell integration, improved ergonomics and more rebound. Ideal for all types of hill conditions, the GripWalkⓇ soles make walking more comfortable and reduces your risk of slipping.
Women's Panterra 95 W GW Ski Boot
Developed specifically for female skiers who are in search of comfort and performance, the Panterra 95 W GripWalkⓇ from Dalbello has numerous adjustment options, good power transfer and the latest version of IF liners. The new women's IF liner line offers more heel support, toe space, thermal insulation and (yes!) more comfort. Walking and long-wear are more comfortable thanks to the GripWalkⓇ soles, while the Powercage design gives great power distribution across the entire boot to reduce weight. An all mountain ski boot with a supportive flex, this boot delivers on its promises.
Men's Panterra 120 GW Ski Boot
Dalbello's Panterra 120 GripWalkⓇ proves that it's totally possible to find comfort and performance in a ski boot. Featuring the Powercage design and milled outer shell, your power is distributed across the entire boot, to reduce weight without inhibiting stability. Additional lateral and rear support comes from Dalbello's unique Cabrio design, which also features uniform flex and shock absorption. These boots also include the new IF liner with more toe space and MyFit technology for an individually adaptable liner and outer shell for total comfort. A full day on the slopes has never felt better.
Shop the entire Dalbello collection here.