"A chance meeting with a merino sheep farmer had sparked something inside me, a passion. From that moment on I was hooked on the possibilities of natural solutions to technical apparel." – Jeremy Moon, Founder of Icebreaker
Founded in New Zealand in 1995, Icebreaker immediately emerged as a force to be reckoned with in the outdoor apparel world. While all other performance clothing was manufactured with synthetic fabrics, Icebreaker was a breath of fresh air: the company was (and is) committed to working with nature to develop a new kind of outdoor performance apparel.
It seems so simple. Merino sheep manage to thrive through the coldest winters and the hottest summers; why couldn't that principle be applied to outdoor clothing?
"Whereas most companies start with the fabric, we start with the fiber."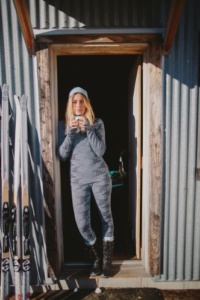 Created from natural, raw, super fine merino wool, Icebreaker apparel is biodegradable, annually renewable, ethically sourced and 100% made from nature. The brand contracts directly from the best wool-growers and shares their commitment to nurture and respect the land and animals. The company only uses what they need; the raw fiber is consciously transformed into fabric in a way that minimizes energy and water usage. Reducing the environmental impact is of the utmost importance!
Icebreaker remains a "merino pioneer" – they were the first to see the potential of this natural material that was capable of outperforming synthetics and plastics. Learn more about why they choose merino here.
Icebreaker only ever designs products that serve a purpose. Whether it's keeping people warm or making them comfortable, Icebreaker creates products that people actually want and that are made to last.
We don't know about you, but ethically sourced activewear that lives up to its promise of performance sounds like a dream come true.
We are fans in particular of 3 of Icebreaker's design innovations: BodyfitZONE, Cool-lite, and MerinoLOFT. Layered up, these make for the perfect storm of performance apparel.
BodyfitZONE – an innovative technology that uses fine merino yarns blended with Lycra to bring natural warmth and body fit to enhance muscular performance and recovery. Strategically placed zone mesh panels create natural thermal dumping zones for optimal temperature regulation, breathability and next-to-skin softness.
Cool-lite – combines merino with Tencel, a natural fiber sourced from sustainable eucalyptus, that helps heat dumping and wicking to enhance cooling in the heat of the day. The merino component resists odor, breathes and regulates temperature when it turns cooler.
MerinoLOFT – a natural, intelligent alternative to synthetic insulation and duck down – MerinoLOFT is a machine-washable, wool blend, that provides highly breathable, super lightweight insulation even when wet.
Sporting Life and Icebreaker have teamed up to send you and your family to New Zealand – experience nature at its best! Learn more and sign up here, or visit us in store to fill out a ballot.