Do you prefer a rugged, uneven terrain that's perfect for mountain biking or a smooth, asphalt trail made with a road bike in mind? No matter what type of cycling you have planned for this summer, our staff picks for their favourite trails from in and around the city are a must-read for any bike enthusiast. The list covers everything from classic Toronto favourites like the Don Valley Trail to the challenging paths along the Niagara Escarpment in the Kelso Conservation Area. Browse through our picks to start planning your next summer cycling adventure!
---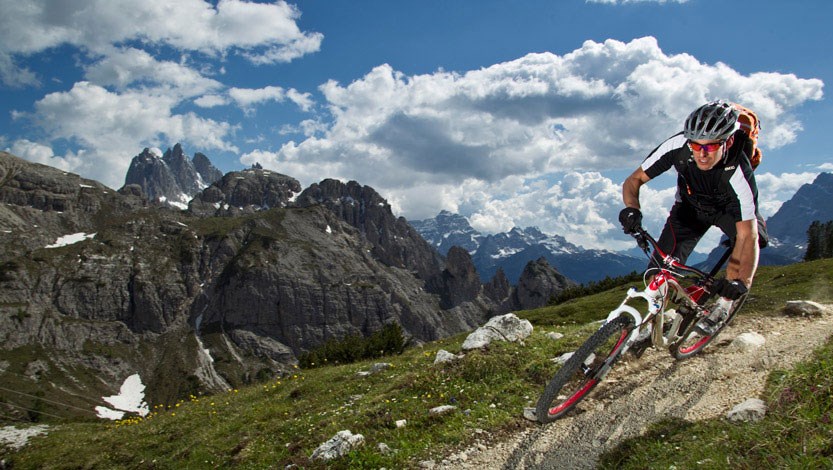 Trails in the city
1. Don Valley Trail2. Etobicoke Creek Trail3. Humber Valley Trail
Don Valley Trail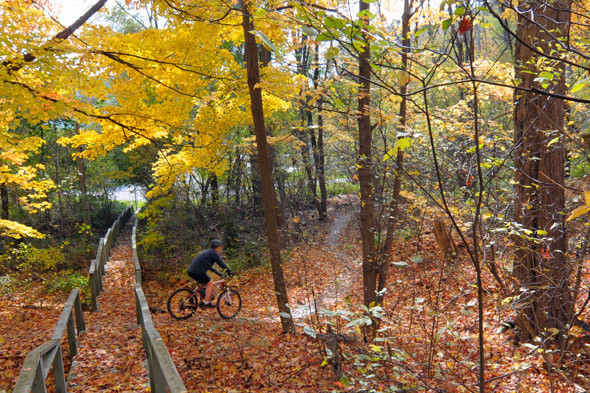 This is one of the longest existing bike trail networks in the area. It is over 70kms in total with many entrances to choose where to start your ride from. The Lower Don trail and those closer to the city centre span approximately 10km each and vary in difficulty from beginner to expert. Be sure to check out a map and plan your path based on what type of terrain you are looking for and how far you would like to travel.
If you know the city well and aren't afraid of a little exploring, it's safe to navigate as you go with most trails leading to a main road or other familiar areas. There are several access points that can be used based on which path you choose. We suggest trying the entrance at Bayview and Pottery Road just south of Mount Pleasant Cemetery which starts off a little rugged to get your adrenaline going right at the start of your ride. View Images
Etobicoke Creek Trail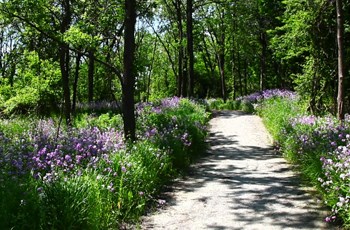 Situated along the Etobicoke Creek between Toronto and Mississauga, these trails are similar to the Don Valley network and offer cyclists the ability to plan a trip based on ride difficulty. After a visit or two it becomes easy to avoid large sections of paved paths and roads, giving mountain bikers the option to plan a ride that includes a more challenging terrain. When starting your trip at an access point that is further south, like Marie Curtis Park at Dixie and Lakeshore Roads, travelling Northwest along the Creek will be a largely uphill ride. There are also many side trails that lead off of the main path as you head North that are perfect for anyone seeking a little bit of added adventure. View Images
Humber Valley Trail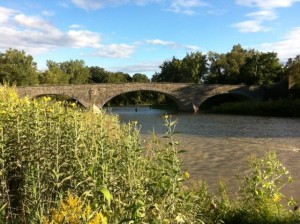 The Humber Valley Trails are the best choice for someone who prefers mountain biking but isn't looking for anything too technical. Many riders choose to use the Thackeray Park access point on the southwest side of the Humber River bridge near Steeles and Kipling, where the terrain is a little less polished. You can choose to follow the more-challenging trail south from this entrance to make your way down to Lake Ontario or take the smoother path north into Woodbridge. View Images
Trails outside of the city
1. Kelso Conservation Area2. Durham Regional Forest3. Blue Mountain Downhill Trails
Kelso Conservation Area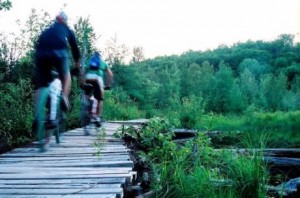 The bike trails within the Kelso Conservation Area are located just outside of Toronto and are arguably the best choice when planning a day of cycling with a friend or group. The large, rugged terrain features some rocky areas, jumps, bridges and a variety of different hills. The entry fee gives you access to all Halton Parks for the entire day your ticket is purchased. Other than the Kelso Conservation area, you are even free to explore Rattlesnake Point, Hilton Falls and Mount Nemo. This is a great option when planning a cycling weekend trip for the entire family! View Images
Durham Regional Forest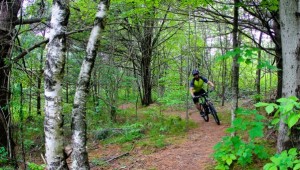 The Durham Regional Forest is located between Stouffville and Uxridge just northeast of Toronto and houses a vast network of over 50 marked trails that vary in length and difficulty. The area serves as a natural playground for bike enthusiasts of all levels and even includes large sections of unmarked trails that are great for exploring when out cycling with a friend. There are many downhill runs and minor jumps that make this forest an exciting area to practice your technical skills. Even riders who are frequent to the area suggest brining someone along when visiting, as it is easy to get lost when riding off the main paths. View Images
Blue Mountain Downhill Trails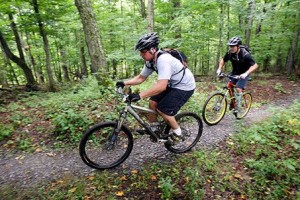 The Blue Mountain Downhill trails prove that this beloved resort is just as exciting without the snow. Located near Collingwood about 40km north of Toronto, the trails can be accessed by taking the gondola lift from the main ski base in the village. Although these trials are designed for more expert riders, the resort offers a number of different activities that are sure to keep the whole family busy. There are steep jumps, drops and areas that require a great deal of control when heading downhill at high speeds. Be sure to exercise caution when attempting to conquer the most difficult hills – the Autobahn and Showcase trails are known to be quite the challenge. View Images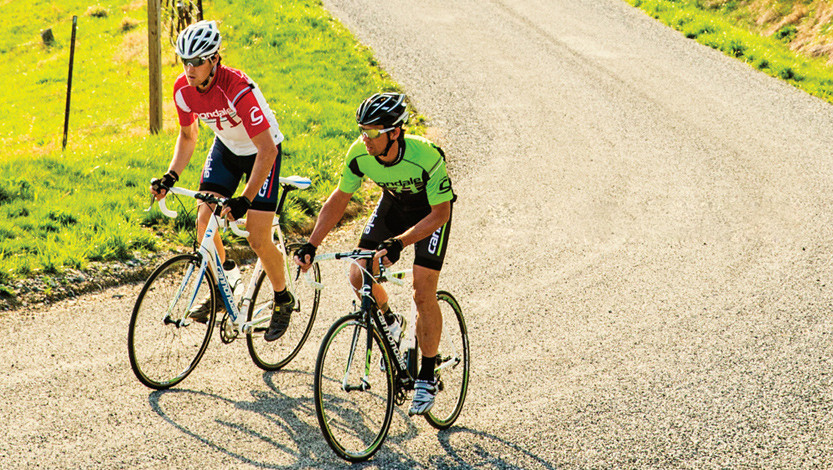 Trails in the city
1. Leslie Street Spit2. Kay Gardner Beltline3. Martin Goodman Trail
Leslie Street Spit (Tommy Thompson Park)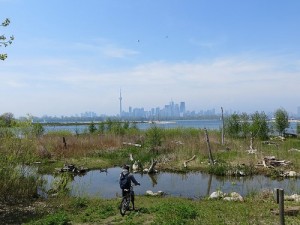 Riding along the Leslie Street Spit offers some of the best views of the Toronto skyline. The 5 kilometer peninsula runs straight out into Lake Ontario and houses a unique sort of untamed wilderness that is rare to find within our busy city. The Spit is home to over 400 species of rare wildlife including everything from plants to mammals, birds, reptiles and butterflies. It's picturesque views and refreshing breeze from the surrounding water make this trail a perfect choice for the cyclist looking for an easier, more relaxing ride. View Images
Kay Gardner Beltline & Mount Pleasant Cemetary
The Kay Gardner Beltline trail is a unique area within the city that follows an old set of railway tracks through Toronto's ravines. The path begins just north of the Eglinton West station and runs south to Mount Pleasant Cemetery, where riding alongside the cemetery is surprisingly beautiful and very relaxing. This trail is not paved except for in small sections, however the terrain is smooth and worn in from previous cyclists and other visitors. There are various access points along the Beltline with free parking available on the surrounding side streets, depending on where you want to begin your ride. View Images
Martin Goodman Trail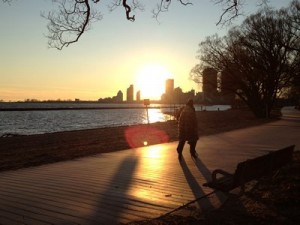 This beautiful trail along Toronto's waterfront stretches across the base on the city from east to west, starting at the Humber Bay Arch Bridge and ending near the Rouge River. The Martin Goodman trail is an easy ride for all cyclists that follows a path of smooth asphalt, divided into distinct lanes to keep traffic organized. This popular route is a part of the 730km Waterfront Trail that connects the shorelines across two provinces, from the Niagara-area in Ontario and east into Quebec. The beaches and city parks along the way make great rest-stops where you can sit back, relax and take in the surrounding views. View Images
Trails outside of the city
1. Forks of the Credit2. Albion Hills3. Georgian Trail
Forks of the Credit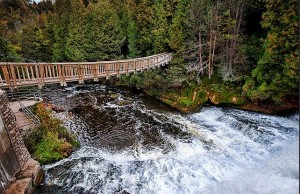 The trails at Forks of the Credit Provincial Park in Caledon, just northwest of Toronto, present visitors with scenery that remains beautiful throughout the changing seasons. The park is located on the 840km long Bruce Trail and features breathtaking views(including waterfalls) that are fun to explore when taking a break from cycling.
The trails are best for intermediate to expert cyclists as the terrain tends to be a bit unpredictable due to the impact of various weather conditions. However, there are many paved roads around the area that offer excellent cycling (and more picturesque views!) to riders looking for smoother trails. Forks of the Credit is a great choice for a family outing, as hiking and picnics are also common in the park. View Images
Albion Hills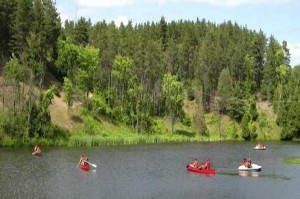 The vast conservation area of Albion Hills is famous for its highly technical, single-track mountain bike trails that are often home to professional races throughout the season. The park also features several double-track trails that are paved to accommodate road bikes and which vary based on experience level. The Lakeview Splash water-play facility includes a large outdoor pool along the lake and a "splash-pad" for younger visitors. With swimming and other recreational activities available, Albion Hills is yet another area just outside of the busy city that gives families an opportunity to take a short drive to relax and have fun.  View Images
Georgian Trail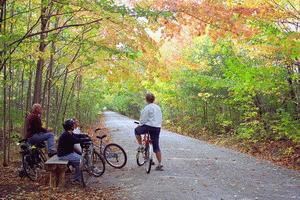 Located approximately two hours north of Toronto, the Georgian Trail is a popular destination for both residents and visiting cyclists to the Collingwood area. A large portion of this beautiful trail runs right alongside the south shores of Georgian Bay, with the cool breeze running off the water. This easy ride makes it possible to take in the wildlife around you as you continue along the path. It is common for visitors to spot everything from salmon jumping upstream to deers, beavers and Blue Herons in the surrounding parks and conservation areas. A visit to the Georgian Trail is a sure way to enjoy a relaxing ride that highlights the beauty that Ontario has to offer. View Images

Want to plan your own trip? Try using the City of Toronto Bike Path map, along with these other useful tools to help you find the perfect route for you:
---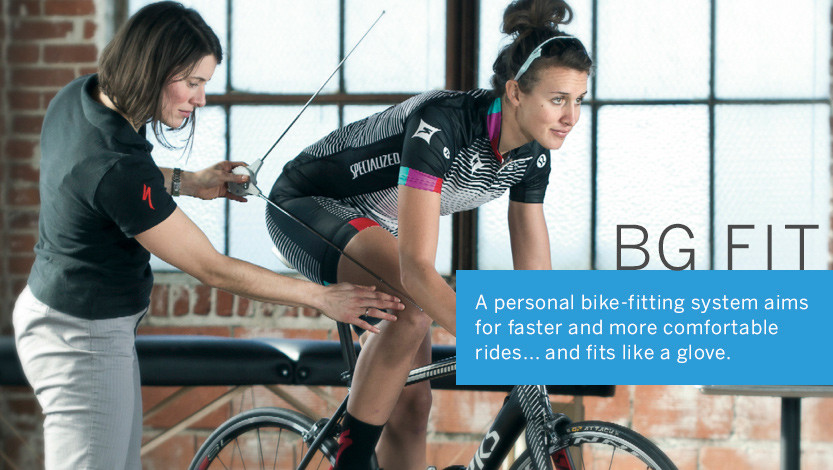 Specialized and Sporting Life's BG Fit system (Body Geometry Fit Integration Technology) is designed to help you avoid the struggle of finding the right fit, ensuring that you are always comfortable on your bike. The service is currently offered at two of our locations: Sherway Gardens and Bikes & Boards. Contact us today to book your appointment.