This past weekend's warm weather had us – along with cyclists everywhere – itching to get back out on our bikes. Whether your ride is on the roads, the trails, the mountains, or everywhere in between, spring cycling is just around the corner!
We are proud to carry some of the best bikes around, and we checked in with the expert staff at our Bikes & Boards store to learn about the coolest bikes for spring 2017. Keep reading to learn about some of the latest & greatest bike technology this season. Browse bikes online, and stop by one of our retail stores to purchase your very own bike! We offer a variety of services (learn more) from basic tune-ups to Body Geometry Fit. We want you to feel secure on your bike as you hit the road for the season.
Adult Bikes
In terms of adult bikes, our vendors have kicked it up a notch for both mountain and road bikes. From airless tires to redesigned brake systems and lighter weight frames, our selection of bikes has something for every level of rider. Take a look at some of the highlights available now in our stores.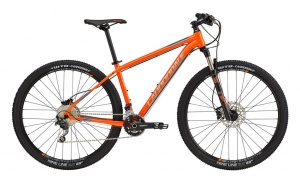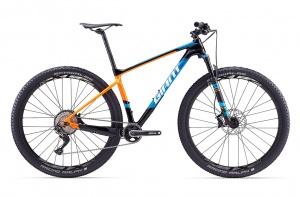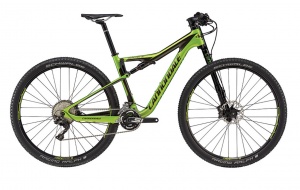 Cannondale Scalpel-Si Carbon 4 29″ Mountain Bike
Made from BallisTec Carbon Technology, this bike is the lightest, stiffest XC available
Outfront Geometry – nimble handling at slower speeds, ultra stable descending
Lefty fork – the best XC fork…period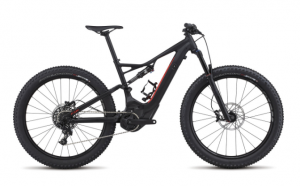 Specialized Turbo Levo FSR
Ride longer, ride stronger
Custom-tuned motor smoothly and quietly puts out up to 530 watts of additional power to the pedals to make climbing nearly effortless, and the output is fully adjustable to conserve energy
Battery has a lengthy lifespan for hitting long, out of the way trails and, along with the motor, is strategically placed for optimal weight distribution
Legendary Specialized handling and performance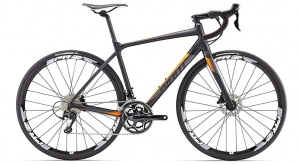 Giant Contend SL 1 Road Bike
Conduct disc brake technology converts from mechanical to hydraulic at the handlebars, which offers the stopping power of full hydraulic brakes without the price.
D-Fuse composite seatpost dampens vibration for better ride quality
Precise handling & pedaling efficiency
11 speed Shimano 105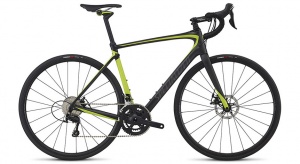 Specialized Roubaix Elite Road Bike
The legendary Roubaix just became more so
Brand new Future shock suspension suspends the rider
Ride longer, ride fresher
Disc brakes for consistency and greater control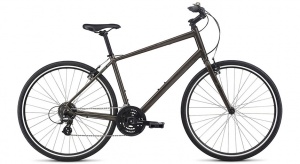 Specialized Alibi Sport Fitness Bike
No air needed. What? All tires need air! Not with the new Alibi Sport from Specialized. This solid rubber tire is airless and will never need to be refilled; perfect for the rider who just wants to get back on the road with minimal service after a long winter
Rust/corrosion resistant chain
Engineered with Fitness Geometry
Junior Bikes
Junior bikes are stepping up their game this year. With fat-tire bikes from Specialized and super cool graphics from Louis Garneau, kids will be riding in style all summer long.
One of the best perks of purchasing a junior bike from Sporting Life? Our Junior Half Back Program! Much like our ski & snowboard deal, we want your kids to have a bike that grows along with them. Simply buy a new kids bike and let your child enjoy it for one year. At the end of the season, bring your child's bike back to Sporting Life and get an in-store credit for half the purchase price!
At Sporting Life, we offer your kids the same great bike brands that we have for adults: Giant, Liv, Specialized, Louis Garneau, and Cannondale. These bikes are not only top quality, but are professionally assembled to keep your kids safe.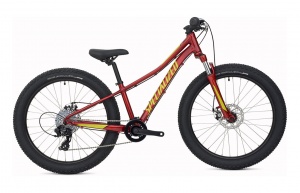 Specialized Riprock 24″ Mountain Bike
Fat tire bike for kids!
24×2.8″ tires deliver tons of traction, comfort, stability, and fun over all types of terrain
Premium A1 aluminum frame – lightweight and built to withstand the tough use by kids
Ultra-low standover makes it easy for little ones to fit and grow with the bike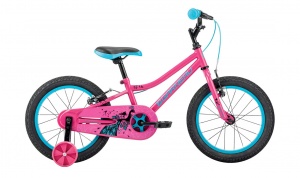 Louis Garneau F-16 16″ Bike 
(available in boys' & girls')
Awesome new graphics for kids!
Larger pedal platform provides confidence while pedaling
Minimum seat height was also lowered to provide secure footing on the ground