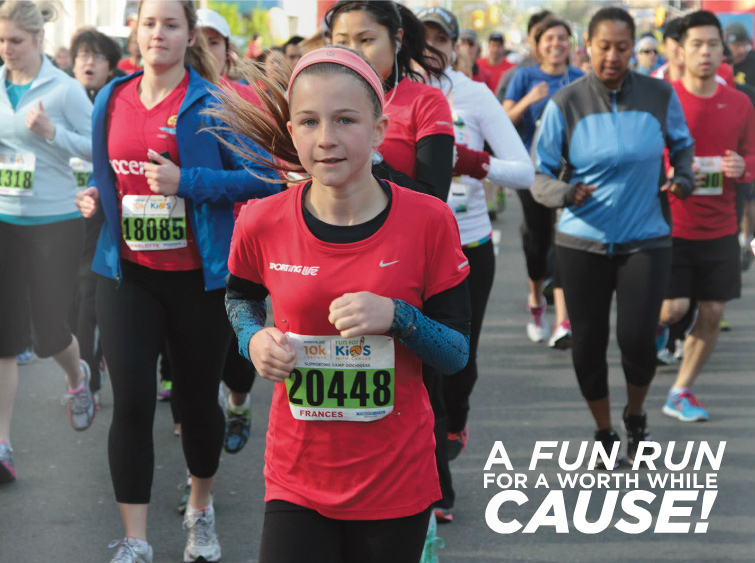 Sporting Life Co-founder Brian McGrath was an early Camp Oochigeas Board member. He always knew it was a great charity in need of a little help. Camp Oochigeas, otherwise known as "Ooch", provides magical camp experiences for children with cancer. It is unlike any other summer camp. So, it makes sense that the Sporting Life 10K is just as special. With all the net proceeds of the Sporting Life 10K Run going to Camp Ooch, the run (on behalf of the runners who participate) delivers the largest cash gift donation of any road race in Canada.
A worthwhile cause, and a fun and exciting experience on Mother's Day each spring has contributed to participation in the Sporting Life 10K skyrocketing over the last number of years. Participation nearly doubled from 2011 to 2012, with the run capped at a whopping 27,000 runners in 2013. This year, the runners are set to hit the pavement on Yonge Street on May 11, crossing the finish line at the Lakeshore's beautiful Coronation Park.
"Camp Ooch is all about fun. It's about kids making happy memories and taking a break from the challenges of daily life," says John Roe, Director of Marketing for Sporting Life and the Sporting Life 10K Event Chair. Ooch is more than just a summer camp for these special campers. The Muskoka camp location is the only residential camp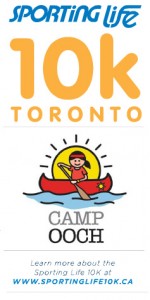 in Ontario to offer on-site chemotherapy and blood transfusions. The Camp Ooch organization also offers a year round 'camp experience' at The Hospital for Sick Children (SickKids), plus two other regional cancer centres and of course at its Ooch Downtown location in the heart of Toronto where the same campers receive year round "Ooch" treatment.  "The reality is that the facilities and on site treatment needed to send a kid with cancer to camp costs over $3,500 a week, so a fun run down Yonge Street that sees the net proceeds going to help these brave kids have a great camp experience. That makes a lot of sense. Our goal is to grow this run even more so we can help send more kids to Camp Ooch."
McGrath agrees on the importance of the experiences that Camp Ooch provides. "Imagine being able to go to a summer camp and still receive all the treatment you need to fight your cancer", he says.
Make your contribution today!