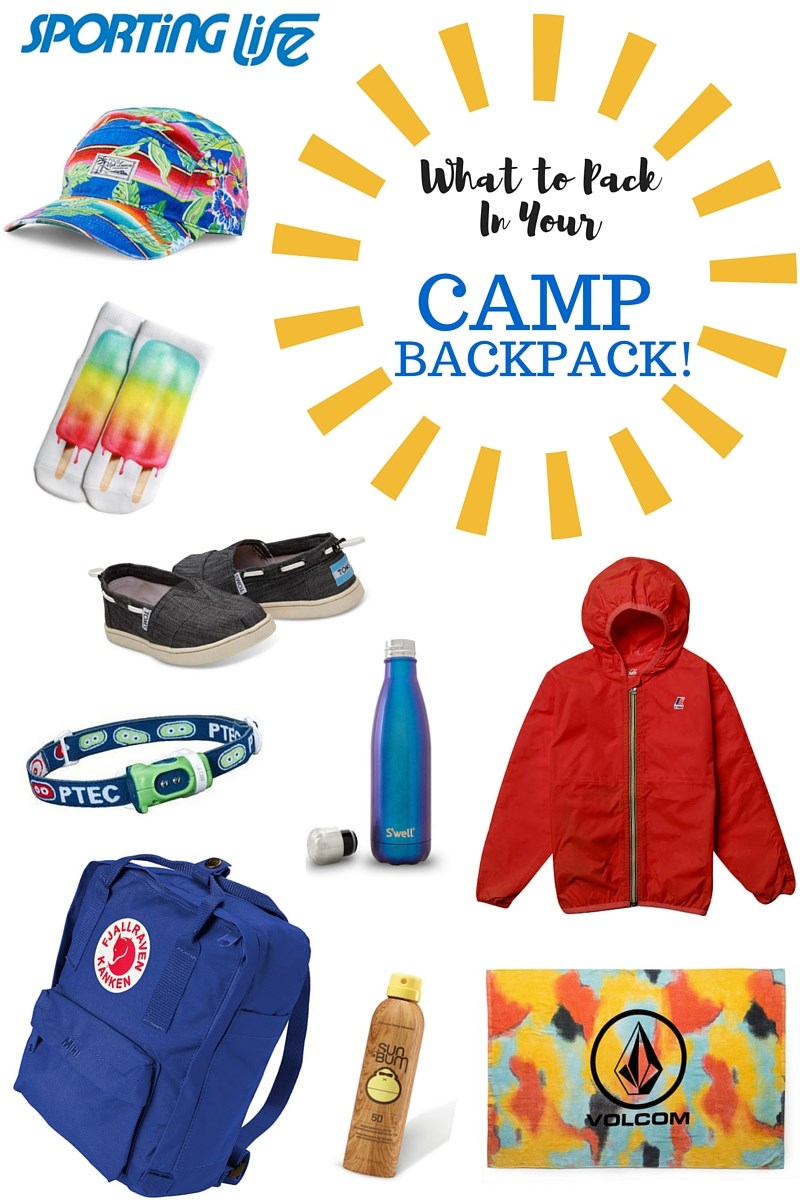 Hat / Socks / Shoes / Headlamp / Backpack / Sunscreen / Towel / Jacket / Water Bottle
Camp is where memories are made. Days are jam-packed with activities, and it's important for kids to have the essentials to get them safely and comfortably through the day. Sporting Life is your destination for all things camp; you can find any necessities at one of our stores, whether it be apparel, footwear, or accessories. Want to know what should be in your child's camp backpack? See below for our essential picks!
The Pack
There are so many cool backpacks out there…how are you supposed to choose?! Sporting Life has plenty of backpacks for any personal style. The Fjallraven Kanken Mini is perfect for kids at camp. The durable, waterproof fabric will keep their belongings safe from the elements, and a name and address label on the inside makes it easy to identify a lost pack.
Summer Outerwear
Living in Canada, we all know the weather can be tricky. Fingers crossed for a sunny, hot summer, but we have to be prepared for whatever wacky weather comes our way. The K-Way Claude Klassic is a tried and true jacket that is sure to keep the wind and rain at bay, and it is incredibly convenient to pack away in a knapsack.
Hydration
You know what's swell? Staying hydrated. During an active day at camp, a S'well bottle is going to be your kid's new best friend. These bottles keep liquid cold for 24 hours, meaning a camper will never be without a refreshing drink while playing their heart out. For some added fun, check out the S'well Chalk Ink Pen…it's a fun way to personalize a S'well bottle, and it won't smudge until you wipe it clean with a damp cloth.
Footwear
While flip-flops are the easiest thing to wear on a hot summer day, many camp activities require closed toe shoes – you don't want to be on a ropes course in sandals! Be prepared and pack some Toms Bimini shoes; they're compact and easy to carry around, and have an adjustable elastic to ensure they'll stay put during any activity. Be sure to stash some extra socks too; there's nothing worse than wet, sandy socks! This pair by Living Royal is perfect for summer.
Sun Protection
Camp is all about fun, and the furthest thing from fun is a sunburn. Keep your child's face out of the sun in style with a funky Ralph Lauren Printed Camp Cap, and make it easy for them to stay protected with some Sun Bum SPF 50 Original Spray Sunscreen. Bonus: Sun Bum is hypoallergenic and water resistant, allowing for longer playtime without disruption.
Gear
It wouldn't be camp without some fun accessories! Dry off after a day at the lake with a printed Volcom Die Towel, or use it to keep warm on the boat after a refreshing waterski. If a long day of activities didn't tire them out, a Princeton Tec Bot LED Headlamp helps kids navigate their way back from an evening campfire or unwind in their bunk with a book.