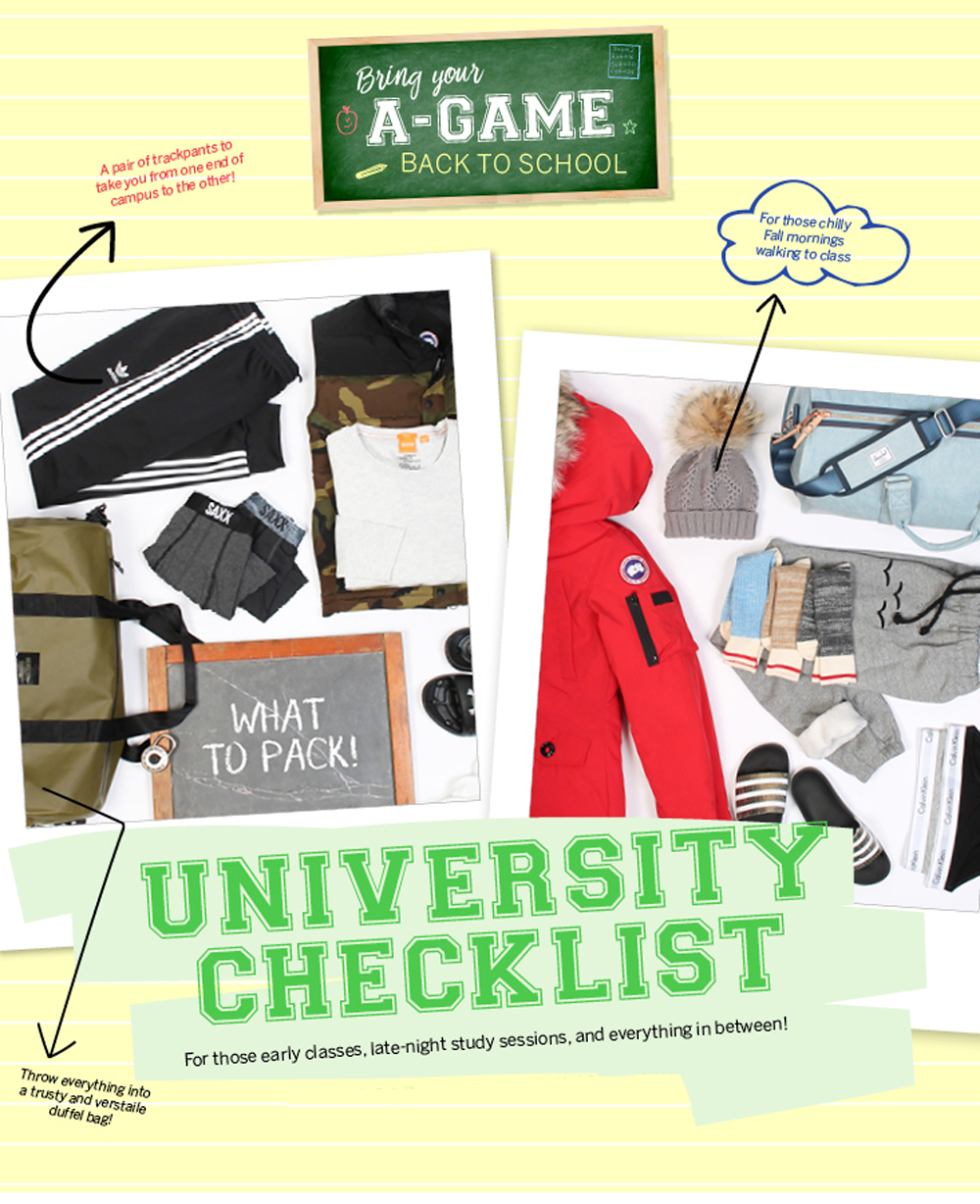 Moving away for school is an exciting experience- so much independence! While the decision to head off to school may be a no-brainer, coming up with a university packing list can be daunting. What will you actually wear? What are the necessities for a functional closet? Putting aside the obvious (laptop, toothbrush, underwear, socks…) these are a few things that will make your life easier while off at school. You'll be ready for early classes, late-night study sessions, and everything in between.
Be sure to download our full university checklist, and keep reading for our top 5 necessities that will get you through the year in style!
Shower Flip-Flops
Sharing a shower with strangers is one of the downsides of going away to school. Whether you need an easy pair to wear to and from the bathroom or you'd rather keep your feet off the floor during your shower, a pair of flip-flops is always a good idea.
A Warm Winter Jacket
Unless you're off to UCLA (take us with you!) you will probably need some sort of winter jacket, or at least a vest for layering. Especially for those staying in Canada, a quality down coat is a must for those seemingly endless 8am walks to class. Canada Goose is the perfect option for those frigid winter mornings, and can be a fun way to add a pop of colour to dreary winter days.
Transitional Clothes
We don't mean summer to fall; we're talking bed to class! Getting dressed up for school gets old FAST, so it's nice to have clothes that keep you comfy and cozy in your Monday morning lecture without sacrificing style. Joggers and fashion sweats are perfect for that "I woke up like this" look; be sure to finish it off with a trendy hoodie and a toque (to hide the bedhead, of course).
A Versatile Duffel Bag
Aside from your school bag, it's useful to have a larger duffel in your rotation. Whether you're tossing your sneakers in to head to the gym or packing up for Thanksgiving weekend at home, a sturdy duffel will always come in handy.
Personal Touches
No matter what you bring with you to school, make sure it reflects your personality! This is your chance to start fresh and introduce yourself to a whole new batch of people. Be yourself, dress the part, and let the good times begin!