This year, many Canadians have changed their winter routines, opting to ditch the cozy indoors and head outside to get some fresh air and move their bodies. One of the most popular sports this season has been cross-country skiing, and it makes sense — it can serve as a relaxing getaway, or an intense cardio workout, and gives everyone the opportunity to explore our many parks and natural beauties.
On top of that, it's more accessible. Often you can find free groomed trails, and you don't need mountains or a lift ticket; just plenty of snow. Wondering how to get started? There are three different types and they each serve a different purpose. So, you'll want to explore the three types of cross-country skiing and decide which one best suits your needs and skill level.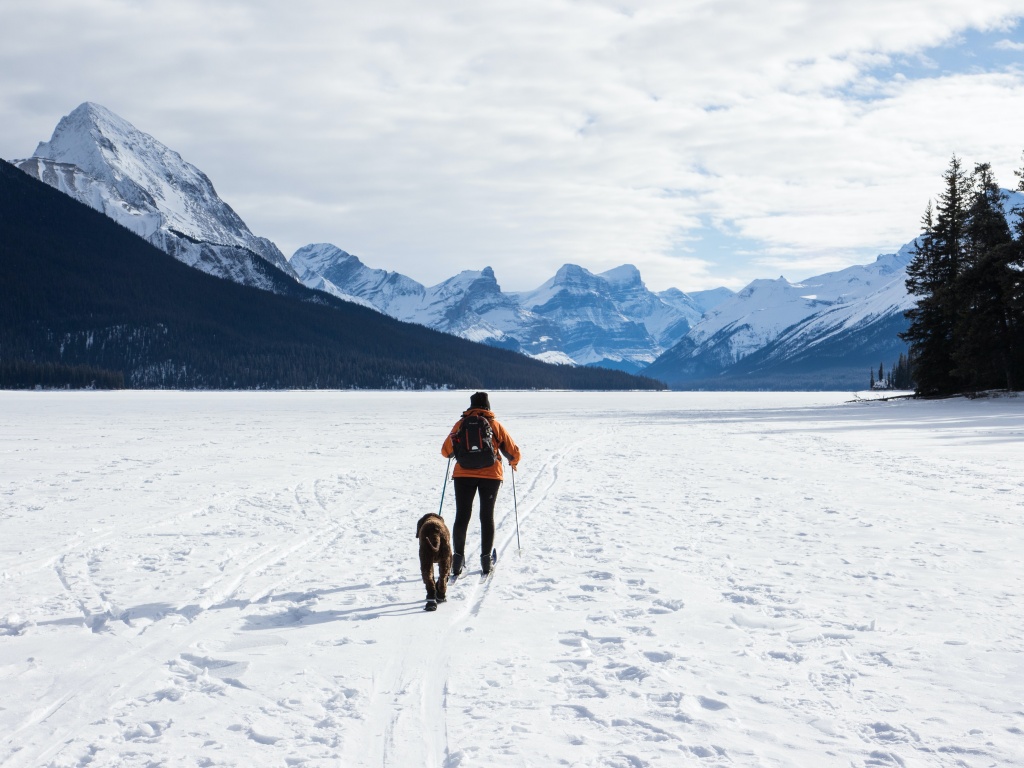 3 Type of Cross-Country Skiing
Classic Skiing
This is the most popular type of cross-country skiing and it's probably the one you can envision in your mind: skiers use a kick-and-glide motion and it closely resembles walking. Since it's pretty easy to catch on to, it's the easiest form for beginners to start off with.
Trails
When you're practicing, you'll want to make sure you're on well-defined trails (they look like two little tracks, one for each ski) that are specific for cross-country skiers.
Equipment
Classic skis will have a grip zone under your feet that help provide traction. The grip zone will either have a sticky wax or a fish-scale pattern, while the rest of the ski will be smooth. Classic skis also tend to be longer to help extend your forward glide.
As for boots, you want to focus on comfort. How does it feel when you're doing the kick-and-glide motion? You'll also need to make sure that your boots and bindings are compatible.
Last, you'll need some poles. They are integral to making sure you can get as much power and speed as possible on your adventure. Aluminum or composite carbon is always a safe bet as these materials are lighter and more responsive.
Skate Skiing
If you love ice skating, skate skiing might be your thing. It's more dynamic than classic cross-country skiing and instead of a kick-and-glide motion, you push your skis out to the side like you're skating on ice.
Trails
Skate skiing requires a flat, well-groomed trail. You'll can pick up a lot of speed, so find a trail that isn't too busy if possible and have some fun!
Equipment
The main difference between classic skis and skate skis is that skate skis are a bit lighter, skinnier and shorter. They also always have a smooth base.
Your boots will typically be stiffer and higher cut so that it makes it easier for you to have control as you 'skate' across the snow. As always, you'll want to make sure that your boots are compatible with your bindings before making any purchases.
You can use the same poles for skate skiing as you would for classic skiing.
Nordic Skiing
Is ungroomed, rolling terrain more your speed? Then you'll want to look into Nordic skiing! It uses the same kick-and-glide motion as classic skiing but the skis are beefier to help you handle tough snow conditions.
Trails
You can throw on your Nordic skis and take on any ungroomed trail.
Equipment
Nordic skis are shorter and wider than the other two types so that you can stay stable and float in ungroomed snow. Most models have metal edges so that it's easier to grip when it's icy and it makes it easier to turn.
Your boots will be bulkier and stiffer with a focus on ankle support. They also usually have better insulation to keep you warm on the snowy, ungroomed trail. Make sure your boots and bindings are compatible before heading out.
The poles for Nordic skiing are a bit different. They are still typically aluminum or composite carbon, but they come with larger baskets (the small semicircle at the end of your pole) than other poles.
No matter which option you choose, cross-country skiing is a great way to get outside and get active even if the resorts are closed. Want to share your adventure with us? Tag us in your photos and use the hashtag #OutsideReady. Let's go!