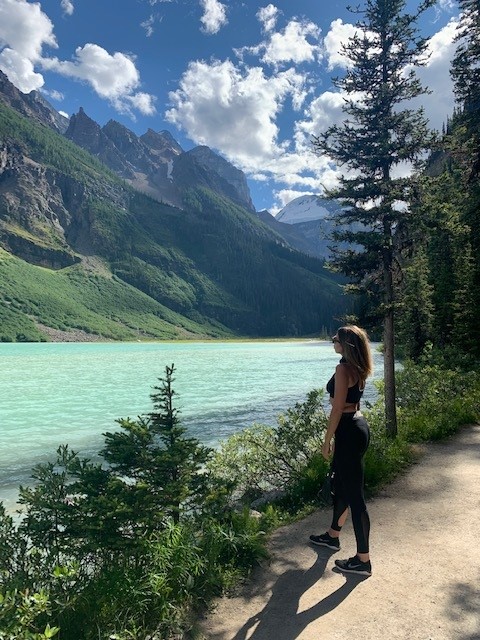 This International Women's Day we're proud to celebrate amazing women at Sporting Life who are making a difference at work and in the world. Instrumental in opening three Sporting Life stores last November, Kristen Haennel, Director, Visual Experience, believes in "being confident, assertive, and supportive," in the workplace, the value of being authentic and staying true to yourself, and shares why travel is her biggest passion.
What does International Women's Day mean to you?
International Women's Day is important because it raises awareness about the ongoing struggle for gender equality and the many obstacles that women face around the world. By drawing attention to issues like gender-based violence, unequal pay, and limited access to education and healthcare, International Women's Day encourages individuals and organizations to take action to address these challenges and work towards a more just and equitable world. The day acts as a prompt to celebrate the achievements and contributions of women in all aspects of society and serves as a reminder of the important role that women play in shaping our communities and shaping our future.
How are you celebrating International Women's Day?
I usually take the day to send a message to each of the women in my life, sharing some of the reasons why I love, value and respect them. It's simple but meaningful; words are powerful and taking the time to really express the impact someone has on your life can often mean a lot. It's something I should do more, but I appreciate that this day serves as a reminder for me to do.
How can we make "every day" International Women's Day?
To make every day International Women's Day, we need to prioritize gender equality and women's rights in our everyday actions and decisions, including promoting women's voices and leadership, challenging gender stereotypes and discrimination, advocating for equal opportunities and fair treatment for womens in all aspects of life, and supporting initiatives that advance gender equality. It involves all of us looking inwards to assess our own potential biases and educating ourselves on how to work past them.
We can put this into practice by building an environment that understands the gender differences as they pertain to performance at work and foster growth based on that knowledge. This will create an equal opportunity workplace that flourishes on diversity.
It also involves recognizing the diverse experiences and contributions of women from all walks of life and amplifying their stories and achievements. By taking these steps, we can create a world where women are valued, empowered, and able to fully participate in all aspects of society.
How would you describe your style?
Always ​​such a hard question to answer, but I'd say it is a mix of street style with edgy minimalism. I'm a bit of a tomboy at heart but I love high heels, so I like to mix baggy clothes, and men's sportswear pieces with well tailored classics. I like sustainable materials and love to mix in unique vintage finds to keep things interesting.
I'm really inspired by Michèle Lamay — she's one of the co-founders of Rick Owens. She has such a strong sense of personal style, and she's in her late 70's now, and still rocks it. Her look is so seemingly unconventional for a woman at that age (or any age really), and it reads so true to self, so I find that super inspiring.
What is your proudest achievement at Sporting Life?
My proudest achievement is probably opening the three new Sporting Life stores in November. They were the first entirely new stores I had designed that was of that scale, and then multiply times three, it was definitely a daunting task. The budget for these three projects was drastically reduced by comparison to previous SL store builds, and trying to replicate the beauty of the spaces while simultaneously improving navigation and shopability on a much tighter budget was certainly a challenge. Combined with supply chain issues, inflated materials pricing, and construction delays, these projects certainly came with their share of obstacles, including opening all three at the same time.
It was really inspiring to see how hard my team worked so hard over the final few months to get everything ready, and then especially during the openings to take them over the finish line, it wouldn't have been possible without them, they're the best! And it was equally great to see departments and teams pull together across the organization to really bring these openings to life.
Who is the biggest female role model in your life?
Throughout my life, I have been fortunate to be surrounded by a diverse array of talented, inspiring, and beautiful women. From my mother, who instilled in me the value of hard work and perseverance, to my grandmother, who had a love for fashion, beauty, manners and aesthetic, to my friends who inspire me and challenge me daily to continue to grow and evolve, each woman has left a lasting impact on me. I am constantly inspired by the resilience, strength, and intelligence of the women in my life, and I strive to embody their best qualities in my own life. Their examples have taught me that anything is possible with determination and a willingness to learn, and I am grateful for their influence.
For those who know you best, what are three words they would use to describe you?
Independent, creative, and determined.
How do you bring that "girl power" energy?
I think bringing "girl power" energy to work is about being confident, assertive, and supportive of yourself and other women in the workplace while being true to yourself. A few ways:
Embrace your strengths: Recognize your skills, talents, and accomplishments, and don't be afraid to showcase them at work. Celebrate your successes and use them as a source of motivation to keep pushing forward.
Speak up: Use your voice to express your ideas, opinions, and concerns. Speak clearly, confidently, and respectfully. As well as being an advocate for yourself and others by escalating any discrimination or harassment that you see.
Build relationships: Network with other women in your workplace and beyond. Support and uplift each other, share your experiences, and offer advice and encouragement.
What are some of the ways you're paving the way for young women?
I try to live as authentically as possible and stay true to myself, focusing on what fulfills me, pushes me, challenges me, helps me grow and makes me most happy. In a world that is constantly telling us who we should be, or what is considered "beautiful" or "successful," the ability for someone to fight through others' expectations, or society's narrative and just be themselves is really powerful and inspiring. Meeting someone who is so unapologetically themself, inspires me more than anything. So for me, attempting to do the same — while it's not always easy and I'm not always successful — is the best way that I can try to help pave the way for other women around me. Being honest and vulnerable about struggles and successes help create a sense of community, a safe place for others to do the same, which in turn should help reduce self-limiting barriers that are often a bi-product of societal views.
Do you have any hobbies that fulfill your passions?
My biggest passion is travel and exploration, seeing new places/spaces and experiencing new cultures. Combining that with activity is the sweet spot, whether it be an escape from the city on the weekend for a hike or bike ride, or a trip out of the country taking countless steps exploring a new city, learning about the history, people, food, art. Working in a creative role, I find the exposure to people, new cultures and ways of thinking, helps expand my perspectives and challenges me to step out of my comfort zones and ultimately see things differently. It's a great way to spark imagination and creativity, while providing a sense of rejuvenation. 
When home, my hobby is pilates, which provides a great workout and a mental recharge. That hour helps me clear my mind, be present in the moment, and really reset.
What are some words of wisdom you would tell your younger self?
The right time will never come; believe in your ability to adapt.
No one else knows what they're doing either.
Stop saving outfits or wine for the perfect occasion 😊
For more spotlight stories, read along under International Women's Day and follow us on Instagram @sportinglifeca.