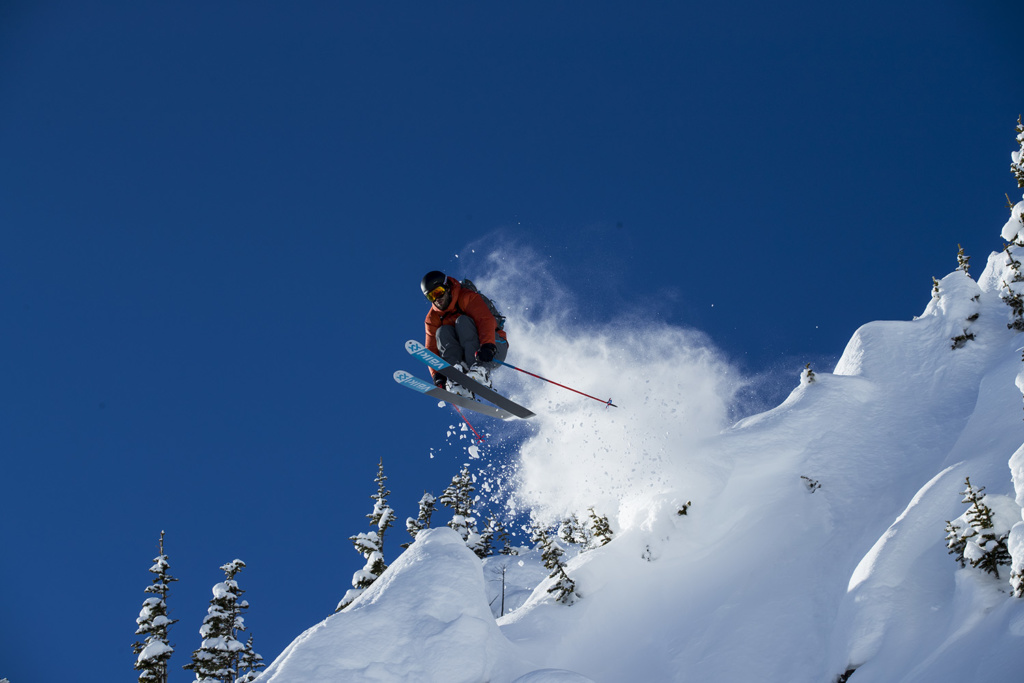 Snow sports are an inherent part of what it means to be Canadian – living the Sporting Life is what we do! Depending on where you choose to ski, it is important to choose the right equipment and apparel to ensure the best possible day on the slopes. Learn more about what makes Eastern, Western & Backcountry skiing different and what you need to conquer any weather conditions.
EASTERN CANADA
We may not have the Rockies, but skiing in Eastern Canada is a completely different ballgame than it is out west. Most ski resorts are ski lift assisted with shorter runs and fewer protected lifts. There's no warming up in a gondola here! Winter means something different in Ontario than it does in Alberta – for one thing, cold means cold! Chances are the weather won't change so drastically in one day that an entirely different outfit is needed.
Staying warm and dry is what it's all about for Eastern skiing. In your suitcase, you will want to pack your tried and true ski necessities: moisture wicking base layers and breathable, waterproof outer layers. What makes dressing for Eastern skiing different is that it requires less versatility. As the weather is much less variable on this side of the country, your best bet is to dress in fixed insulation product – something that will provide maximum warmth for those frigid days on the mountain.
The perfect ski for Eastern skiing is the Salomon XDR 84 Ti Ski. Perfect for everything from high speed groomers to fresh powder, this ski will help you squeeze every ounce of fun from the resort. C/FX keeps the ride damp and stable, but is very light to save energy for the last chair of the day.
WHERE TO SKI IN EASTERN CANADA
Mont-Tremblant, Quebec
Blue Mountain, Ontario
Le Massif, Quebec
WESTERN CANADA
The home of some of the best skiing in North America! The Rockies are what Canadian skiing is all about. Unlike the lift system in Eastern Canada, expect to hop on a protected lift or gondola to get to the peak. Runs here are longer – you could spend the majority of your day navigating the mountain at Whistler! On these longer, tougher runs, your body will generate more heat. Paired with the high altitude and variations in climate conditions, you are much more likely to run into rain, snow, and wind.
You don't want to freeze or overheat from exertion during your ski – layering is your friend! Our tried and true baselayers are always needed, but what goes on top is much more intricate than what Eastern skiing requires. Stock up on lightweight layers, an insulated jacket as well as a waterproof shell. The ability to shed layers as it gets warm and bundle up as temperatures drop is absolutely crucial. The higher up the mountain you go, the trickier the weather can get. Be prepared!
One key way to be prepared is with the right ski. The Salomon QST 99 Ski offers soft and hard snow performance and great terrain adaptation – ideal for those changing conditions we mentioned!
WHERE TO SKI IN WESTERN CANADA
Whistler Blackcomb, British Columbia
Sun Peaks, British Columbia
Fernie, British Columbia
Kicking Horse, British Columbia
Learn more about the best skiing on the Western Canadian Powder Highway from our friend Powder Matt!
BACKCOUNTRY
Much like other Western skiing, backcountry weather is as unpredictable as can be. Both backcountry and alpine ski touring are done off piste either within a resort or off the beaten trail. Backcountry skiing is done in the most remote areas of Canada – much of which is only accessible by climbing, snowcat and/or a helicopter!
If you are a backcountry skiier, chances are you know exactly what you need to stay safe on your trip. The need for layering is much greater than the resort skiing we mentioned before. With higher levels of exertion and likelihood of more extreme conditions, the phrase "Be Prepared" is even more crucial! Layers, breathability, waterproofing, hydration, and accessories are all of the utmost importance.
On top of appropriate apparel, be sure to have the best equipment for your backcountry adventure. The Volkl 100Eight Ski is the perfect ski to make the most of your alpine adventure. Powerful and predictable, this ski will help you take advantage of all aspects of the mountain – no matter the conditions.
WHERE TO SKI OFF PISTE IN CANADA
Whistler Blackcomb, British Columbia
Red Mountain, British Columbia
Revelstoke, British Columbia
Chic Chocs, Quebec
Gros Morne National Park, Newfoundland