Although there are plenty of beautiful coats to bundle up in this season, there's more to winter fashion than outerwear! The time has finally come for cozy knits, layers and neutrals to take over ladies sportswear. Two of the newest brands to Sporting Life this season make us excited to go shopping for winter clothes. Although they come from completely different backgrounds, these two sportswear brands take simple silhouettes and turn them into something spectacular. For an updated version of your favourite basics, look no further than Zadig & Voltaire and Six Crisp Days.

Zadig & Voltaire was founded in 1997 by Thierry Gillier and is what we consider to be the female counterpart to menswear brand John Varvatos. Featuring fabrics such as cashmere, silk and leather, Zadig's signature style mixes luxury with playful, rock 'n' roll styles in basic silhouettes. The brand's goal is to provide a more affordable, stylish and laid-back luxury. We love brands that put a new spin on basics!
What appears to be a plain Henley from afar proves to be a unique and edgy piece to add to your closet. The Strass Henley features raw edges and a leopard print, studded skull on the back, giving it just enough attitude to make your outfit unique. Another favourite is Zadig's take on the simple black blazer; perfectly fitted and professional, a skull detail at the collar and asymmetrical pockets make this blazer a fashion forward addition to your closet.
For the woman who wants to add a little rock 'n' roll to her wardrobe, Zadig & Voltaire's revisited classics offer a refreshing take on must-have basics.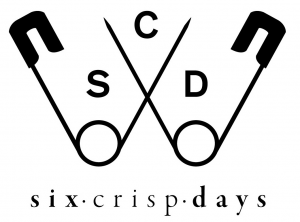 Unlike the European Zadig & Voltaire, Six Crisp Days is a women's clothing line designed in Los Angeles, California. The line focuses on combining comfort and sophistication in modern clothing, all constructed with luxurious-feeling fabrics that move with the body. We love that Six Crisp Days turns simple silhouettes into modern looks that any fashionable woman can feel comfortable in.
While varied styles can be found in Sporting Life stores, our favourite pieces by Six Crisp Days are their turtlenecks. Who doesn't love a big, cozy sweater? With side-slit hems, knit construction and incredibly soft fabrics, these sweaters will look and feel effortless with a pair of jeans and boots this winter.
Suitable for any age or style preference, luxurious yet affordable sweaters by Six Crisp Days would make for the perfect gift this holiday season.