Born in Canada, CanNorth delivers top performance for riders of all ages and skill levels and are a great choice for recreational cyclists. The brand includes versatile mountain and active models for whatever bike trails are on yours or your family's destination list.
If you're just starting out or looking for an everyday ride that doesn't sacrifice on quality, a CanNorth bike can help improve riding skills and further ignite your passion for cycling. Designs for both adults and kids mean that there's something available for the whole family.
CanNorth's durable aluminum alloy bikes are also backed up by some seriously impressive components. Each style is expertly built with parts that are carefully selected from the most trusted names in the industry like Shimano, Tektro, Pro Wheel and KMC. These bikes are offered in multiple colours so you can pick the look that best suits you.
Whether you're commuting through the city, hitting the trails with your family or taking a casual trip around town with some friends, choosing the right CanNorth bike is guaranteed to make every outing feel like your greatest ride yet.
M-207 20″ Bike for Juniors
Young riders can build confidence and develop their cycling skills with the M-207. This CanNorth mountain bike is a smart choice for beginners or kids who have outgrown starter bicycles and training wheels. It's best suited for ages 5-8 years, depending on the child's height. The M-207 thrives both on trails and during after school rides around the block.
Let the endless adventures begin with the lightweight 6061 aluminum alloy frame featuring oversized tubing and 60 mm travel, Shimano 7 speed Revoshift / Tourney derailleu, 20" alloy wheels and convenient kickstand.
MT-1 Bike for Adults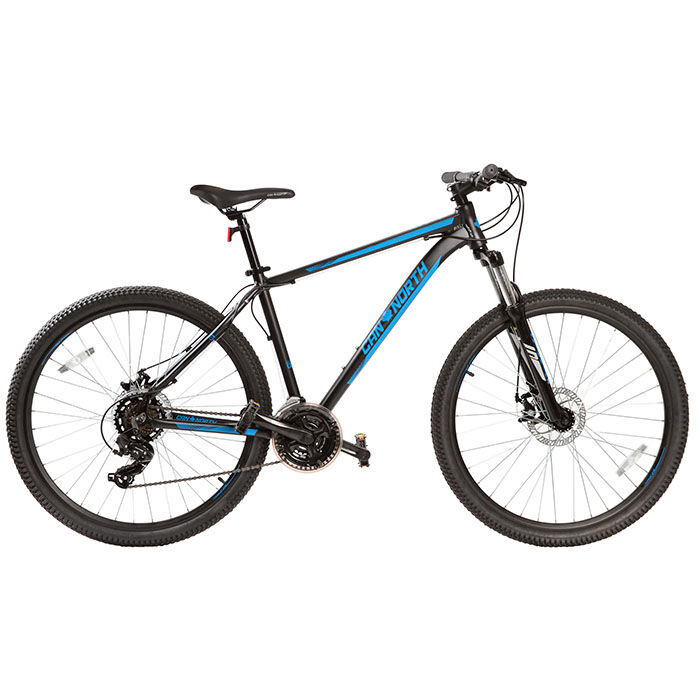 Explore nature's best trails and find your new favourite getaway spot with the CanNorth MT-1. This durable mountain bike is an excellent option for conquering rugged, unpredictable terrain while exploring the great Canadian playground. The MT-1 is made for everyday rides around town and unexpected escapades alike. It's most in its element when there's uneven ground, gravel and dirt under your tread but also excels on pavement.
The MT-1 is outfitted with top performance 100mm travel, a lightweight 6061 aluminum alloy frame, Shimano 7 speed Acera EZ Fire shifters / Tourney derailleur, 27.5" alloy wheels, a KMC HV-500 chain, Tektro MD-M280 disc brakes and more great features.
FT-1 Bike for Women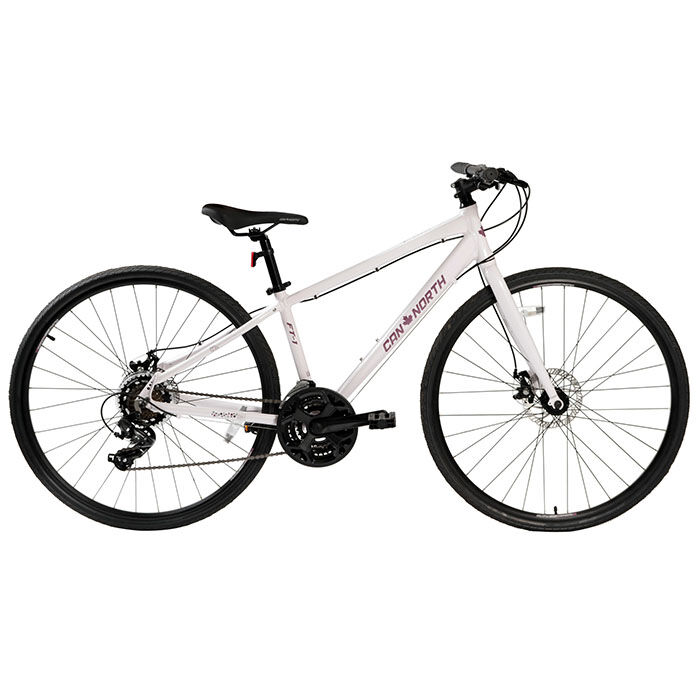 Grab your helmet, pack a lunch and set off towards your favourite bike route or gravel path with this sleek active bicycle from CanNorth. The refined FT-1 is a reliable travel partner that's geared up for both daily rides through the city and weekend excursions spent off grid. This versatile bike is built to go wherever life takes you and then some.
The FT-1 boasts a lightweight 6061 aluminum alloy frame with a rigid fork, Shimano 7 speed Acera EZ Fire shifters / Tourney derailleur, a KMC HV-500 chain, Tektro MD-M280 disc brakes and smooth-rolling 700C alloy wheels.
Does one of these bikes sound like the perfect fit for your cycling lifestyle? Browse our selection of CanNorth bikes here or check out our online Bike Shop. Visit your nearest Sporting Life store location to see the full assortment in person and pick up your own today.
Start making the most out of every journey on two wheels with CanNorth.