.At Sporting Life, fashion and function meet on the slopes with superior style.
There was a time when sportswear was just that, clothing to wear for sports and leisure, the sort of attire that the affluent set would break out of their closets specifically for fun in the sun or snow. Well, times have changed, and just as we no longer don formal wear for dinner, so goes the integration of sportswear into our mainstream wardrobes and lives. Nowhere is this more apparent than in winter.
The aerodynamics necessary for speed and performance and the chilly conditions have always regulated fashion for this particular sport to a certain slim silhouette with a requirement for warmth. These technical aspects take precedence in dressing for the slopes; however, skiwear and all manner of winter-sports related attire are enjoying a fashion renaissance. What comes down the runway is effectively changing what comes down the hill.
Fashion itself has been drastically affected by sport in the last couple of decades. As our lives have become more active and integrated, so have our wardrobes. Ready to wear designers increasingly look to the street for inspiration and it would seem that sportswear brands are following suit. Every new fashion season brings fresh trends and styles to street wear, and those themes are coming into their own in the world of sport.
Sitting in her office, Robyn Haliburton is surrounded by international fashion magazines and vendor 'lookbooks' interspersed with enough purchase orders and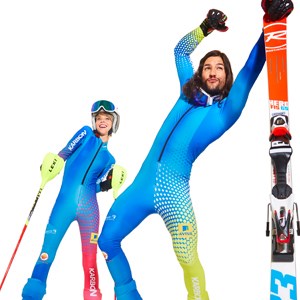 budget spreadsheets to make an accountant's head spin. She exudes a high level of excitement that matches the fast paced world that surrounds her. As Sporting Life's Divisional Merchandise Manager, Haliburton can't help but smile when talking about what's in store for the Sporting Life customers this fall.
"We've travelled the world to find lines, and collections within lines, that were direct takedowns in terms of colour stories, trends and themes that we were seeing in street apparel," she says. "However, the product itself is extremely warm and wearable."
For this winter, Haliburton and her intrepid team at Sporting Life have curated an offering based on the season's predominant themes including: 'Natural Defense', 'Punk Ski', 'High Contrast', 'Men in Black', 'Bright Ideas', and classic heritage pieces. "This is really very exciting for us. As recently as five years ago, outerwear and skiwear wasn't always following fashion," she says with enthusiasm.
The 'Natural Defense' theme is categorized by soft and neutral, typically unseasonal hues; such as winter white, beige and heather grey. Here, for men winter camouflage takes center stage. For women's apparel, however, the look takes on a more gentle and romantic flavour. The look is as at home on top of the mountain as it is by the fire, hot toddy in hand. The feeling is feminine and sensual, and you can see why Haliburton has lovingly nicknamed it "hot chocolate and butter cream". Textured and layered knits, whether cabled or popcorn are key here, as they were earlier in the year on high fashion runways. From fluffy legwarmers to pom-pom trim, fur finishes the luxe snow-godess look. "Warm and fuzzy, cozy, chic and beautiful," says Haliburton. "This theme will not be confused with any other season." One standout piece is a sumptuous leather and fur knee length parka from Duohtavuohta, a luxury coat maker far up north in Finnish Lapland. This splendid parka called "The Aksovaara" is one of the most exclusive items you can invest in this year, with only 36 pieces made worldwide. Completely handmade, using ultra-lightweight reindeer leather and decorated with hand-painted ornamentation, this coat is a work of art you can wear.
The antithesis to this angelic theme is the hard-edged 'Punk Ski'. Comprised of jackets with motorcycle styling, metal studs and the requisite plaid, the trappings of rebellion are made winter-worthy in this group. German ski icon brand Bogner's black, down-filled, water-repellent and breathable classic Perfecto style motorcycle jacket, asymmetrical zipped with leopard print lining, is a great example. One of the most original interpretations of this look comes to us via the ultra-hip Swedish ski brand SOS. Their most recent take on its popular "Snow Doll" jacket is a distinct, black and white hybrid of a classic Chanel inspired jacket with white piping, sleeve zippers and three front pockets. "I just love the feminine silhouettes with the hard edgy feel," Haliburton says with a twinkle in her eye.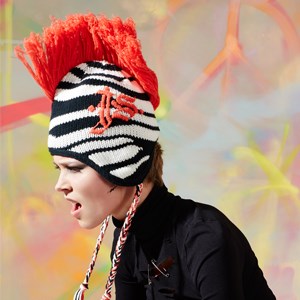 The 'High Contrast' theme continues with black, but ups the ante by pairing it with white. Whether done up in black with white racing stripes, traditional hounds tooth or colour-blocked à la pairing a black sport pant with a stark white parka; the look is modern with a nod to mod. Haliburton beams when talking about the look. "This season we found that almost every line had a white jacket. That doesn't happen every year. We bought the best," she explains with a grin.
And if you are more inclined to look like a sleek secret agent than a spiky rocker, there is the 'Men in Black' theme. This is not the ordinary black of seasons past. "What is the new black?" asks Haliburton. "It is black with texture, black with shine, very dark and black is being used differently; you see matte black cars and watches – this is an extension of that. It lends itself to a tech appearance," she explains. To wit: Zegna's black "Icon" jacket. On the cutting edge of tech-fashion, the "Icon" is a Bluetooth enabled, slim-fitting, waterproof, breathable three-season jacket with a detachable quilted liner. A discreet controller device in the sleeve and strategically located holes let you bring ear-bud headphones up through the lining and out the collar – the ultimate marriage of form and function in a high tech world. "The technical now [in skiwear] is so technical, it's aspirational" says Haliburton.
Bright colours of the ultra-vivid-Technicolor variety are a big part of this season's fashion mosaic for both sexes; a direct influence from the ready to wear shows in Europe where colour has been reigning supreme. Orange, pink, green, and blue or flashes of neon, all of the brightest hues are a huge part of the colour palette for big mountain skiing, touring, and mountaineering wear this fall and winter.
"We saw intense colour start to come in after Nike's volt coloured sneakers in 2011; it's everywhere now and that is really exciting for us," Haliburton said. Florals, which are getting major play on the runway, are a big part of the theme as well. Two-piece ski jacket and vest combos from Switzerland's Jet Set label and snowboarding jackets from Burton are blooming with all kinds of tropical flora this year. One brand that is championing the look is Bogner. Germany's premier skiwear design house has gone wild with wildflowers from the Himalayas in their current fall/winter collection. Inspired by the flora that grows in the shadows of Mt. Everest in Nepal and Tibet, Bogner's most impressive and memorable looks this season are the Leya and Kaja down ski jackets, and the Lene ski pants, decorated with rhododendrons and lotus blossoms.
While historians debate the ancient origins and more recent heritage of skiing, with evidence existing from China, to Norway and Russia, there is one image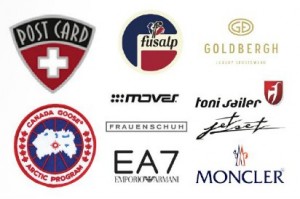 that has been celebrated in our collective consciousness – that of the 'Alpen' skier. This Tyrolean style, which is seen every year from many ski brands, has crossed over to the fashion world legitimizing traditional ski motifs as street-wear trends. Gingham, the Swiss cross, woodland animals and the Bernese mountain dog all feature prominently here. Think cozy cottages and Swiss chalets. One of the highlighted looks this season from Alprausch is a ski jacket accented with a touch of traditional alpine red and white gingham check. This is paired with full-on gingham ski pants – a high tech outfit with a touch of alpine kitsch for good measure. " This theme is so recognizable for winter; it is as nautical [style] is to the first day of spring," says Haliburton.
As we wrap up our discussion, Haliburton's unrelenting enthusiasm shows no sign of slowing. "We have always been very proud of the 'fashletic' selection we offer our customers," she says. "It's fantastic how brands have come to embrace that philosophy as well. Now, there are so many style personas to take from the street to the slope. You just have to decide who you want to be on the hill."