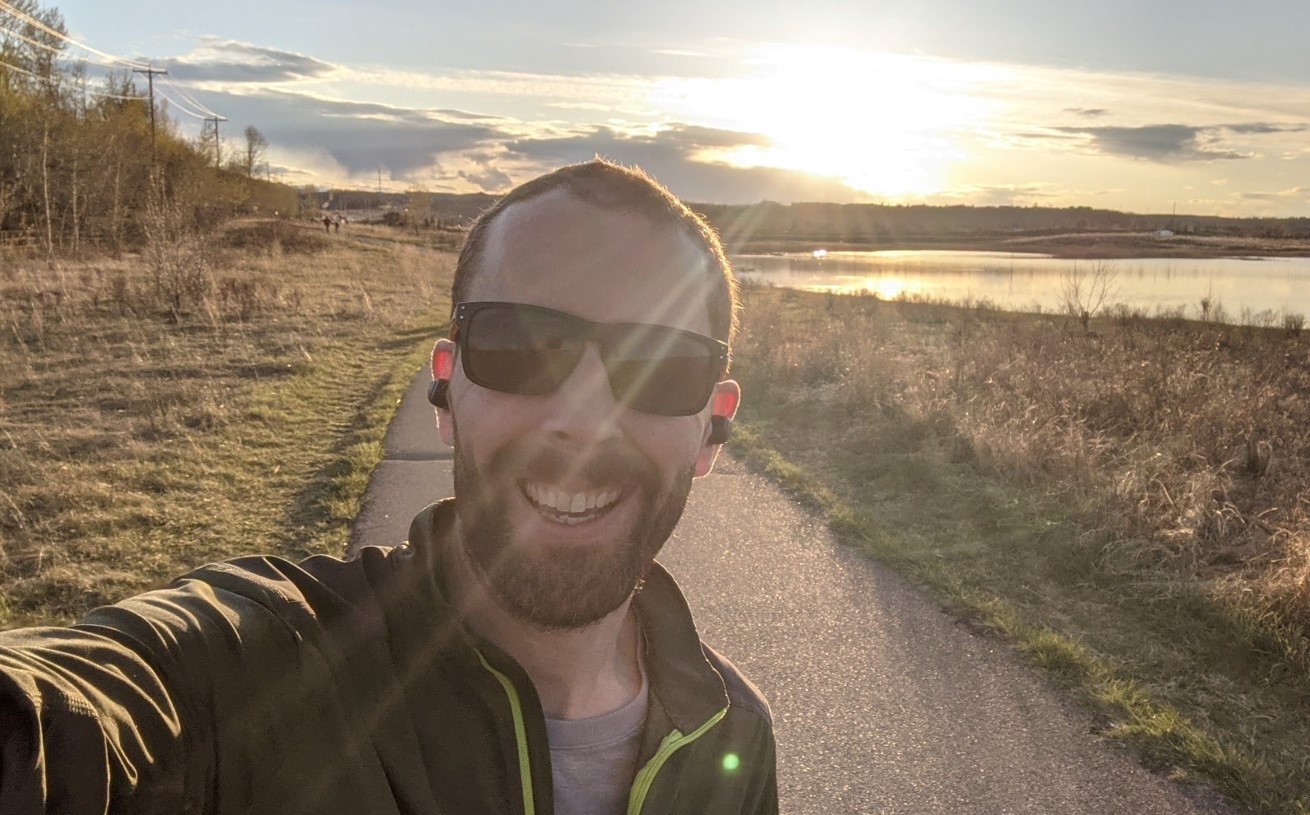 From 5ks to half-marathons, for Chris, Assistant Store Manager at Sporting Life in Calgary, running has been a huge part of living a balanced life. The best part of running for Chris is where it takes you. "The views of the Calgary skyline or a trail run where you have to stop and ask 'Where am I?', always provide amazing vistas," he says.
Ready to get out and hit the trails? This avid runner picks three of his favourites in the city (amazing views, guaranteed).
A whooping 1,300 hectares, Fish Creek Provincial Park is the second largest urban protected area in Canada. You'll find more than 80 kilometres of paths to run, walk or cycle, with varied terrain, including 30 kilometres of paved trails and 100 single-tracks throughout the park. Depending on what trail you choose, expect to find fantastic views at every turn, from rivers to prairie fields. The park is home to a variety of wildlife including deer, beavers, owls and more than 200 bird species have been spotted throughout, so be sure to keep your eyes peeled.
At the base of the Rocky Mountains, the rolling Foothills feature stunning panoramic views of the Rockies. Foothills county technically covers over 3,600 square-kilometres, so your selection of trails is quite vast. The hardest part will be deciding how much ground you want to cover. Paradise Trail in the Ann & Sandy Cross Conservation Area is close to the city, with unique vantage points and a moderate elevation, while the trails in Brown Lowery Provincial Park are considered to be relatively easy and they're also well-maintained.
Calgary has the most extensive urban pathway and bikeway in all of North America, which connects communities with parks and natural areas. You'll find about 1000 kilometres of regional pathways and 96 kilometres of trails. The Rotary Mattamy Greenway is a 145 kilometre pathway that loops all around the city, and includes paths like the easy Cranston Ridge Pathway with the short route totaling 4 kilometres. For more advanced runners in search of scenery, try the hilly 12 kilometre round-trip Bowmont Park to Baker Park.
While Chris admits his running "career" has been ever changing, from his days running track in school to not running for a few years, to eventually getting back into races, now with two small girls (aged two and four), these days his running has become more of a fluid activity.
"Running has always been a great way to get out and get some fresh air but lately has been about enjoying the moment of either the scenery or the company I am out with," says Chris.
Shop our running essentials for Women and Men on our Run Shop and remember to visit in-store to shop for gear.
Did you know Sporting Life also has an iconic 10K? For 22 years, Sporting Life has been organising the Sporting Life 10K, which helps raise funds for Campfire Circle's critical camp programs for kids and families affected by childhood cancer. The course is almost entirely downhill on Toronto's iconic Yonge Street. If you live in Toronto, you can run, walk, or roll on May 8, 2022. Or you can run virtually from May 8-31. Haven't registered yet? Register now by April 24.