Everything you need to know about this timeless style!
Bomber jackets have a long history originating from the mid 20th Century until now and their increasing popularity among today's fashion forward trendsetters mean that the versatile style is here to stay.
HISTORY
1940s
Originally worn by military pilots during World War II, bombers were made for wear in a cramped cockpit to keep pilots warm and comfortable during combat.
1950s
After the Korean War, bomber jackets integrated into civilian style. Famously, Police departments added the Bomber jacket to their uniform and this style wasn't just for pilots anymore.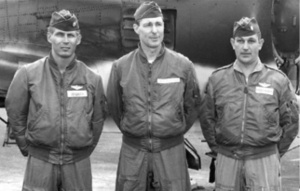 1960s to 1980s
During this time, Punks and Skinheads would pair their skinny jeans and Doc Martens shoes with a bomber jacket. The bomber was used more as outerwear than a uniform staple during this time.
1980s
Bombers gained popularity during the 80s when famous actors in Hollywood films wore the style.
2000s – Runway to Real-way!
Bombers surged in popularity again in the fashion world and now styles are accessible to everyone. Bombers in the modern age are either fairly close to the original classic or tailored to modern tastes with unconventional fabrics and embellishments.
BOMBER BASICS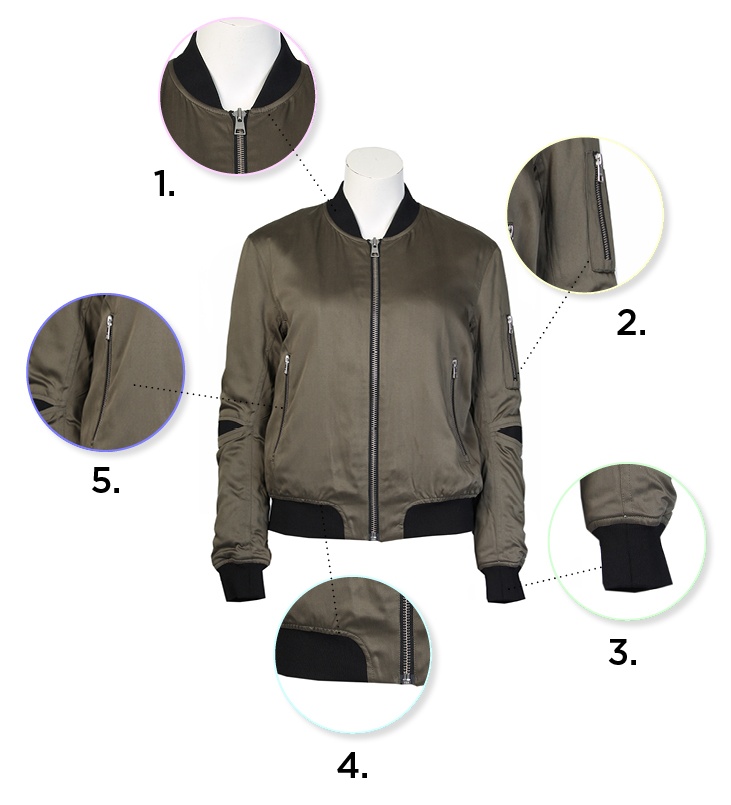 With a wide range of bomber styles emerging in recent years, what makes a bomber a bomber?
High Collar
Left Arm Zip Pocket
Ribbed Cuffs
Snug Waist
2 Front Pockets
Over the years, main components of the bomber jacket such as snug cuffs and waist, wraparound collar, pockets and short silhouette have remained the same. However, over time we have moved away from the traditional style with the addition of lightweight fabrics, embroidery, embellishments and longer hemlines. Nowadays bomber jackets come in a variety of lengths, fashion colours and fabrics. From outerwear to sportswear, you can find qualities of the classic bomber jacket in many new modern styles today. Today's modern bomber is a double duty classic acting as a fashionable and practical piece for your wardrobe. You can find styles that will keep you warm and dry with the introduction of water repellent and wind resistant fabrics.
HOW TO STYLE YOUR SPRING BOMBER JACKET
The bomber style is flattering and goes with a wide variety of outfits for many occasions. There will never be one way to wear your bomber. Unleash your rebellious spirit and pair a Bomber jacket with your next outfit!
Casual Cool Weekend – Women's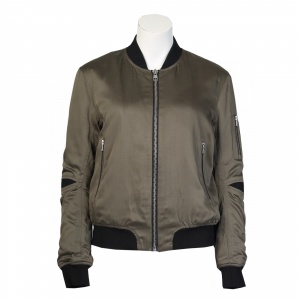 Casual Cool Weekend – Men's
Night Out – Women's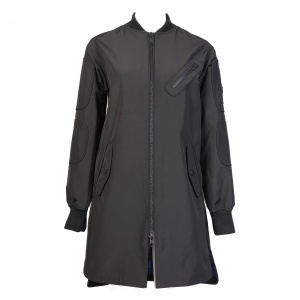 Sporty – Men's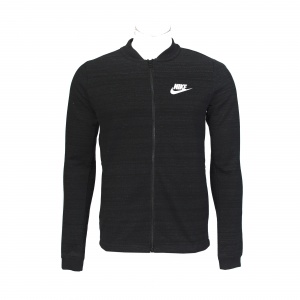 Sporty – Women's