We've all heard the platitude about turning lemons into lemonade, but rarely do we see those words come to true fruition (excuse the pun) in real life. One exception to this is designer Mariouche Gagné of eco-luxe apparel brand Harricana. Gagné, born in the First Nations village of Loretteville, Quebec, stumbled upon a cottage industry whilst a college student studying fashion in Europe.
Gagné's instructors, recognizing her ability, encouraged her to enter competitions. She won several and while working on her Master's Degree in design management at Milan's Domus Academy, she participated in the Fur Council of Canada's Fur Design Student Contest. Gagné entered a reversible ski outfit. Lacking some required materials, she used her mother's old fur coat to add finishing touches. Gagné won second prize. "I was a fashion designer, I had a different approach to fur, than perhaps, the furriers did. They have a certain relationship with the material, whereas I saw the possibility of working with recycled fur," says Gagné. What she saw became Harricana, featuring fashionable and modern outerwear and accessories, created from luxurious recycled materials. Named for the 500 km long Harricana River in Canada along whose shores the first fur exchanges took place, almost 90% of the fur used by the brand comes from Quebec.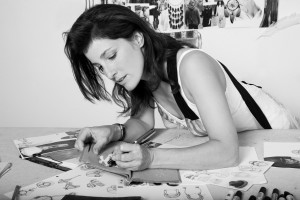 Who knew one brand could make such a difference? Since 1993 by recycling vintage furs, Harricana has saved the lives of more than 800,000 animals and has enabled the label to breathe new life into more than 80,000 coats, silk scarves, cashmere scarves and wedding gowns. They would never have been worn again if they had not been remodeled. "Fur, silk, and cashmere are luxurious yet durable materials. The pieces I make are a gift that you can pass on to your daughter and she can pass on to her daughter" Gagné says.
The Harricana collection is infused with modernity, but is also fun and innovative. There are items that can be worn two ways, three ways or are often reversible. Gagné's own personal style is still true to her Canadian roots, which includes an avid love for the outdoors and winter sport. However, it is also influenced by her time in the fashion capitals of the continent, including Paris and Milan. "When I decided to stay in Europe and continue to study, I called home and told my mother to sell my sewing machine and snowboard," she says. The two major influences of Canada and Europe combine for an haute hippie or what Gagné describes as a "glamorous gypsy" look. "I am really lucky to have the relationship that I have with Sporting Life," says Gagné. "They know the brand well and will take the more fun pieces or newer styles without hesitation. They have great taste and they trust me."
By giving gorgeous materials a second life and transforming them into unique pieces, Harricana proves that luxe fashion can also be sustainable and uniquely Canadian. "When I was living in Europe away from my family and people, I realized there was nowhere I could buy something that made me feel Canadian. I wanted to feel where I was from, the snow, and the mountains and Inuit heritage. Hopefully, that's what I've achieved. Rough, modern, and authentic – not a costume," says Gagné.
---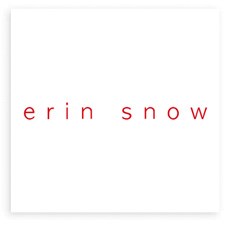 Funny how one little four-letter word, "snow", can conjure up such a strong sensory response. Just close your eyes and imagine swirling crystals in the air, fluffy yet crunchy underfoot, all held together with crisp clean air. Great thinking on the part of New York based designer Erin Isakov. In choosing a name for her brand, she looked to her roots for inspiration. "Skiing is in my DNA. As soon as I could stand I was on skis," she explains. Thus Erin Snow was born.
Isakov grew up in California where her love of the outdoors and sport began. "I had a clear sense of my personal style, and fashion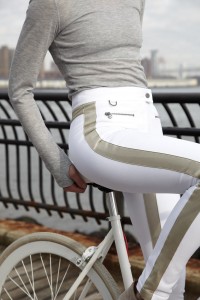 was very important to me" she says. "There really wasn't much snowboarding gear or clothing for women. Whatever was available was very street-inspired and boyish. I specifically started Erin Snow as a winter sport apparel company to address that need. When I was young, the snow-sport world was extremely glamorous and sexy. My goal was to bring that back."
In keeping with her background, skiwear is a big focus and there is no denying the popularity of the 'Jes' pant. Constructed of a 4-way stretch, water and wind repellent, heat retaining and breathable fabric, they are a staple in every ski wardrobe. The removable foot stirrup transforms this pant into an appropriate piece for any outfit in need of support and warmth and with a skinny leg fit you can tuck into any boot. This staple item is also Isakov's favorite piece at Sporting Life.
With a global outlook, real city chic and functional sensitivity, Erin Snow is a standout brand. "I sort of took a departure when I started Erin Snow and now it seems the entire world, and the fashion world especially, have embraced the idea that sport is very much a driver in apparel. Things have come full circle for me," says Isakov.
---

Third generation German furrier, Fani Tsanikidou, takes on the fluffy family tradition with wit and whimsy. Fani – The Label started in 2009 by Tsanikidou, is known globally for unique hats and accessories. Stylish, trendy and most importantly warm, the brand's offerings put the fun back in fur.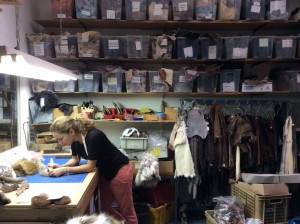 In 1960, Tsanikidou's maternal grandparents founded a furrier specializing in men's hats in Frankfurt. In the 1980's, Tsanikidou's parents enlarged the collection, producing women's hats and accessories, at the same time, also, becoming wholesalers for fashion companies.
After working in the family business for six years and studying fashion at Institute Marangoni in Milan and London, and at the famous SAGA Design School in Copenhagen, it was time for Fani to launch her own brand. It is aptly named for her beloved maternal grandmother with whom she shares her name.
"I love to create an item, select the material and convert it into a final product. Working with real fur demands a high responsibility and awareness of its significance. I respect the material and I try to use every centimeter of it. To have the possibility to design and produce my ideas and see their success is my daily inspiration" says Tsanikidou.
And of course she can't help but inject a little personal style. "Personal style for me is to express yourself through your outfit. Fani – The Label is a winter label, so it has to be warm, soft and comfortable."