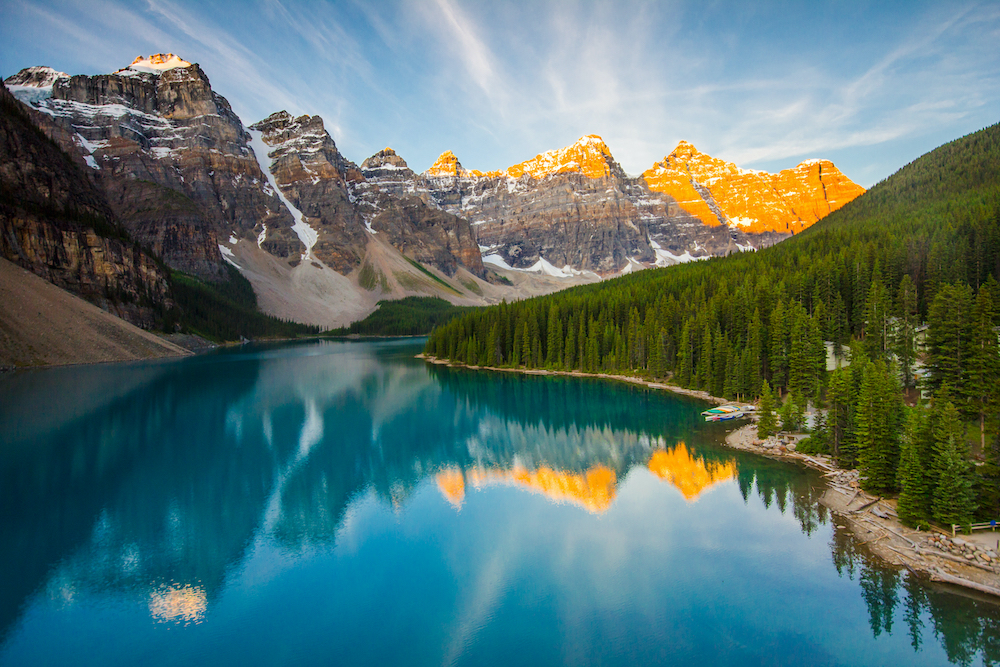 We've made it through a one-for-the-books spring; the best way to celebrate? Discover one of the incredible hiking trails that is likely way closer to home than you might expect. From soaring mountain ranges to staggering wildlife to smooth glacier lakes, these routes deliver the most incredible of Canada's coast-to-coast sights. Which will you gear up for first?
Rouge National Urban Park (Toronto, Ontario)
 

 

View this post on Instagram

 
Watch for beavers hard at work in the Little Rouge Creek as you walk through the mature forests in the largest urban national park in North America. Then take in sweeping views of the cedar canopy and stop to spot snapping turtles in the wetland areas—which all coexist almost impossibly only a few kilometres away from downtown Toronto.
Bruce Trail, Niagara Section (St. Catharines, Ontario)
 

 

View this post on Instagram

 
One of Canada's oldest hiking trails, this trek stretches almost 900 kilometres from Queenston Heights in the southern point of Ontario to Tobermory at the northern tip of the Bruce Peninsula. Though exploring the entire path is a bucket-list adventure for those who have a month to spare, hopping on the trail to walk through the Niagara Escarpment—designated a UNESCO Biosphere Reserve in 1990—makes for a jaw-dropping day trip from Toronto.
Bluffer's Park (Scarborough, Ontario)
 

 

View this post on Instagram

 
Push beyond the busy beaches to the west and you'll discover the wide empty expanses of Bluffer's Park, an unimaginably peaceful right-in-the-city trail that leads you along the 60-metre-high cliffs that line this wild stretch of Lake Ontario. Natural erosion continues to shape the striking white bluffs into otherworldly forms—in fact, sand from these precipices formed the famous Toronto Islands—so no two visits will ever be the same.
Mont St. Bruno Park (Mont St. Bruno, Quebec)
 

 

View this post on Instagram

 
Though hiking through the Mont St. Bruno park only takes a few hours, you'll want to spend at least that long admiring the views of the five—yes, five!—glassy lakes. And those who want to treat themselves to a longer getaway can now spend the night in a rustic yurt before heading out again to explore in the morning light.
The Gorge Canyon Trail (Coaticook, Quebec)
 

 

View this post on Instagram

 
Less than two hours from Montreal, adventure-lovers can hike across North America's longest suspended footbridge — a pulse-raising 169-metre-long, 50-metre-high path that stretches across the vast Gorge Canyon which was carved out during the final ice age. The only question is: will you look down?
Sulphur Mountain Hike (Banff, Alberta)
 

 

View this post on Instagram

 
This is the perfect trail to mix switchback hiking and swish dining. Climb about 6 kilometres to reach the mountain peak and then kick back on the high-style observation deck to revel in the unforgettable views of Banff and the mountain ranges that stipple the horizon as far as the eye can see. If you want to indulge, treat yourself to dinner at the summit-top restaurant before hopping on the gondola for a relaxing descent.
Consolation Lake (Moraine, Alberta)
 

 

View this post on Instagram

 
A hidden gem, this beginner-friendly hiking trail leaves the Lake Louise crowds behind and leads you to the magical Consolation Lakes that sit at the base of towering cliffs, surrounded by snowy peaks. Bring a picnic so you can relax as you watch the nimble mountain goats leap across the steep rockfaces.
Brandywine Falls (Whistler, British Columbia)
 

 

View this post on Instagram

 
Though you'd be hard-pressed to find a disappointing view anywhere on the mainland, this trail boasts one of the best: the icy-hued 70-metre waterfall and the iconic, jagged Black Tusk mountain. Hardier hikers can make the most of the adventure by climbing up through the pine forest to the small lake above for a refreshing dip.
Cypress Provincial Park (Vancouver, British Columbia)
 

 

View this post on Instagram

 
Tackle the picturesque hike that starts at Horseshoe Bay and heads straight up Black Mountain, to the tune of 1,000 metres in elevation. It may look familiar: this park was the official freestyle skiing and snowboard venue for the Vancouver 2010 Olympic winter games. Make sure to catch your breath when you reach Eagle Bluff, before you peep the pastel-hued skyline of Vancouver sprawling out below—a sight that will, in all likelihood, leave you breathless once again.
Skyline Trail (Cape Breton, Nova Scotia)
 

 

View this post on Instagram

 
This relatively flat looping section of the iconic Cabot Trail (are you even a Canadian hiker if you haven't tackled at least one section of this historic route?) is best known as the ideal spot to witness the region's techincolour sunsets. Take a few moments to look over the clifftops to see if you can pick out a pod of wales swimming through the Gulf of St. Lawrence below or a nest of handsome bald eagles gliding above.
Before you head out, check to see if individual trails have any specific safety precautions and maintain social distancing while hiking. Have fun and be safe.
---
Our Top Picks for the Hiking Trails
The perfect pieces to keep you comfortable, dry and allow for proper movement while on the trail.