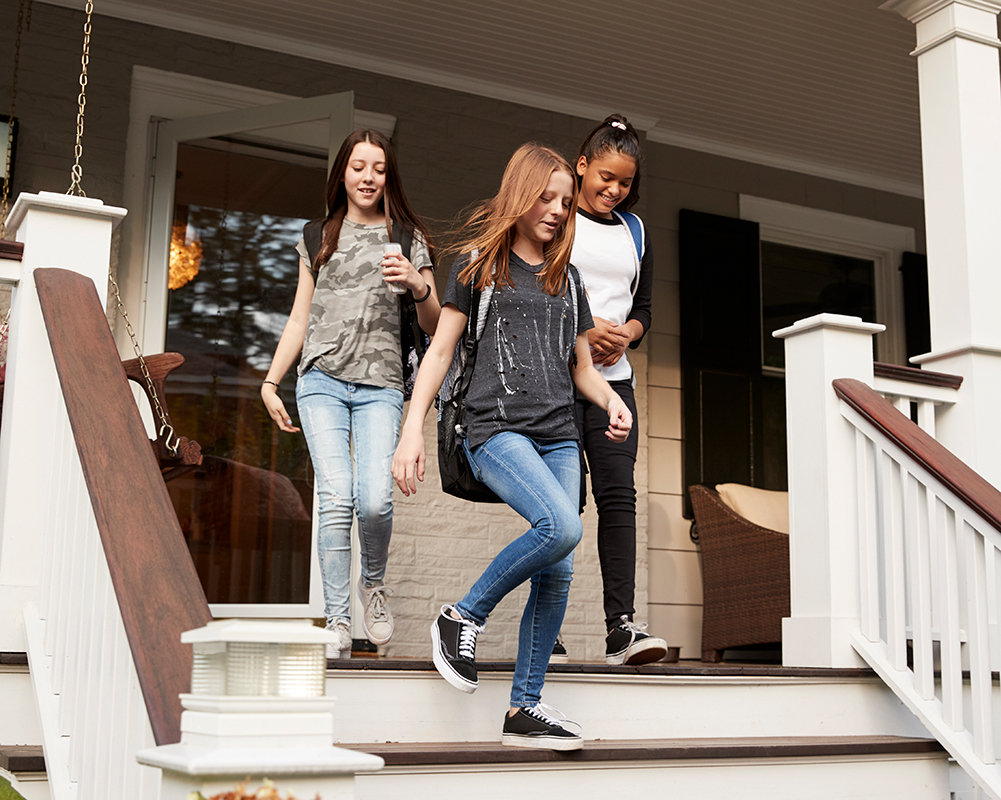 Whether the kids are learning online or in the classroom, families are looking to refresh school supplies and wardrobes during the busy Back-to-School season.
Parents should be on the lookout for closet workhorses that check all boxes: comfortable, stylish, and can graduate from the couch to the classroom.
For that, we recommend the snug world of athleisure – a trend-turned-movement that has become the fashion staple of 2020. These days, sweatshirts, leggings, and sweatpants are elevated essentials that are sharp-looking, layer-friendly, and can withstand the wear and tear of an active kid. Back-to-School shopping has never looked more comfortable.
Shop some of the school season's best picks with our Back-to-School Style Guide. It'll help you build a fashionable and functional wardrobe that will score every style points in and out of the classroom.
Comfy Sweatshirts
Thanks to recent trends like streetwear, sweatshirts are no longer the exclusive look of couch potatoes. Play up this modern comfort with eye-catching graphic prints made of lightweight and soft textures.
Hoodies, like the Women's Levi's® Logo Sport and Vans Junior Boys' Simpsons Family Pullover, are a nod to vintage classics worth remembering. Shop All Apparel.
Our Picks
Sweatpants
For many, sweatpants are the new jeans. They're multi-functional, adaptable, and, these days, indistinguishable between work and play.
Joggers like Under Armour's Rival Pant and Adidas' Originals Men's SST Track Pant feature a tapered leg that will make a cozy-at-home look sharper. Shop All Apparel.
Our Picks
Every Day Shoes
Make waves with what we call no-nonsense footwear. Think of these slip-ons as a blank canvas that allow kids to stylishly express their budding personalities. Don't be surprised to see some doodling appear.
There's no need to worry about untied shoelaces as the kids rush out the door with the Vans Checkerboard Slip-Ons. Shop Footwear.
Our Picks
Running Shoes
Help get your kids to the finish line with a strong stride. Lightweight and breathable, high-performance runners offer controlled comfort with every step and will keep them from falling on the slippery gym floor.
Asics and Nike are produced with soft cushions and gel foams that absorb shock and reduce impact and strain. Shop Footwear.
Our Picks
Backpacks
Choosing the right backpack has always been a highlight of Back-to-School shopping.
Let your kids make their own statement with Fjallraven's colourful Kanken Art Backpacks. Keep gadgets and accessories organized in padded pockets, internal organizers and a fleece-lined sunglass compartment with Herschel Supply's Pop Quiz Backpack. Shop backpacks.
Our Picks
Water Bottles
With single-use plastics like straws and water bottles falling out of favour, reusable water bottles have become the new must-have accessory.
Hydro Flask's vacuum insulated stainless steel water bottles have become a social media favourite, popping up in memes and appearing in a scene on the Oscar-nominated period adaptation, Little Women. Available in a variety of colours, these leakproof reusable gems are indestructible and can keep drinks ice cold or piping hot for hours. Shop hydration.
Our Picks
These everyday staples will win big with kids of all ages.
Whether they're learning at home, studying in school or getting active outside, these classic pieces won't go out of style anytime soon and can endure the toughest of hand-me-downs.
All you'll need to worry about is getting their hair camera-ready for Picture Day!
Story by Chris Jai Centeno