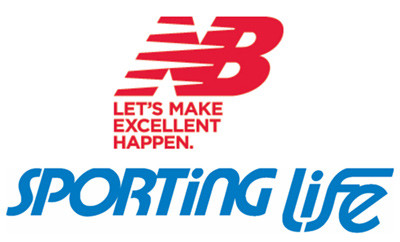 GLOBAL ATHLETIC LEADER NEW BALANCE ANNOUNCED AS 
PRESENTING SPONSOR OF THE 2015 SPORTING LIFE 10K
TORONTO, ON – Global athletic leader, New Balance, is excited to announce that it will be the 2015 Presenting Sponsor for the Toronto Sporting Life 10K race that will take place on Sunday, May 10, 2015. The Sporting Life 10K is one of Canada's premier running events that delivers a value-packed running experience, while making a positive impact on the lives of children who are living with or who have been affected by cancer.
"We are excited that New Balance is going to be part of a world class charitable run that has the potential to put an infinite amount of smiles on kids' faces," says Gerald Woodman, General Manager, New Balance Canada. "The Sporting Life 10K is not only an amazing opportunity to raise money and awareness for cancer, but it is also a race that draws a lot of talent who come out to support an amazing cause, compete and run fast times."
As the official footwear and technical apparel sponsor, New Balance will engage with participants in a number of innovative ways including providing a high quality New Balance branded technical t-shirt to all runners who register for the Sporting Life 10K, being a part of a unique post-race experience, creating a special souvenir apparel collection, launching a stronger brand presence in Sporting Life stores, and executing an external media plan.
"New Balance is a very important brand to us and we are thrilled to be working with them on this amazing event," says John Roe, Director of Marketing and Advertising, Sporting Life. "With Brent Bishop being a Brand Ambassador for both New Balance and the Sporting Life 10K, it's so great that we can close the loop and have him on board representing both brands."
Celebrity trainer and New Balance Brand Ambassador Brent Bishop adds, "For me, the Toronto Sporting Life 10K is not just a race, it's a landmark destination and a training goal for many of my clients and thousands of enthusiasts each year.  More importantly this race encompasses three key attributes that I stand for; fitness, community and altruism.  Each spring I'm so proud to be part of this fitness experience as it brings communities together of all ages and abilities while supporting Camp Ooch and providing enriching, meaningful experiences for children affected by cancer."
Since its inception in 2003, the Sporting Life 10K has grown exponentially, with all funds raised going to Camp Oochigeas, a volunteer run summer camp for children living with cancer. In 2014, the Sporting Life 10K raised 2.2 million dollars and the bar for 2015 is set at 3 million dollars, a goal that would help send hundreds of children with cancer to camp. Camp Oochigeas is more than just a summer camp, as it provides an exciting and meaningful experience that these kids would not otherwise be able to take part in. Costing $3500 for one child to attend, it is the only program in Ontario that offers on-site IV chemotherapy and blood transfusions so kids can enjoy outdoor activities while still receiving treatment.
For more information about the 2015 Sporting Life 10K, please visit: www.sportinglife10k.ca.
About New Balance Canada
New Balance, headquartered in Boston, MA has the following mission: Demonstrating responsible leadership, we build global brands that athletes are proud to wear, associates are proud to create and communities are proud to host. New Balance is currently the only athletic shoe company that manufactures footwear in the U.S. with 25% of our U.S. footwear shipments produced at five New England facilities. The company also operates a manufacturing facility in Filmby, U.K. New Balance employs more than 4000 associates around the globe, and in 2011 reported worldwide sales of $2.04 billion. To learn more about how New Balance Makes Excellent Happen, please visit www.newbalance.ca
For more information about New Balance Canada please contact:
Liz Reid
Strut Entertainment
416.861.0387
liz@strutentertainment.com
Samantha Pickard
Strut Entertainment
416.861.0387
samantha@strutentertainment.com
About Sporting Life
The Sporting Life is invigorating, fun and satisfying; it's ski, après ski and everything in between.  It's beach time with the kids or spin class at the club. From perfecting your swing to getting back on the old bike, the Sporting Life is hiking the trails of Algonquin or lounging on a boat in the Andaman Sea. The Sporting Life is the good life, and our customers are loving it! Sporting Life is a place where our customers can find the best quality, brand name fashion and sports equipment that supports the active and energetic lifestyle that our customers live and love. Sporting Life opened in 1979 with the belief that we could offer quality products and well-known brands that enhance our customer's active lifestyle. Sporting Life has experienced consistent growth over the years, which can be attributed to innovation and excellent customer service, becoming a respected retailer who is known for top-of-the-line sports equipment and fashion. Sporting Life has three retail locations spanning the Greater Toronto area and one in Collingwood. An additional four stores are set to open in Markville, Ottawa, Hillcrest and Calgary in the near future. www.sportinglife10k.ca
For more information about Sporting Life please contact:
John Roe
Sporting Life, Director of Marketing and Advertising
john.roe@sportinglife.ca