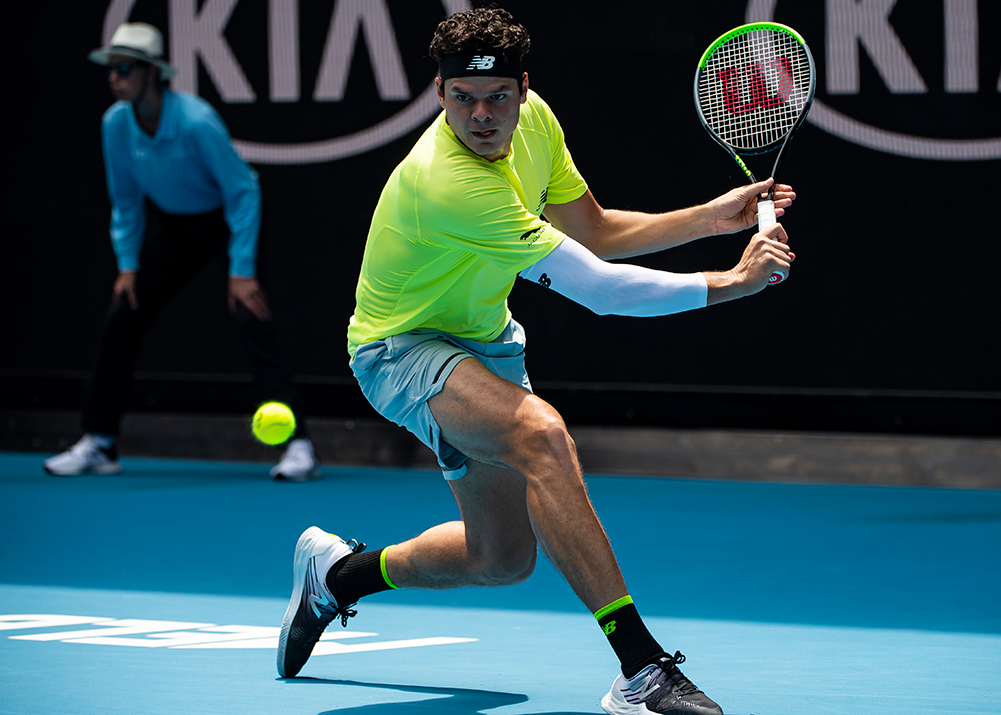 The Canadian contingent at this year's French Open will feature some familiar names, some big names, and two name that won a special invitation.
Originally slated to begin in late May, the Grand Slam tournament was pushed back to September with the last Finals scheduled for October 11.
The clay courts of Roland Garros will see a healthy dose of Canadian tennis players vying to join Bianca Andreescu as grand slam winners.
Andreescu, who won the U.S. Open in 2019, has decided not to attend the third Grand Slam of the season. The 20-year-old suffered a knee injury at the WTA Finals in China last fall and hasn't played a competitive match since. Earlier this month, Andreescu made the difficult decision not to defend her title in New York, saying "unforeseen challenges" (including the COVID-19 pandemic) have kept her from training to compete at the highest level. She took to social media on September 22 to say, in part, she would be taking the rest of the season off to "focus on [her] health and training."
Ranked seventh in the world, Andreescu's absence will be felt in Paris. As she rests up and refocuses on 2021, here's the rest of the Canadian crew to keep an eye on at Roland Garros:
Women's Main Draw
With Andreescu's missing from the final grand slam of this truncated tennis season, it's up to two women at wildly different points in their careers to carry the Canadian torch.
First up, and perhaps in surprising fashion, is veteran Eugenie Bouchard. She earned a main-draw wild card for the French Open after reaching the Istanbul Open Final two weeks ago, her first finals appearance since 2016. Bouchard, who was once ranked fifth in the world, put on a good effort but ultimately lost to Romania's Patricia Maria Țig in 6-2, 1-6, 6-7.
Despite her loss, she became the only non-European to earn a wild-card berth.
Alongside Bouchard will be 18-year-old (and fellow Montreal-native) Leylah Annie Fernandez. Ranked 98th in the world, Fernandez is Canada's second-highest ranked female tennis pro.
Earlier this month, Fernandez made it to the second round of the U.S. Open. She also carries some good memories as she heads into this year's French Open; she won the junior French Open title last year.
Fernandez is also a left-handed player, which causes some confusion with her opponents. We're excited to see how she capitalizes on this as her career blossoms.
"Nobody wants to play against her because she's gung-ho and she's got a very, very aggressive game and she doesn't ever let up and she's totally intense and totally ambitious," Team Canada tennis analyst, Tom Tebbutt, told CBC.
"Fernandez just crunches every single shot and she's in that bulletproof phase that Bouchard was in right now. And she hasn't had too many setbacks. She has a lot of confidence. She's had good results. So she's a very, very promising player."
Men's Main Draw
Having made a splash at the U.S. Open, we're expecting to see some great tennis from four of Canada's best men's tennis players.
Leading the charge is Denis Shapovalov, who broke into the ATP's top 10 after his reaching the semi-finals at the Italian Open. Just weeks before, he reached the quarter-finals at the U.S. Open.
Shapovalov will be joined by Felix Auger Aliassime (No. 20), Vasek Pospisil (No. 73), and Steven Diez (No. 179). Shapovalov, Auger-Aliassime and Vasek Pospisil made history together at this year's U.S. Open after they all advanced to the 4th round of a Grand Slam tournament — a first in Canadian men's tennis history. Diez played strong during the qualifiers, winning a spot in the Men's Main Draw after defeating France's Enzo Couacaud in 6-3, 6-4.
Notably missing from action is Milos Raonic. Seeded ninth in the men's main draw, Raonic withdrew from the tournament on Thursday to "preserve his body" for the rest of the season.
"I haven't played on clay for the last few years and it's a combination between making the right decision regarding my body and also just a lack of time for the surface change," the 29-year-old explained to TSN.
With lots of momentum behind the other four in 2020, the Canadian men are now hoping to follow in Andreescu's footsteps and capture their first Grand Slam title!
Story by Adam Stanley
Header photo by TPN/Getty Images, Courtesy of Wilson.