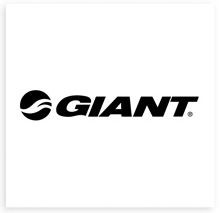 (Images Courtesy of giant-bicylces.com)
---
I RIDE A MIX OF DIRT AND PAVEMENT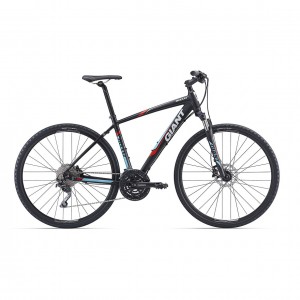 Roam 1 Hybrid Bike, $959.99
Built with a lightweight, smooth-riding ALUXX aluminum frame that's designed specifically for fast-rolling 700c wheels, the Roam 1 Hybrid Bike is responsive and stable on all kinds of terrain. With a suspension fork and an off-road-ready flat handlebar, it can take some bumps on rough city roads or rugged dirt trails. The increased frame clearance lets you float along on wider diameter tires- so you can tackle bumps, pavement and streetcar tracks with ease.
---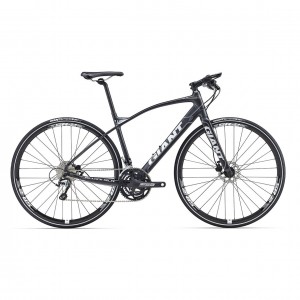 Fastroad Slr 1 Hybrid Bike, $1,484.99
With a lightweight ALUXX SLR aluminum frameset and a comfortable rider position designed for fitness riding, the Men's FastRoad SLR 1 Hybrid Bike from Giant is ideal for city riding adventures, bike paths or commuting. The fast-rolling 700c wheels and aero-shaped frame tubing offers a smooth, efficient ride. The D-Fuse seatpost design helps smooth out rough roads, while the disc brakes give you smooth, confident braking power for hills or wet weather.
Escape 2 Hybrid Bike, $599.99
A bike with many personalities, the Escape 2 Hybrid Bike from Giant is built around a lightweight aluminum frame with a stable ride quality and a wide range of gears. Its smooth-rolling 700c wheels make it fast and sporty enough for a fun fitness routine. It's neutral, upright positioning makes it a great choice for navigating city streets or crowded bike paths. Whatever road or path you choose, just hop on and make your escape.
---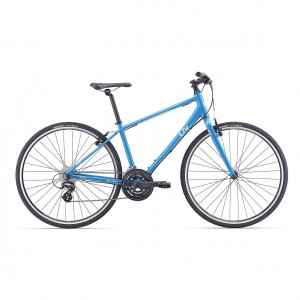 Liv Alight 2 Hybrid Bike, $599.99
With its lightweight and durable Aluxx aluminum frame and upright flat-bar positioning, the Women's Alight 2 Hybrid Bike from Liv is comfortable enough for a daily commute, but also agile and sporty for longer rides. Women's-specific geometry and sizing gives Alight a stable, confident ride quality. And thanks to integrated dropouts, it's easy to personalize with racks and fenders.
Visit our Bikes and Boards Store for a test ride!